'The King' Truong Dinh Hoang brought Vietnam their first ever World Boxing Association Asia East title on Saturday night.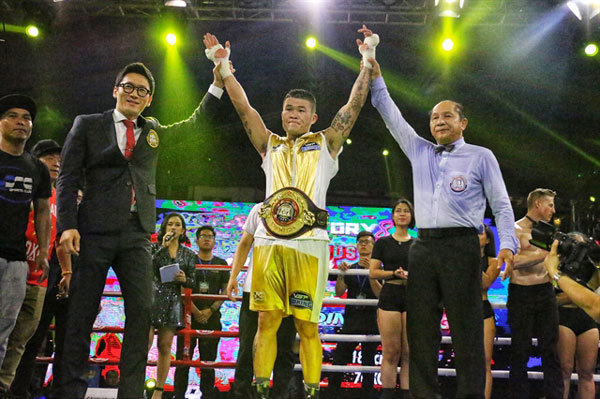 Truong Dinh Hoang with his WBA Asian East belt.
Hoang, the 11-time national champion defeated South Korean Lee Gyu Hyun on points after 10 rounds in the Super Middleweight 76kg class at the historic Dong Kinh Nghia Thuc Square in Hanoi.
The bout was the main event of the Victory 8 – Legends of Hoan Kiem, the biggest boxing competition ever held in Vietnam.
Sticking to their pre-fight promises, both boxers attacked from the opening bell, but much to the delight of the home support Hoang managed to floor his opponent at the end of the first round with a series of good combination punches.
Hoang continued on the front foot in the next few rounds, connecting with a number of precise uppercuts.
But the man from Korea stood strong, taking all The King could muster, using his experience to hold on to his opponent to slow him down.
For Hoang, this is his first profession fight to go the distance and need the judges to determine the winner.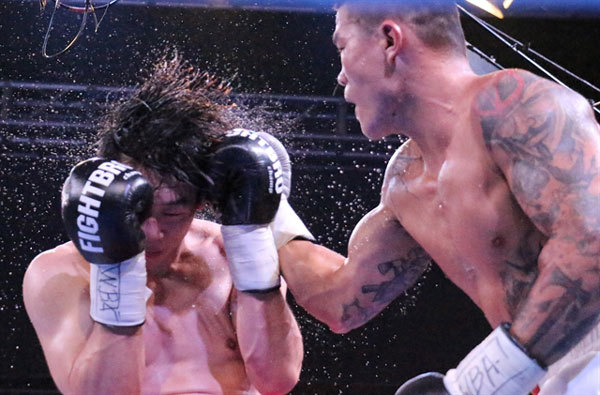 Truong Dinh Hoang punches Lee Gyu Hyun during their 10-round fight. — VNS Photos Doan Tung

Hoang's previous two fights both resulted in knock-out wins, so Saturday's match-up was a real endurance test, and The King passed with flying colours.
"Winning the belt in front of thousands of home supporters was a great feeling. It is difficult to explain this wonderful feeling. I am really proud!" Hoang told Việt Nam News.
"It was my first time competing in a 10-round fight and I faced a rival who had great physique and he was tough under my consecutive attempts.
"He made me change my tactics so that I could box with him throughout 10 rounds. He was a really difficult opponent," said Hoang who will now set his sights on next month's SEA Games in the Philippines.
Hoang's victory is the first WBA title of Vietnam. Two years ago, boxer Tran Van Thao pocketed a WBC Asia belt in the men's super-flyweight 52kg category.
Prior to the main card match on Saturday, there were 11 bouts organised between Vietnamese and international boxers.
Under strong support of local fans, the host team won eight.
Among them, Nguyen Van Duong beat Jenel Lausa of the Philippines in the men's 57kg; Thomas Wu defeated Australian winner Michael Pengue in the men's 67kg;
Nguyen Thi Tam easily won over Jasmeen Hudson, also from Australia, in the women's 51kg; and Nguyen Van Hai overcame Filippino Charly Suarez in the men's 61kg.

Truong Dinh Hoang will take the limelight as 'The King' will vie for the World Boxing Association Asia East Super Middleweight title against South Korean Lee Gyu Hyun tomorrow in Hanoi.
VNS