National midfielder Luong Xuan Truong is back in contention for Hoang Anh Gia Lai FC in their National Cup's quarter-final match against Quang Nam today.
Vietnamese midfielder Luong Xuan Truong signs for Thai team
Luong Xuan Truong flops at Buriram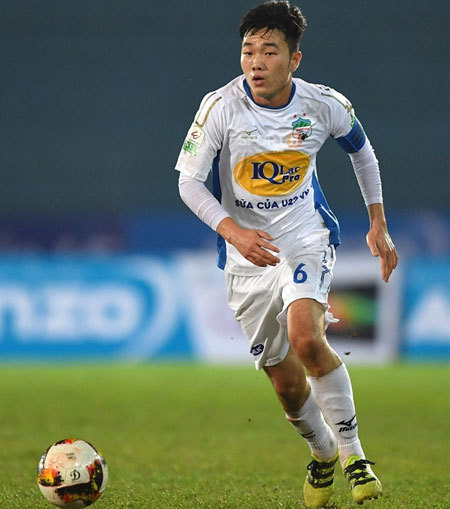 Luong Xuan Truong is expected to play in the National Cup's quarter-final match against Quang Nam today. — Photo tinthethao.com.vn
Truong returned home after four months playing for Buriram United in the Thai League.
He ended his one-year contract on loan last week and has been named in Hoang Anh Gia Lai's squad for the second half of the national premier league which begins this weekend.
The midfielder arrived in Tam Ky City on Monday to prepare for the game.
"It was my great time in career when I played with good players and I appreciate that. (Back home) I really want to play more it means that I have to try harder for a berth in the first team," said Truong.
"After four months in Thailand I believe that my performance is better and better in both physique and ball control," he added.
Coach Lee Tae-hoon praised the player's come-back but he did not say if he would start the match.
"Truong's return is good for our team as he is a quality player. However there is a little change in our playing style and he needs time to adjust," Lee said.
Truong is currently the most expensive player of Hoang Anh Gia Lai. According to Transfermarkt.com he is valued around 200,000 euros (US$226,000) - one of highest prices among Vietnamese players.
Truong who is known for his perfect passes is expected to support striker Nguyen Van Toan in the front line. Toan is in his peak with six goals in the V.League and National Cup to date.
Despite playing away, 10th place Hoang Anh Gia Lai go into the game favourites with Quang Nam are struggling second from the bottom. In the last V.League meet in April, Quang Nam won 4-0.
Other quarter-finals matches are between Hai Phong vs HCM City at the Lach Tray Stadium today. Hai Phong are No 12 out of 14 teams while HCM City top the ranking.
V.League 1 reigning champions Ha Noi FC will visit Nam Dinh at the Thien Truong Stadium tomorrow. Hanoi are in second place but have struggled against Nam Dinh. In the V.League match on May 24, the champions lost 0-2.
The final game is between Sai Gon and Becamex Binh Duong at the Thong Nhat Stadium. Both of them are in the middle of the rankings.
VNS