Vietnam advanced to the semi-finals of the ASEAN Football Federation (AFF) U15 Championship after beating East Timor 1-0 yesterday in Thailand.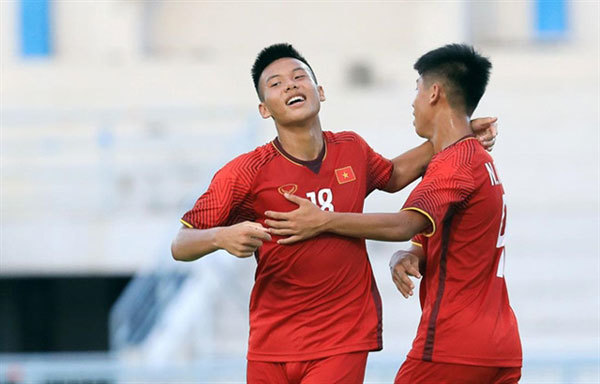 Vietnam's Cai Van Quy (left) and his teammate react after scoring a goal in Vietnam's 1-0 win over East Timor yesterday. Photo courtesy of VFF
Cai Van Quy netted the only goal in the 76th minute with a finish that sent the ball between two of East Timor's defenders to enter the goal.
The win helped them place second in Group A with 12 points and joining leading team Indonesia, 13 points, in the last-four round on August 7.
They will wait to know their next rival after the last round match of Group B today when Brunei meet Australia, Laos play Cambodia and Malaysia see the hosts.
Yesterday, the AFF rejected protests against Timor Leste's captain Paulo Da Freitas who was said to be 22 instead of 15.
The AFF Disciplinary & Ethics Committee ruled that the protest lodged by Myanmar and Singapore was unfounded and dismissed accordingly. Freitas is deemed to be eligible to participate in the tournament in accordance with Article 5.1 of the AFF U15 Championship 2019 Tournament Regulations. The ruling comes after a thorough and conclusive investigation by the AFF, based on the evaluation of documents and medical reports.
VNS