Vietnam Youth Theatre will perform Uncle Vanya in Japan from November 22 to 26.
This production is a collaboration by the Vietnamese theatre and the Japan Theatre Centre Without Walls.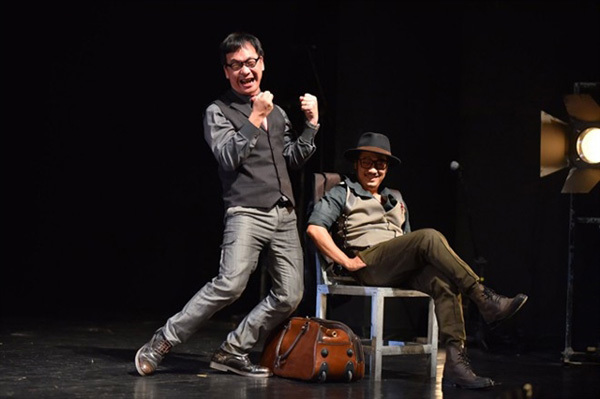 Actor Duc Khue (left) plays Vanya. — Photo The Toan
This collaborative project is within the framework of activities to promote and tighten cultural and artistic cooperation between Vietnam and Japan through the classical theatrical productions.

The play is one of Russia's most notable dramas by Anton Chekov. The four-act play features an urban couple - a professor and his wife coming to a rural village to observe the estate they own and to inform the inhabitants that they will soon be selling the property in order to make a larger investment.

The play is the first work by the Youth Theater which is made according to Japanese standards.

The play is staged by Japanese director Tsuyoshi Sugiyama with the participation of Vietnamese and Japanese artists.

Sugiyama is known as Japan's leading talent director with a modern staging style. He has received many prestigious awards at home and abroad including the best director award at the 3rd Hanoi International Experimental Theatre in 2016.

In Japan, he is currently representing young talented directors.

It took the crew three years to cast the roles and build the set and another three months to arrange the performance.

The Japanese crew also included a set designer, lighting and sound technicians and a costume designer.

Main character Vanya will be performed by veteran Duc Khue, one of the leading actors at the theatre. Other artists will be Vietnamese Le Khanh, Thu Quynh and Japanese artists Che Hemi and Matsuda Takashi.

"We are happy to perform the famous Uncle Vanya in Japan," said actor Khue. "Audiences should not miss the chance to see the performance. And I hope that they will enjoy the performance."

The play picked up the gold medal at the 4th International Experimental Theatre Festival in Hanoi in October.

The performances with Japanese and Vietnamese subtitles will take place at Theatre Tram in Tokyo on November 22 at 7pm; on November 23 at 1pm and 6.30pm and on November 24 at 1pm.
At Theater Fonte in Kanawaga Prefecture, the performance will begin at 3pm.
Tickets are priced at US$14 for student and foreigners.

The Japan Foundation Center for Cultural Exchange in Vietnam is set to hold a J-Dance vol.2 event at the Youth Theater in Hanoi across two days on November 1 and 2.

The Japan Foundation Center for Cultural Exchange in Vietnam will present a series of street dance performances at the Youth Theater in Hanoi from October 24 to 26.
VNS