Twenty-seven member Japanese-style girl band SGO48 have launched their first single, Heavy Rotation.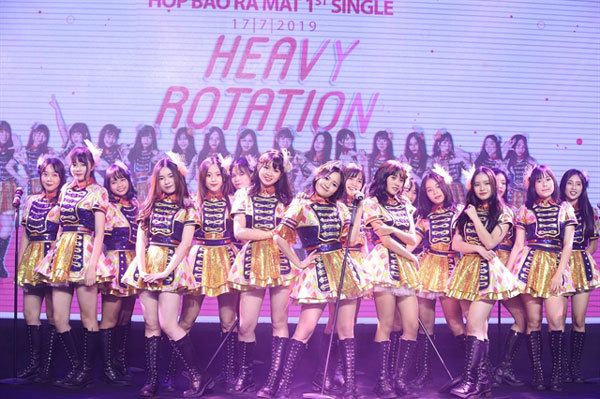 Japanese-style girl band SGO48 recently introduced their first single entitled Heavy Rotation. — Photo SGO48 's Facebook
SGO48 is the seventh overseas version of AKB48, a Japanese girl band popular for its concept of 'idols you can meet every day'. Heavy Rotation was first released in AKB48 and its Vietnamese version was written by songwriter Huy Tuan.
SGO48's first single was recorded by a Japanese musical engineer while the video was created by Korean and Thai teams who have produced musical products for BNK48 – the Thai version of AKB48 – and other artists. Additionally, the outfits worn in the MV were designed by Japanese designers.
On the music video, director Kim Sin Wook said SGO48 was a young and talented band and he wanted to use the group's energy in creating the video.
"The video therefore does not focus on the story but on the choreography of SGO48, with an aim to inspire the audience with full vitality," he added.
Appearing in the first single are some of the most prominent performers, namely Truc Pham, Le Trang and Linh Mai. The following songs will include 27 members who have been through tough training on vocals, acting and choreography.
Besides Heavy Rotation, SGO48's first single also includes audio versions of three songs – SGO48, Shonichi and Aitakatta; a photo book with lyrics of the four songs and one ticket to handshake events with SGO48 that will take place in Hanoi on September 1 and in HCM City on September 8.
VNS