A ballot was held in Hanoi and Ho Chi Minh City on April 9 by about 100 reporters to choose the 14th Devotion Music Awards, run by The Thao & Van Hoa (Sport & Culture) daily.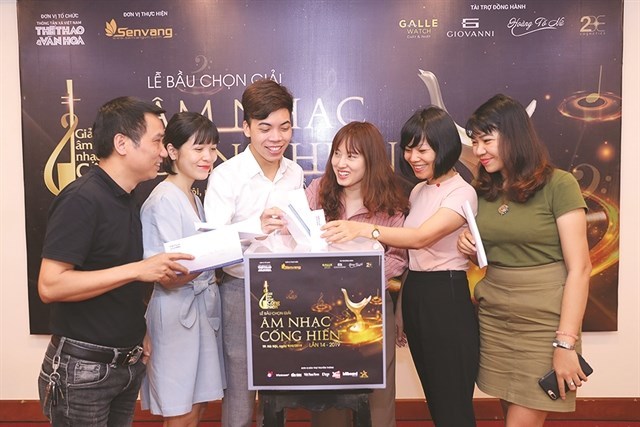 About 100 reporters gather in Hanoi and HCM City to vote for the Devotion Music Awards.
The awards have nine categories including Producer of the Year, Music Video of the Year, Song of the Year, New Artist of the Year, Album of the Year, Musician of the Year, Singer of the Year, Show of the Year, and Music Series of the Year.
The journalists voted on the best music and musicians of 2018.
The Devotion Music Awards are one of the most prestigious music awards in Vietnam thanks to their publicity and transparency. The results of the vote will be announced at the award ceremony on April 16 in HCM City.
The annual Devotion Music Awards are considered a picture reflecting artists' creativity for music development, said Le Xuan Thanh, The Thao & Van Hoa's Editor-in-Chief.
The awards are also to honour outstanding artists who have made great efforts to advance the music scene, he added.
The awards ceremony will be aired live on Vietnam Television's Channel 9.
The ceremony will be produced by director Hoang Nhat Nam and music director Ho Hoai Anh with the performance of Hoai Sa band. A red carpet show will begin at 6.30pm with celebrities and artists in attendance.
The awards began in 2004 to promote Vietnamese music and honour artists who have made significant contributions to the industry. - VNA