Several weeks before the Mid-Autumn Festival, Mr. Dong and his employees have had to stay up overnight to make 10,000 paper masks.
Craftmen of the village of Ong Hao, in the northern province of Hung Yen, one of the few villages still preserving the profession of making traditional toys, are busy producing toys to serve the market this Mid-Autumn Festival.
Paying a visit to the paper mask workshop run by Mr. Vu Huy Dong, VietNamNet reporters saw hundreds of paper masks on the large yard. Dong said: "This is the busiest moment during a year of our village. Our workers have to work overnight to produce enough 10,000 paper masks for the upcoming full moon festival.
The village of Ong Hao is famous for making traditional mid-autumn toys with main products such as drums, paper masks, unicorn and lion heads and others. At present, around a dozen families here still preserve the traditional profession left by their ancestors. Dong is the largest producer of paper masks of the village.
Dong has been producing traditional masks for more than 30 years. He said in the past, this used to be an extra job that brought about additional income for locals for a few months a year. But since the field area has ' narrowed down, making traditional toys has become the main job with higher income. .
"I love my job and want to preserve the traditional cultural beauty for my children," he said.
According to Dong, the paper masks of Ong Hao village are famous for having their own characteristics as they feature familiar characters in Vietnamese folk tales and literature such as Teu, Dia, Bom, Chi Pheo, Thi No or 12 animal designations, lion and unicorn heads. The toys are handcrafted with simple, natural ingredients such as bamboo, paper, and cardboard.
To have a complete mask, workers must go through three stages: making the mask, painting and packaging it. They use a precast cement mold to make masks from paperboard and white paper, then use tapioca glue to connect the paper layers. After drying, the white paper masks are hand-painted as funny characters. The most important step is drawing. Dong and his son do most of the drawing. After this step, the masks are dried and packed.
This stage is mainly done by him and his son. However, at peak times, they have to hire more painters. After the mask is complete, it will be allowed to dry, then attached to the wire and packed for sale.
Every Mid-Autumn Festival, Dong sells about 10,000 paper masks at the wholesale price of VND15,000-16,000/mask. Dong's products are supplied to not only Hanoi but many provinces throughout the country. On average, he sells about 200-300 mask a day.
This year, due to the Covid-19 pandemic, the sales of traditional masks has been slower than in previous years. So far, Dong has sold nearly 5,000 masks.
"For several months, I have had to work until midnight, then get up at 3:30am to continue the work," Dong said.
Besides masks, Dong also produces other traditional toys such as drums. In recent years, his workshop has opened for tourists. His family's annual income is about VND450-500 million.
Nowadays, although children have modern and eye-catching toys, Dong believes that traditional toys still have their place. Every Mid-Autumn Festival, his village's masks and leather drums are transported throughout the country and even exported, and they are loved by domestic and foreign customers.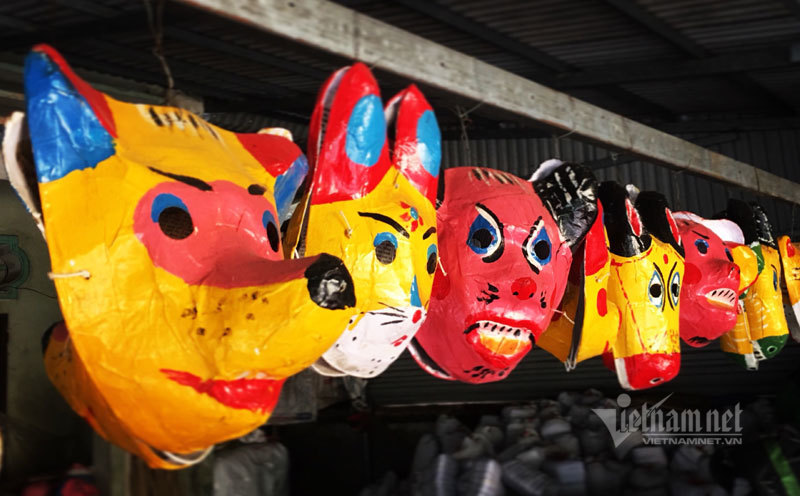 Entering the village at this time, through the gate of Ong Hao village, visitors can feel the bustling atmosphere with the sound of carving, drums and laughter.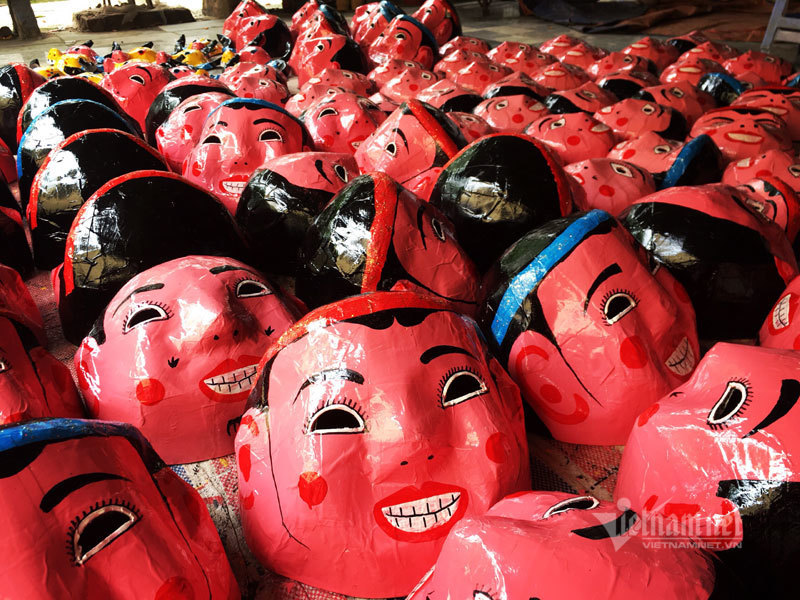 Scrap paperboard and paper are "enchanted" to become the paper masks. Even the glue used for paper backing is made from cassava starch, making it user-friendly.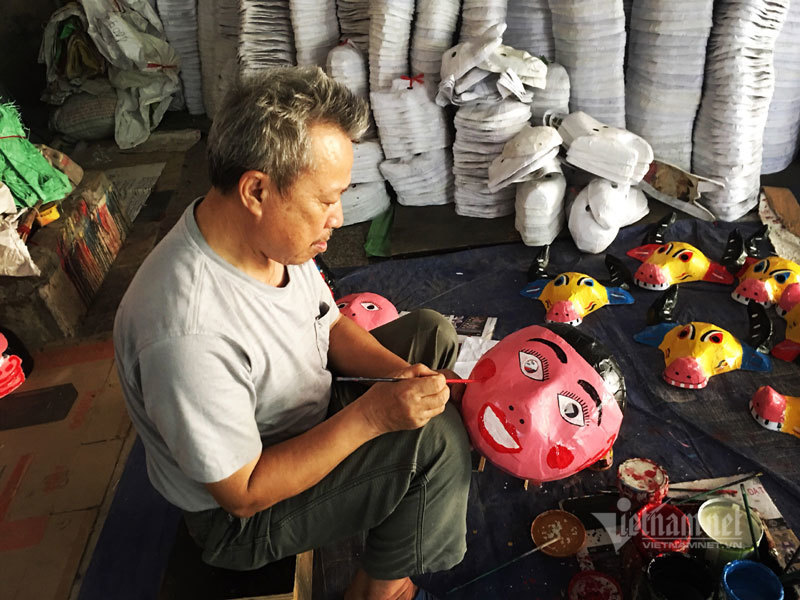 Besides the traditional masks, the villagers of Ong Hao village can make more than 20 different types of paper masks, with large and small sizes depending on the preferences of their "little" customers.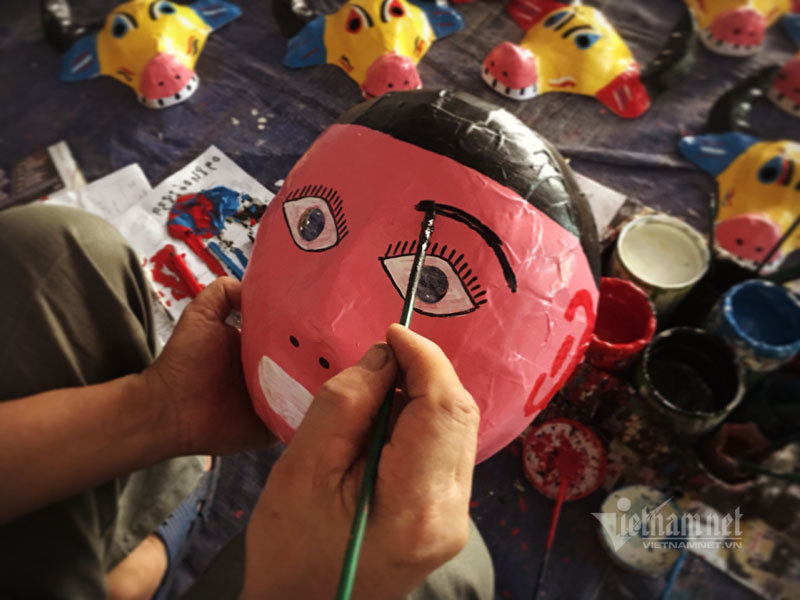 To prepare enough paper masks for each Mid-Autumn Festival, Dong's workshop usually begins production of paper masks from September of the last lunar year.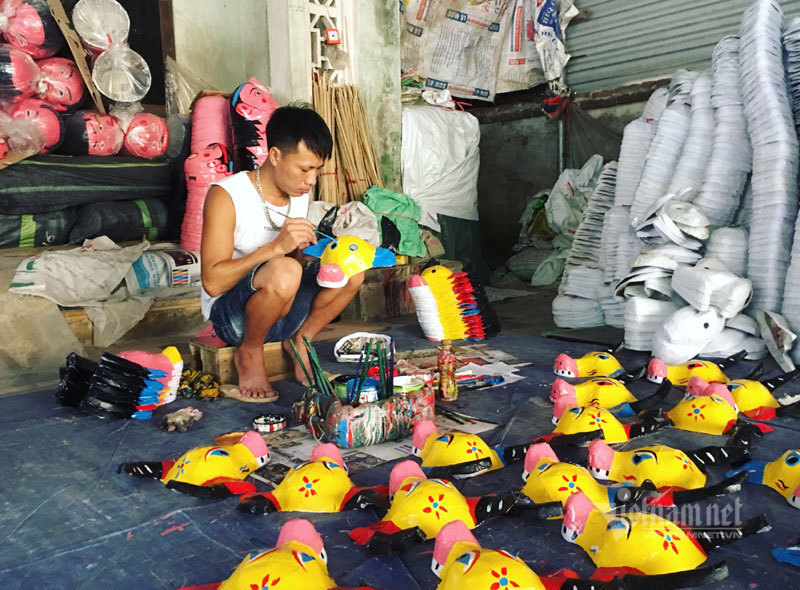 The places that can catch the sun, the large yard in front of the house, the wall or the road in the village are packed with logs for making drums or paper masks.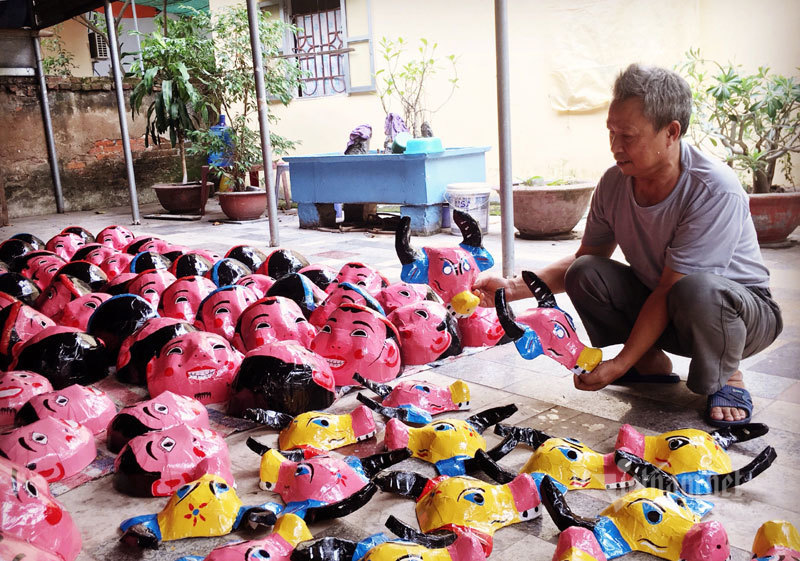 From the beginning of May of this lunar year, workers began painting the masks. This is an important and time-consuming step.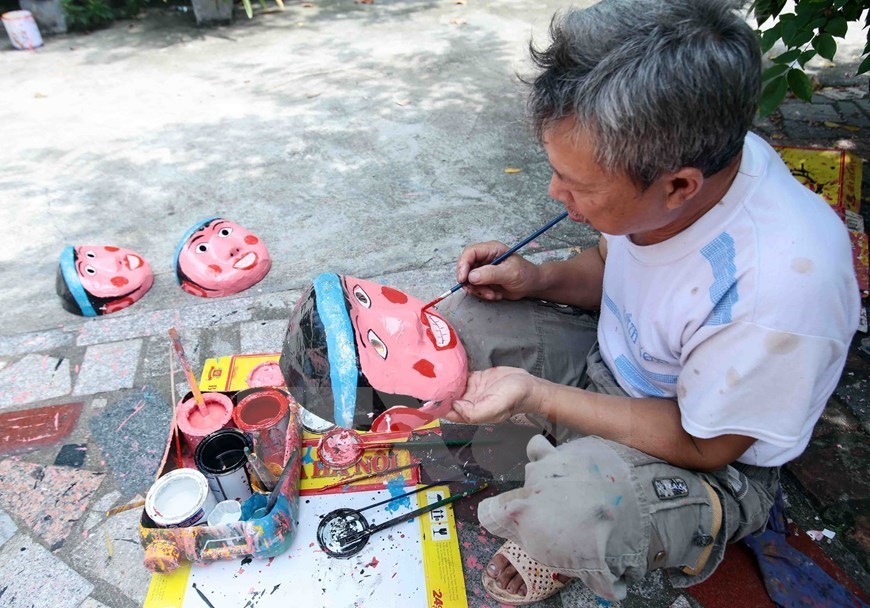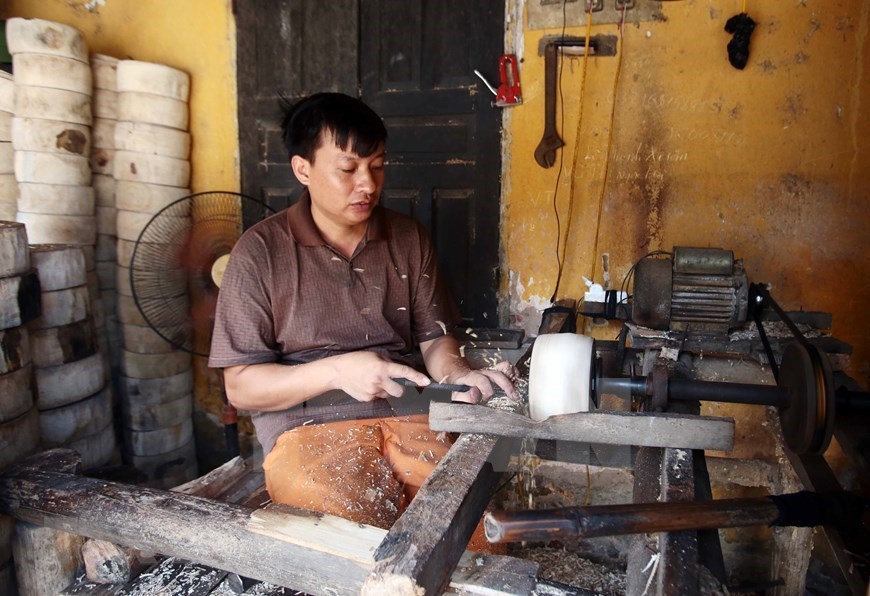 Wood and buffalo skin are used to make drums.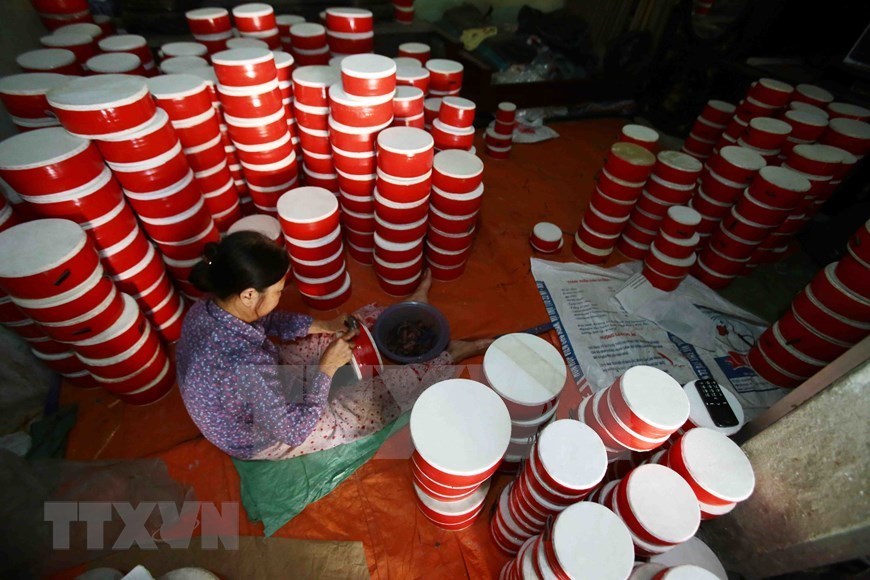 Hearing the thumping drum sound, holding hand masks that are dried up, or finding fruit in the village's market, everyone feels that Mid-Autumn Festival is coming very close.
Nhat Thanh

Many households in a Mid-Autumn Festival toy making village have seen a sharp fall in their income due to being affected by the Covid-19 pandemic.
Discarded tyres, cardboard boxes, and other materials have been given a new lease of life and turned into brand new toys for children via the meticulous hands of young people.