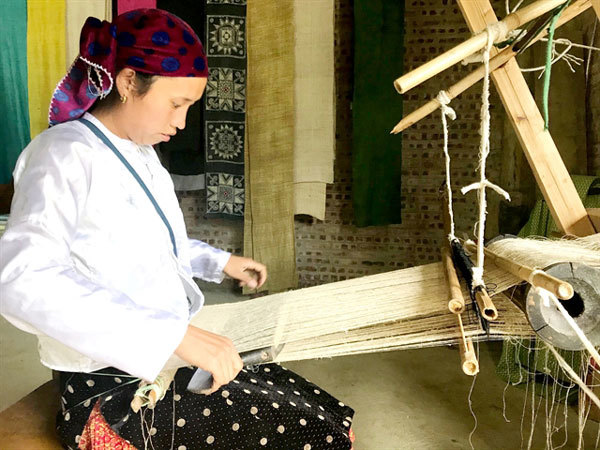 Sung Thi Sy weaves flax fibres. — VNS Photos Khanh Van
"I was so scared and felt stuck," Sy, from the H'Mông ethnic minority group in the northern mountainous province of Ha Giang, said, bursting into tears.
Her family used to be one of the poorest households in Sà Phin A Village, Dong Van District, where over 80 per cent of people belong to the H'Mông group.
Abject poverty has been blamed for her sufferings.
"We did not have enough money to buy rice, meat and warm clothes for our kids. We could only afford to buy one kilo of meat every six months or even a whole year," Sy said.
"My husband was depressed and angry because of the poor situation," she said.
"He found drinking a way to release the stress. And whenever he drank, he physically abused me without any reason," Sy said.
"I used to think about running away but my love for our two kids made me stay," she said.
When Sy had reached an apparent dead end, she was offered the chance to join a local co-operative specialising in handicraft brocade products, an opportunity that has helped to change her life.
The Lanh Trắng (White Flax) Agricultural and Forestry Services Co-operative, established in 2017 by the district's Women's Association, has offered opportunities for many disadvantaged ethnic minority women like Sy to find stable jobs and incomes and escape poverty.
Dong Van is one of the country's poorest districts and most local people are from ethnic minority groups with limited knowledge and skills, according to Vang Thi Cau, vice chairwoman of the association and founder of the co-operative.
"Barren land and unfavourable climate conditions make it difficult for agricultural work," she said.
"They also face a high risk of domestic violence, human trafficking and illegal labour exports," she said.
"We decided to set up the co-operative with support from local authorities to help improve the living conditions of local women," she said.
The district's authorities provided VND300 million ($13,000) to help the co-operative invest in growing flax, buying equipment and providing vocational training for local women.
But initially it was not easy to persuade the women to join the co-operative, according to Cau.
"Most of them were so shy and did not think they were capable of doing the job well and were unsure of the co-operative would succeed," she said.
"Their sufferings had also made them become more reserved. For example, I had to visit Sy's house many times to talk to her and try to persuade her to try the job," she added.
Gradually, they became more open and proactive when they met other women in similar situations, and that gave them the confidence to try, according to Cau.
Life changing
After joining the co-operative, Sy and other women received free vocational training for two months about how to produce handicraft products from flax.
Their products, including blankets, pillow covers, handbags, bags and wallets, are not only popular among domestic and foreign tourists visiting Ha Giang, but are also exported to many countries, including Japan, the US, Germany and the Netherlands.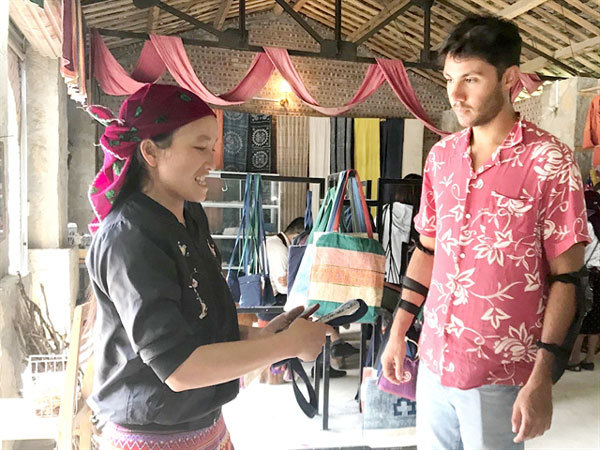 A member of the Lanh Trắng (White Flax) Agricultural and Forestry Services Co-operative shows handicraft products to a foreign tourist.

The co-operative had so far created jobs for 95 women from poor households in 15 out of the 19 communes in Dong Van District. Each of them now had a stable income of VND3-6 million (US$170-260) per month, according to Cau.
"We have helped four women escape poverty, including Sy," she said.
"And one of our biggest successes is helping Sy to end domestic violence," Cau said.
"Poverty is one of the reasons behind domestic violence among ethnic minority people. Sy is just one of many victims of violence in the province," she added.
"To help end the violence, we encouraged and created conditions for Sy's husband to work for the co-operative. He is now in charge of transporting materials or delivering products and earns VND3 million each month," Cau said.
"They both work for the co-operative now and have stable incomes to support their family. Escaping poverty also brings an end to the domestic violence that Sy had to suffer for so long," she said.
"My life has been much improved. My husband no longer beats me. We are happier now," Sy said, smiling.
"We could also afford more rice, meat and warm clothes for my kids," she said.
Dinh Chi Thanh, vice chairman of Dong Van District's People's Committee, said the cooperative is one among successful models that have helped to empower ethnic minority women to escape poverty sustainably.
Local authorities planned to expand the model to create more opportunities for ethnic women to improve their living conditions, he said.
They had also taken measures to prevent domestic violence and promote gender equality among ethnic minority people in Dong Van District, focusing on information dissemination and vocational training, he said.
"Women should have chances to bring into full play their skills, and stable incomes help them become more independent with a voice better heard in their families. That is one of effective ways of preventing domestic violence," Thanh said.
As Sy said: "I hope more disadvantaged women will have chances to change their lives like me". VNS

A project to build 2,174 bridges to replace temporary bridges in 50 provinces and cities has progressed more quickly than expected, said Nguyen Van Huyen, director of the Directorate for Roads of Vietnam.

Local authorities need to learn more about the multi-dimensional aspects of poverty and offer solutions to reduce the poverty rate in Ho Chi Minh City, Deputy Secretary of the municipal Party Committee Vo Thi Dung said.  

The fourth ASEAN-China-United Nations Development Programme (UNDP) Symposium began in Hanoi on Wednesday with discussion focusing on innovation in achieving Sustainable Development Goals (SDGs) and eradicating poverty.
Khanh Van