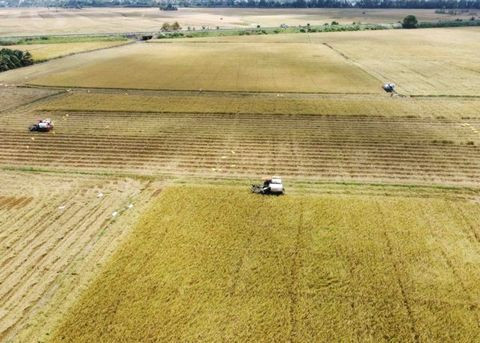 NEW FIELDS: A rice field during harvest season in the southern province of An Giang. VNA/VNS Photo Vũ Sinh
The trade agreement, which went into effect on August 1, 2020, has brought Việt Nam-EU economic partnership to the next level while establishing a solid foundation for future economic and investment collaboration.
The EVFTA was the first and among the most influential, of many new-generation free trade agreements signed by Việt Nam in recent decades, which has connected Việt Nam's economy to those of the EU's 27 member states.
Defined by high-standards and encompassing commitment in various fields, and a strong focus on the liberalisation of trade and investment, the EVFTA has delivered significantly positive impacts on Việt Nam's economy, both economically and institutionally.
Three years after the implementation of the EVFTA, Việt Nam has made it clear the country has been and will continue to stay committed to full implementation of the trade agreements regarding tariffs, market access for services, investment, public procurement, and deregulation.
According to the Vietnam Chamber of Commerce and Industry (VCCI), the EVFTA has played a major role in improving trade, the pace and quality of foreign investment, business awareness and economic development in the country.
Trade and investment
Total export turnover from Việt Nam to the EU during the period of August 2020 to July 2022 reached a total of US$83.4 billion, averaging $41.7 billion annually, according to the VCCI.
This represented an increase of 24 per cent of turnover per year compared to the period of 2016-19, largely thanks to an increase in EVFTA tariff preferences.
The trade agreement has provided a significant boost to many of Việt Nam's major exports thanks to its tariff preferences, including rice, footwear, aquatic products, plastic and plastic products.
However, export growth from the country to the EU has remained modest at just 14.1 per cent in 2021, trailing behind its economy's growth to other FTA markets at 18.2 per cent and all worldwide markets at 23 per cent in the same year, showing there was still untapped potential for bilateral trade in the future.
On the investment front, the EU's foreign direct investment (FDI) into Việt Nam reached $1.37 billion in registered capital in 2020, ranking eighth and accounting for 4.8 per cent of the total FDI in the country.
Following the EVFTA, the EU's FDI into Việt Nam was up 2.2 per cent in 2021, bringing the union to the fifth rank and 4.5 per cent of all FDI investment in Việt Nam.
VCCI's data indicated that the trade agreement has played a significant role in attracting investment from the EU to Việt Nam, recording the average investment capital during the period of 2017-21 (after EVFTA negotiations were completed) increased by 86 per cent compared to the 2015-16 period.
Awareness and benefits
According to the VCCI, 94 per cent of Vietnamese businesses surveyed said they heard or studied the EVFTA to varying degrees, the highest rate among the Southeast Asian economy's numerous FTAs.
Three out of ten businesses when asked confirmed they possessed an understanding of the commitments related to their business activities within the EVFTA. Among different groups of businesses, the FDI group had the highest rate of fairly clear/clear understanding of the EVFTA (43 per cent), followed by domestic private enterprises (37 per cent), and lastly, state-owned enterprises (13 per cent).
The survey showed a clear indication of the trade agreement's appeal among the business community and the success of a coordinated effort on the part of Vietnamese state agencies and the media in promoting the EVFTA.
In addition, 41 per cent of participating businesses in the survey reported having benefited from the EVFTA with the most common incentives of the trade agreement being tariff preferences for exported and imported goods; followed by effects such as increased orders, increased revenue, and profit from supplying goods/services for export-import activities with the EU, or opportunities for cooperation and partnerships to leverage the EVFTA; and other longer-term benefits such as investment opportunities or protection of intellectual property in the EU (9-12 per cent of businesses).
On the other hand, among the 59 per cent of businesses that did not benefit from the EVFTA in the past two years the most common reasons included not having any transactions with EU partners during that time (69 per cent); not knowing the specific benefits of the trade agreement (24 per cent); and other reasons stemming from subjective limitations of businesses or objective challenges in implementation (4-7 per cent).
Additionally, around 4.2 per cent of participating businesses said they experienced difficulties and suffered financial setbacks from the EVFTA, mainly in the form of increased compliance costs and increased competition from imported EU goods.
Regarding the utilisation of tariff preferences, 17 per cent of businesses said they benefited from EVFTA tariff preferences with at least one export shipment, and 16 per cent benefited from cheaper imported goods.
Most participating businesses said they became aware of these benefits through proactive commitment exploration (73 per cent) and/or partner suggestions and support (36 per cent).
In terms of what measures have been taken by said businesses to secure these benefits, 34 per cent said that their current supply chain and production cycle were in compliance with the EVFTA rules of origin; 13 per cent said they changed or adjusted.
For businesses who failed to exploit the benefits from the trade agreement's tariff preferences, the most common reasons included not meeting the rules of origin requirements (20-33 per cent of businesses) or having already benefited from other tariff preferences like GSP or low MFN tariffs (18-31 per cent).
In addition, there were a minority of businesses who said they had not managed to meet document and procedural requirements (10-11 per cent) or were aware of these benefits (15 per cent).
When asked about the effect of the EVFTA and other FTAs in the near future, 76 per cent of businesses said they believed these FTAs would have an impact on their business prospects over the next three years. Among these, the majority (85 per cent) said they expected the impact to be positive, while only one per cent said negative.
Most business expectations were centred around improvements in supply sources, order volumes, revenue, profits, value chain participation, and collaboration opportunities (88-92 per cent).
According to the VCCI, this high percentage could serve as both a motivator for businesses to further explore and take action to realise their expectations and a risk factor due to overly optimistic outlooks.
Regarding potential obstacles that could hinder businesses from benefiting from the EVFTA, the most commonly said included market volatility and uncertainty (47 per cent of participating businesses), limited competitive capabilities (46 per cent), and lack of information about commitments and application procedures (40 per cent).
Global integration
The EVFTA and other free trade agreements including the Vietnam–Eurasian Economic Union Free Trade Agreement in 2016, the Comprehensive and Progressive Agreement for Trans-Pacific Partnership in 2018, and the Regional Comprehensive Economic Partnership in 2022, among others, have played a key role in the Vietnamese Government's efforts for greater and deeper economic integration into the global economy, in line with 13th National Congress of the Communist Party of Việt Nam.
By providing a connection at both regional and global levels, leveraging the advantages of numerous global free trade agreements, Việt Nam is striving to become an important link in the global supply chain and economy while pushing for faster and stronger socioeconomic development of the country.
In addition, Việt Nam has been engaging and participating in a number of international forums and organisations as an active, reliable, and responsible member of the global community, to help address some of the most pressing issues and challenges including maritime security, climate change, food security, and water resources.
In cooperation with the international community, Việt Nam has been taking part in multilateral activities on the ground, notably in the realm of maintaining UN peace with Vietnamese delegations deployed on numerous UN peacekeeping missions around the world.
"Việt Nam will continue to pursuit high-level diplomacy in deepening relations with global partners, promoting multilateral diplomacy and steadfastly following an independent, self-reliant, peaceful, cooperative development-oriented foreign policy, diversifying and internationalising international relations while actively and deeply integrating into the global community, prioritising national interests above all else," said the General Secretary of the Communist Party of Việt Nam, Nguyễn Phú Trọng, at the 13th National Party Congress. VNS