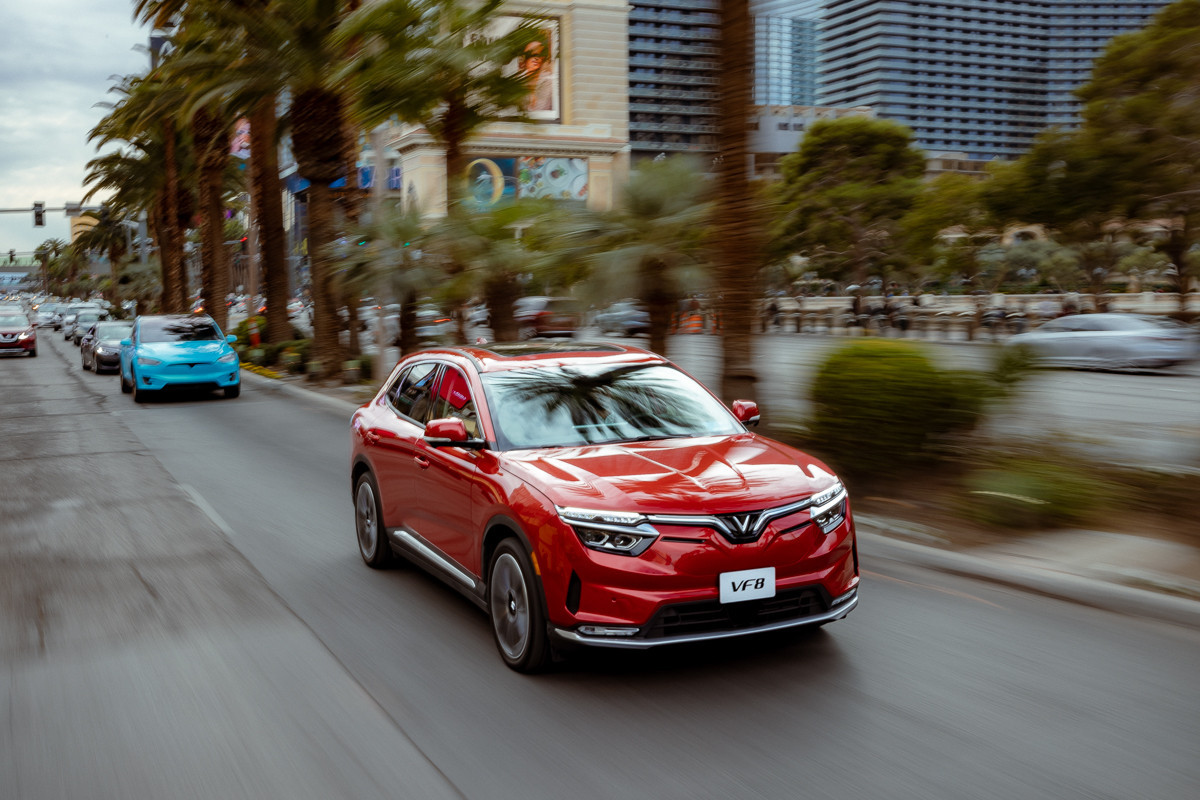 Developing electrical vehicles is a worldwide trend, including in Vietnam. By 2040, Vietnam will stop selling vehicles using internal combustion engines, both domestically made and imported. The roadmap planned by the government is in line with Vietnam's commitments at COP26 which took place in late 2021.
This will have a big impact on the automobile manufacturing industry in Vietnam and other fields, including the power sector.
Electricity generation plan
Experts at a workshop held recently by the Hanoi University of Science and Technology (HUST) warned that it is time to think about ensuring electricity sources for vehicles as petrol-run cars replace electrical vehicles. Selecting electricity sources for vehicles to make them truly 'green' is an issue of concern.
Le Anh Tuan from HUST said that electricity sources in Vietnam now heavily rely on thermal power which generates a lot of carbon and should be restricted.
Meanwhile, if Vietnam wants to increase hydraulic power, it will have to build big reservoirs and engage in deforestation, which leads to CO2 absorption reduction and makes it difficult to implement the 'net zero' plan as promised.
"In the time to come, we need to encourage the use of renewable power sources to produce electricity such as wind power and solar power. Also, we should also discuss carefully about the feasibility of nuclear power. The incidents of nuclear power plants must not be the reason for us to shrink back," Tuan said.
Bui Van Ga, former Deputy Minister of the Ministry of Education and Training (MOET), who is an automobile and motorbike expert on green power, said choosing the electricity sources for electrical vehicles is a matter that needs thorough consideration.
An electric vehicle is friendly to the environment, and electricity sources also need to be clean.
"If we use electricity powered by coal, the shift to electrical vehicles won't have any significance because CO2 will still be generated. Only when using clean power will electrical vehicles bring environmental effects," Ga said.
The expert said that the government and the Ministry of Industry and Trade (MOIT) need to release a national power development plan (Plan 8) soon as the plan will serve as the 'guideline' not only for the power sector, but also for electrical vehicles to develop.
It will point out where electricity will come from, either from renewable energy or fossil energy.
"In the next 20 years, when most means of transport use electricity, the electricity capacity will be very high, at least 2-3 times higher than currently. Will we have enough power to provide then?" Ga said.
Radical steps needed by 2050
More and more electrical vehicle models have been introduced in the Vietnamese market. Besides Vinfast electrical vehicles, hybrid and plug-in hybrids have been imported by Toyota, Nissan, KIA, Hyundai, Suzuki and Mercedes Benz.
Hybrids are economical and meet emission standards, and don't need big changes in users' habits.
Regarding the roadmap from now to 2050, Ga believes there should be policies for specific periods. From now to 2030, Vietnam needs to have at least 50 percent of vehicles shift to electrical vehicles. The shift to hybrids is the most suitable move for now.
"We need to go step by step. It would be better not to be too optimistic and think that we can shift immediately from petrol-run to electrical vehicles because of the problems in mechanisms and policies, as well as problems in infrastructure development. People may have enough money to buy electrical cars, but they may not be able to use them because of the lack of charging stations," he said.
From 2040, when infrastructure develops well enough, Vietnam could absolutely shift to electrical vehicles and hydrogen will be the suitable power.
A question has been raised about how to deal with millions of vehicles using internal combustion engines after 2040 when petrol-run vehicles are forced to death.
Hoang Hiep