Exhibition capturing VN's beauty opens in Beijing
Photos and paintings capturing Viet Nam and its' people will be on display next Monday in Beijing.
Photos and paintings capturing Viet Nam and its' people will be on display next Monday in Beijing.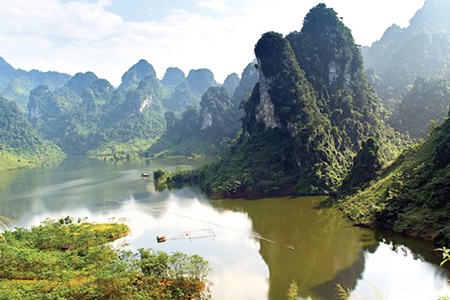 A photo entitled My Country taken by Hoang Hai Thinh.

Entitled Viet Nam in My Heart, the exhibition will show the gentle smile on workers' faces and the innocent eyes of children, beautiful landscapes and ordinary lives through photos taken by Nguyen Viet Thanh and Hoang Hai Thinh.
The exhibition also displays paintings of lotus by Dang Phuong Viet.
A photo book comprising artworks displayed at the exhibition is also being published.
"Through the book and exhibition, I hope to introduce you to Viet Nam," said Dang Minh Khoi, Ambassador of Viet Nam to China.
"I hope that as you flip through the book, you will find yourself discovering Viet Nam, be welcomed and experience the vitality and beauty of the country."
"Each individual photo and painting is part of a puzzle to a larger picture. It's a picture of a friendly and hospitable Viet Nam, a picture of a country bursting with vitality, a picture of simple people with happiness."
Thanh was born in 1971 in Ha Noi. In 1994, he became a photo journalist at Viet Nam News.
With a passion for photography, he became a career photo journalist with a modern view and a focus on daily life reportage.
He is the first Vietnamese person to win the Golden Prize at the Asian Press Photo contest.
With many awards and exhibitions organised at home and abroad, he's considered as among the most outstanding photographers in contemporary Vietnamese photojournalism.
Thinh was born in 1963. He's known as a mathematics lecturer and a senior business manager, holding an important position in two leading information technology firms in Viet Nam.
He started taking photos in 2007 as a hobby, an immense passion, great creativity and an inquiring mind.
Thinh learned photography on his own.
He has won many medals and awards at national and international contests. He has exhibited photos in Berlin, Houston and now Beijing.
Viet was born in 1972 in Ha Noi. His works are mainly oil on canvas in the style of modern realism. His works are displayed at numerous galleries and found in both Vietnamese and international private collections.
His favourite theme is lotus and banana flowers.
Departing from the traditional depiction of lotus as symbol of beauty, resilience and enlightenment, he updates them into a modern image.
He uses a seeming cacophony of colours. Even though Viet's choice of colours is challenging, he manages to combine them in a harmonious medley.
The exhibition will run until January 18.
VNS