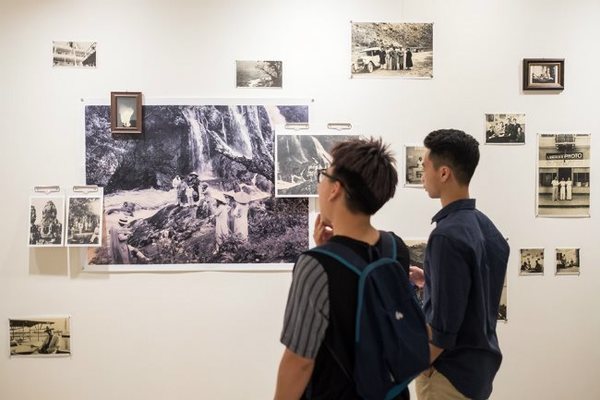 Two visitors are looking at photos of Nguyen Van Chanh at the exhibition - PHOTO: COURTESY OF ORGANIZER
The photos on display are selected from three albums of Nguyen Van Chanh and his eldest daughter Bach Diep, Vietnam's first female film director. This is the first time their works have been published after almost one century stored away.
The "Nhung Ngay Doi Nang" (Days in the Sun) exhibition is an extension of "Makét 01: There Was Once a Photography Craft Village", a publication on Lai Xa photography village on the outskirts of Hanoi. Published on September 1, this is the first publication of Matca that represents the continuous efforts in discovering the journey of photography in Vietnam.
After two years of learning the craft from a relative, the 15-year-old Nguyen Van Chanh sought a bank loan to open his own photography store in 1926 and named it Luminor Photo. During the French colonial period, the store had four branches in big commercial centers in Haiphong, Hanoi, Sapa and Lang Son.
It was said that a portrait taken at Luminor Photo was 10 times the average price at that moment. However, the customers were willing to pay for the exceptional quality and service.
The business success of Luminor Photo gave Chanh a rare freedom in photography and in life. While the portraits show a respectable business-owner Nguyen Van Chanh, photos from his daily life show spontaneous moments of a young man.
A witness of time, the photo diary depicts the life and career of a photographer- businessman in Vietnam who dared to think and dared to act, in a time when the country was transforming through the war and the exchange in cultures.
The "Days in the Sun" exhibition is sponsored by Canon Vietnam. It runs until October 7 and offers free admission.