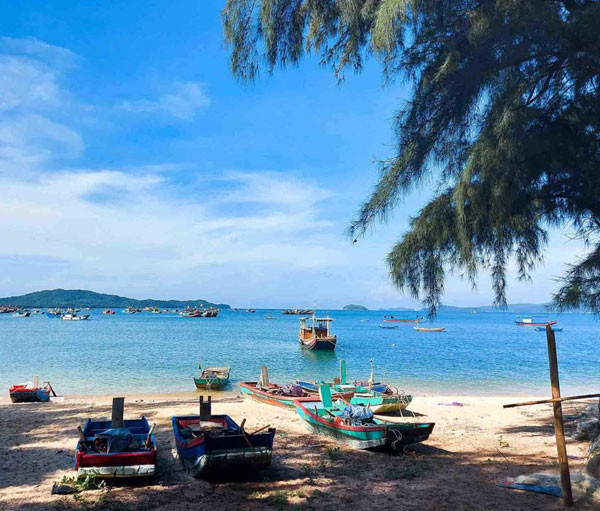 Co To Island is the biggest island located within the archipelago of Co To Island District, comprising 50 big and small islets. The island is well known not only for its charming beaches and beautiful spots but also for its vast primary forests.
From Van Don District, Quang Ninh Province, tourists can catch a boat from Cai Rong Port to Co To Island, including high-speed or wooden boats.
The first high-speed boat departs at 6 a.m. every day and the last one is at 5:30 p.m. There are up to 18 high-speed boats per day. Meanwhile, the wooden boat departs from Van Don at 7 a.m. and from Co To Island at 1 p.m.
On Co To Island, tourists can hire a motorbike to travel around.
The island is home to several scenic spots, among which is the Cau My Reef. The reef complex has giant rocks in strange shapes which have been eroded by the sea.
The best spot to enjoy a panoramic view of the island is the Co To lighthouse which was built in the late 19th century.
Visitors have to walk along a rocky bumpy path to reach the lighthouse. However, it is a poetic path as it is lined with high trees and rose myrtle flowers.
Standing on the mountain where the lighthouse is located, tourists can see a village half hidden in the forest below and listen to the waves lapping and the winds blowing.
On reaching Co To, tourists must visit Van Chay, dubbed the most beautiful beach on the island. Some even say that nothing can compare to the breathtaking view of the sunset on Van Chay Beach. Camping overnight on the beach is also an interesting experience.
The Small Co To Islet, around one kilometer from Co To Island, is also worth a visit. It takes tourists 15 minutes to travel to the Small Co To by ferry. No one lives on Small Co To as it is a military islet, with untouched beauty. Tourists can explore the beautiful beaches by walking through forests on Small Co To.
Source: SGT