Exports via foreign retail networks prove fruitful: Official
The export of Vietnamese goods via the distribution networks of foreign retailers has proven to be an effective and sustainable channel, Deputy Minister of Industry and Trade Do Thang Hai told a recent conference in Hanoi.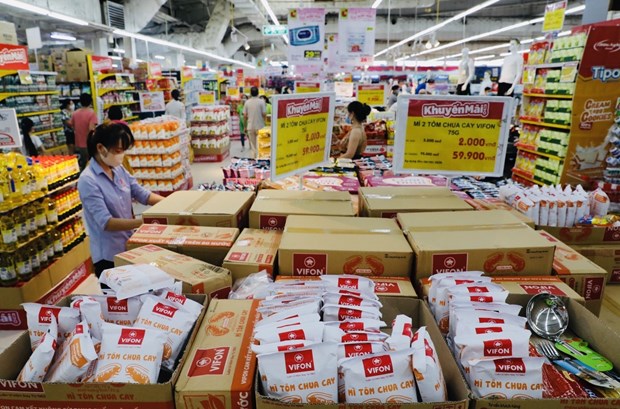 Vietnamese goods sold at a Big C supermarket of the Central Retail group 
The conference reviewed the five-year implementation of a plan on promoting the engagement of Vietnamese businesses in foreign distribution networks to 2020. It saw the presence of foreign retailers such as Aeon, Walmart, Central Retail, Lotte, and Mega Market, along with Vietnamese business associations and exporters.
Hai said that thanks to the support of world leading distributors and retailers, high-quality Vietnamese products, from farm produce and food to household utensils, furniture, and garments, have now reached millions of consumers worldwide.
Participants looked at the achievements as well as the problems in implementation and set targets and solutions for the next 10 years to turn Vietnam into an important ASEAN supplier for international distributors and retailers.
Ta Hoang Linh, Director of the European - American Market Department at the Ministry of Industry and Trade (MoIT), said the ministry will continue its efforts to develop strategic partners for the plan, especially retailers already operating in Vietnam or those interested in moving their supply chains to the country.
It is set to work with business associations and localities to select key firms for providing assistance under the plan while making policies to help Vietnamese companies make use of the export channel.
In particular, he noted, the MoIT will support the export of goods via transboundary e-commerce platforms and further involve the banking system in assisting exporters.
The MoIT and retailers also introduced a handbook at the conference guiding exports via the distribution networks of partners to the plan.
Hai expressed a hope that foreign retailers, as strategic partners of the ministry, will further help Vietnamese businesses expand export markets and participate in global supply chains./. VNA

While Covid-19 has caused financial hardship for many, it has not hurt the wealthy, who are still buying luxury items but not at the same level as they did before the pandemic.

With a market size of more than $60 billion and double-digit growth each year, Vietnam's retail industry continues to heat up the race between domestic and foreign investors.