Farm exports on the rise despite Covid-19
Vietnam's farm exports continue growing, serving as the pillar of the economy. Exporters are sprinting to export more produce for the year-end sale season.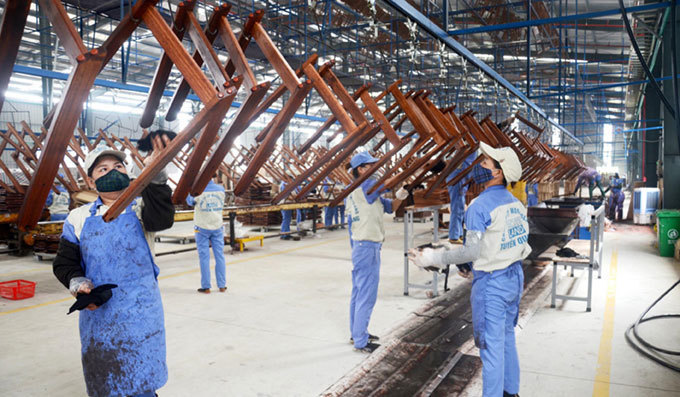 A report from the Ministry of Agriculture and Rural Development (MARD) showed that production is recovering quickly thanks to social distancing loosening. Most of the key farm produce regained growth momentum in October after the slowdown in August and September.
Farm exports brought turnover of $38.8 billion in the first 10 months of the year, an increase of 13.1 percent over the same period last year.
Of this, exports of major farm produce brought $17.4 billion, up by 12.7 percent and major forestry products $12.8 billion, up by 22.3 percent. The turnover from livestock exports reached $359 million, up by 6.1 percent. Only seafood exports increased slightly, by 0.8 percent, reaching $6.9 billion.
The report pointed out that despite the fluctuations in the world and domestic markets because of the pandemic, many categories of products still saw two-digit export growth rates.
Rubber exports, for example, grew by 46.5 percent, pepper 44.2 percent, woodworks 20.6 percent, and handicrafts 42.6 percent. The export of cashew nuts, cassava and cassava-made products also increased by 13.5 percent and 21.2 percent, respectively.
The two categories that saw the biggest trade surplus were forestry products, with export turnover of $10.28 billion, and seafood $5.27 billion.
The US, China, Japan and South Korean remained the four biggest clients of Vietnam's farm produce in the last 10 months, which imported $10.8 billion, $7.5 billion, $2.6 billion and $1.7 billion, respectively. Overcoming China and Cambodia, the US became Vietnam's largest trading partner.
MARD Minister Le Minh Hoan emphasized the important role of agricultural production as a pillar of the economy when it staggers. He said the scale of enterprises in the agriculture sector is not as strong as the industry sector, but the combined power of tens of millions of farmer households create strength.
During the pandemic, the agriculture sector with tens of millions of households have been flexible and dynamic in creating economic value from their fields, orchards and ponds, creating positive growth, while other business fields in the economy have faced difficulties.
According to Hoan, the strongest growth of the agriculture sector is in the fourth quarter of the year. The Minister, after working with associations, believes that targeted export turnover of $42.5 billion this year is within reach.
Though production still depends on pandemic development, Hoan has confidence in the performance of the agriculture sector. Vietnam has great opportunities to boost farm exports in the fourth quarter of the year, when western countries have Christmas and New Year holidays and Chinese celebrate their traditional new year holiday.
He said many enterprises in Europe have decided to import farm produce from Vietnam, not just from Thailand, South America and Africa.
Nguyen Quang Hung, Deputy General Director of the General Directorate of Fisheries, said despite problems in the labor force, logistics costs and costs to ensure safe production, seafood processing and export companies are gradually recovering production.
Hung said the last two months of the year will be the 'golden time' for Vietnam's enterprises to step up production and boost exports.
Le Van Quang, President of Minh Phu Seafood, said that transportation has become favorable as lockdowns and check-points have been removed, and import-export ports have reopened. His company is running at full capacity as demand for seafood products is high.
Sao Ta Food JSC, which exports shrimp products to six major markets, including the US, Japan, Australia, South Korea, the EU and UK, has increased production capacity to 100 percent to fulfill orders and deliver goods on schedule.
In the woodwork industry, enterprises in HCM City, Dong Nai and Binh Duong have also geared up after a period of stagnation because of social distancing.
Nguyen Hoai Bao, Deputy General Director of Scansia Pacific, said the market is more bustling in the last months of the year, and it's now the 'golden season' of enterprises in the woodwork industry. Bao has enough input materials for production and just needs to recruit enough workers to fulfill orders.
The Vietnam Administration of Forestry believes that woodwork exports will bring $15 billion in turnover this year. 
Tam An

Only when Vietnam can bring its farm produce to official distribution systems in countries will Vietnam's national brand be well known by consumers around the world, Minister of Agriculture and Rural Development Le Minh Hoan said.
Cashew nuts, pepper, rice, bananas and mangoes from Cambodia have been flooding the Vietnamese market, turning the country into the biggest farm produce exporter to Vietnam in the last eight months.