Mr. Phan Van Hung, 36, from Hoa Vang district in the central city of Da Nang, once worked as a tour guide and in computer repair and construction engineering before shifting to mushroom cultivation.
Hung carved out his career from scratch in 2017. "I was completely alien to mushroom growing techniques, so I had to rely on online videos and experiments for reference. After seeing some improvements in my skills, I started to grow abalone and Ganoderma mushrooms with an area of ​​over 20 square meters, and an initial capital of VND3 million."
His planting model began to gain ground so he was looking to revamp its standards and yield even further with more holistic methods. In 2018, he invested VND50 million for the expansion of mushroom growing, which at that time also meant more challenges due to his lack of technical skill and experience.
"I did not feel discouraged by that. I kept on reading from the Internet and books to fill in what I was lacking, as well as to find the best method to use. In 2019, my mushroom harvest reached higher yields and started to make profits," said Hung.
Following the stable abalone, lingzhi and oyster mushroom yields, in early 2020, Mr. Hung embarked on research in growing cordyceps mushrooms. He invested more than VND120 million to build a system of cultivating this type of mushroom on an area of ​​9 square meters.
After countless failures, Hung finally harvested 2 kilograms of cordyceps mushrooms by the beginning of 2021. They are currently being submitted for product quality analysis samples. He is the first person in Da Nang to successfully grow this precious and valuable mushroom.
"Cordyceps mushrooms are priced at VND6 million per kilogram and not many people can grow them as they require major technology such as absolutely sterile and bright culture environment, as well as natural ventilation, stable temperature, and huge investment. I have been more than 90% successful," said Hung.
High earnings
Hung's products.
Hung's mushroom farm has an area of ​​550 square meters, providing 30 kilograms of daily abalone mushrooms to Da Nang market with the price of VND50,000/kg, while dried Ganoderma is sold for VND800,000 to VND1 million/kg to markets in Thua Thien - Hue and Quang Nam.
"With other expenses deducted, my family earns annually VND400 million and creates seasonal jobs for four local workers."
He said that his success today is thanks to the treasure of abundant knowledge from the Internet, which is all there for the taking. Alongside that is the support of the local government in terms of capital.
"For the time being, Hung's farm products are picking up steam. The district has also supported more than VND300 million for Hung to develop his models, invest in equipment to boost efficiency," said Ms. Dang Thi Yen Khanh of the Agriculture Division in Hoa Vang district.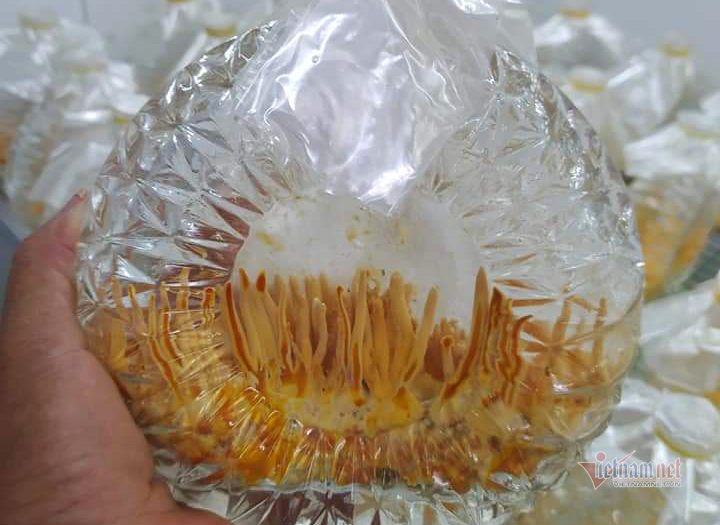 Cordyceps mushrooms
Ho Giap

A scientist in southern Vietnam has used her unique skills to help enrich local farmers.

Wasps are being raised in a garden of one farmer, bringing a high income. Mushroom growing is being controlled by smartphones. These are examples of new and unusual careers.