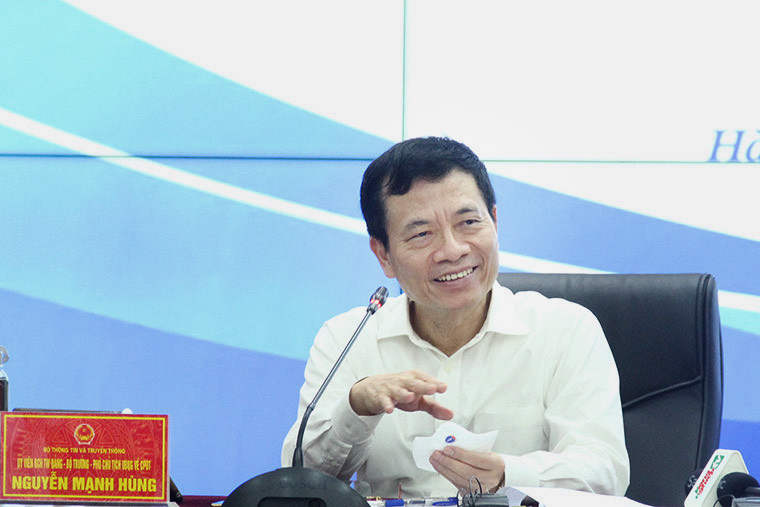 Minister of Infomration and Communications Nguyen Manh Hung
The farmers' difficulty that always exists is the difference between the city and rural areas. Their problem is that they cannot access high-quality training for their children and high-quality healthcare services.
Narrowing the gap is a great work which can be done by digital technology and digital transformation. Online training means that the best teachers in the country can access all students, no matter whether they are in cities or rural areas.
Meanwhile, remote consultancy and health examination platforms also help farmers access the best doctors nationwide.
The teleconferencing system helps connect district hospitals with hospitals at higher levels and central hospitals, which allows doctors to receive consultancy from leading experts. This improves healthcare service quality for farmers.
Software programs using artificial intelligence (AI) technology helps doctors read X-ray images, thus narrowing the gap between rural and urban areas.
The digital technology platforms are basically ready for use. The remaining problem is popularizing them. Does the Ministry of Agriculture and Rural Development (MARD) consider popularization as one of its tasks? I think no one woud be better than the ministry in popularizing digital technologies to improve the lives of farmers. The Ministry of Information and Communications ( MIC) will go together with MARD on this path.
Farmers have problems once the husband or both husband and wife are far away at work and leave their children with their grandparents. Is there any way for parents to still be able to take care of their children from a distance? Is there any method to restrict the time of children playing games? Is there any way to tell children to use computers to study but not access 'black websites'? Is there any way for teachers to send information about children's learning records to the parents who are far away?
Digital technology can solve problems of this kind. So, will MARD take the lead in developing a set of tools and an ecosystem which allows farmers to teach their children though they are far away? MIC can affirm that this is within reach.

For digital technology, the more that technology is applied, the smarter, the cheaper it will be, with more users.
Farmers' problems also lie in the fact that farm produce prices cannot go up, while the prices of other products, especially technology based ones, escalate all the time. How many bananas and kilograms of rice do farmers need to sell to buy an iPhone?
I am referring to bananas with no brand and no origin. But Japanese can do this.
Many farmers grow melons, persimmons and peaches, but the prices of their products vary dozens of times, depending on which province, which garden and which land the products are grown on. The development of brands for each banana, each village, each garden and each household is feasible with Blockchain technology.
There are many more things that can be done for farmers based on technology, an innovation mindset and change of thinking. Only when each banana has origin and the entire process of creating it is recorded will the people's life change basically.
Another problem of farmers is that the cultivation process depends heavily on weather conditions. This is a thousands-of-years worry. So, is there an insurance service for this?
Kenya is doing as follows. They set up a number of automatic weather station using technology and Big Data to forecast weather and then establish an insurance fund for people. Farmers can sign up for insurance policies so that their damages due to crop failure can be partially compensated.
So, should we do a similar thing to help ease the farmers' 'thousands-of-years worry' – weather conditions and natural disasters. The things that others can do can also be done by us. The problem is just whether we want to do it.
Today, MIC is introducing a list of apps for digital transformation in agriculture that have been applied successfully in other countries, and some apps that Vietnam has initially applied successfully.
Digital transformation is a process of learning. This is effective - seeing what other countries have done and doing the same things in Vietnam.
In a world that is fast changing, complex and unpredictable, no one will dare to claim to be the best. But the person who knows who is best and at what is best will be the best. That's the learner.
The best learners are those who both know and don't know. That is, people who know but are willing to recognize what they don't know. The Ministry of Agriculture and Rural Development  and Ministry of Information and Communications will work together as a pair that both know and do not know to become excellent in digital transformation in agriculture, rural areas and farmers.
I am very grateful to Minister of Agriculture and Rural Development Le Minh Hoan for today's meeting. In digital transformation, application is more important than technology. The people applying these are more important than technology makers. There will be no technology if there is no pioneer in technology application.
For digital technology, the more that technology is applied, the smarter, the cheaper it will be, with more users.
So, the high number of users will make digital technology smarter and cheaper. With 60-70 percent of Vietnam's population farmers, they will determine the success of Vietnam's digital transformation. 
VietNamNet

Minister of Information and Communications Nguyen Manh Hung said that farmers will determine the success of digital transformation in Vietnam as they account for 60-70 percent of the country's population.  

Technology utilization and market development are the keys to development of Vietnam's agriculture.