Farming offers fertile investment soil
VietNamNet Bridge – Vietnam's agriculture is expected to attract more foreign investors thanks to the sector's attempts at reforms.
VietNamNet Bridge – Vietnam's agriculture is expected to attract more foreign investors thanks to the sector's attempts at reforms.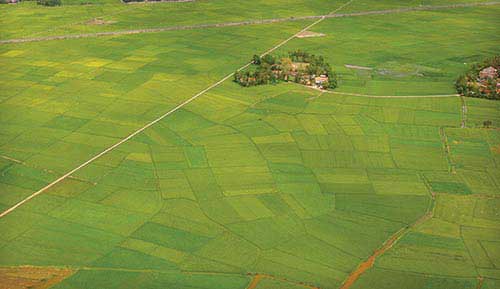 Despite the positives in Vietnam's agriculture sector, overall foreign direct investment in this sector is still very low
Director of the Ministry of Planning and Investment's Foreign Investment Agency (FIA), Do Nhat Hoang told the participants at the recent forum of agricultural development and attraction of foreign direct investment to the sector in Hanoi that innovations in technology, business, infrastructure and labour had been shown to be one of the key elements for promoting growth in Vietnam's agriculture.
Hoang added that Vietnamese farmers had gained experience and had better access to innovative products and technologies from foreign invested projects in the sector in Vietnam. Recent improvements include higher standard seeds that meet international standards along with associated higher yields.
Dang Kim Son, general director of the Institute of Policy and Strategy for Agriculture and Rural Development under the Ministry of Agriculture and Rural Development said that the restructuring plan of Vietnam's agriculture sector had received a lot of interests from foreign investors.
Son also said that localities should restructure their agriculture sector to draw in foreign direct investment (FDI) and they should highlight their strengths and detailed wish-list projects calling for foreign investors to the sector.
The Korea Rural Community Corporation (KRC) and the Dong Thap Provincial People's Committee recently signed a public-private partnership agricultural agreement which will see KRC seek official development assistance from Korea and other funds and provide equipments to develop agriculture in the province.
Matsuyama Yasuo, general director of the Bank of Tokyo Mitsubishi UFJ's Hanoi branch, said that Vietnam was in a better position to develop agriculture than Japan, but Vietnam's infrastructure and technologies for the sector were still weak. Therefore, the bank will provide capital for Japan companies to invest in Vietnam. Japan companies will also be encouraged to co-operate with Vietnamese partners to develop agriculture.
Yasuo held in high regard Vietnam's agricultural products and said that the bank would act as a bridge for investors in agriculture. He revealed that at present, the bank had signed a deal with Japan's leading retail chain Aeon to seek wholesale suppliers in Vietnam.
According to Aeon, the company wants to seek local providers for its outlets in Vietnam, Cambodia, Indonesia, Thailand and Malaysia. Aeon praised Vietnam's seafood, agricultural products and processed foods. Last year, Aeon purchased $6.8 million of Vietnamese goods, including fruit and vegetables worth $984,783, $3.9 million worth of seafood and $1.9 million worth of processed foods. Aeon branches in Malaysia and China also imported Vietnamese fruit and vegetables.
Besides Aeon, Lotte Mart, South Korea's leading retailer is seeking wholesale suppliers in Vietnam for its native Lotte Mart chains. At present, more than 90 per cent of products in Vietnam-based Lotte Mart trade centres are Vietnamese products. Lotte expects to finalise sourcing local suppliers and exporting its first goods to Lotte Mart in South Korea in late 2014 or early 2015.
According to the FIA, over the past time, FDI in agriculture in Vietnam remains modest. By October 20 this year, 516 FDI projects in agriculture with the total registered investment capital of $3.6 billion, equal to 3 per cent of the total number of FDI projects and 1.5 of the total FDI registered capital in the country. The scale of FDI projects in agriculture is small, only an average of $6.6 million per project, while the figure in other industries stands at about $15 million on average.
Moreover, FDI in the sector is mostly from Asian investors such as Taiwan, Thailand and Indonesia and little in the way of new technologies are applied.
VIR/VNN