Regardless of the weather, twice a day, Mrs. Hai Tri stands by the signboard in the middle of the crowded lane to help students get home safely from school.
The human 'mobile sign'
The scorching, suffocating and dusty summer road of Hung Nhon (Hamlet 3, Tan Kien Commune, Binh Chanh District, Ho Chi Minh City) at 11pm does not keep Ms. Nguyen Thi Bach Phuong (Ms. Hai Tri, 62) from going out to offer students of Tan Kien Secondary School support as they struggle to cross the crowded roads.
Grabbing her conical leaf hat, she rushes out onto the noisy lanes jam- packed with vehicles holding a sign: "Please stop for a second and let students cross the street". Whenever a large car approaches with no intention of slowing down, she points the board towards it to ask for giving roads. When she notices that the two lines of cars has slowed down, she graciously leads the students across until they are safe, she then motions for the drivers to move normally.
Year after year, Ms. Hai Tri has become a "mobile traffic sign" to help students cross the street safely.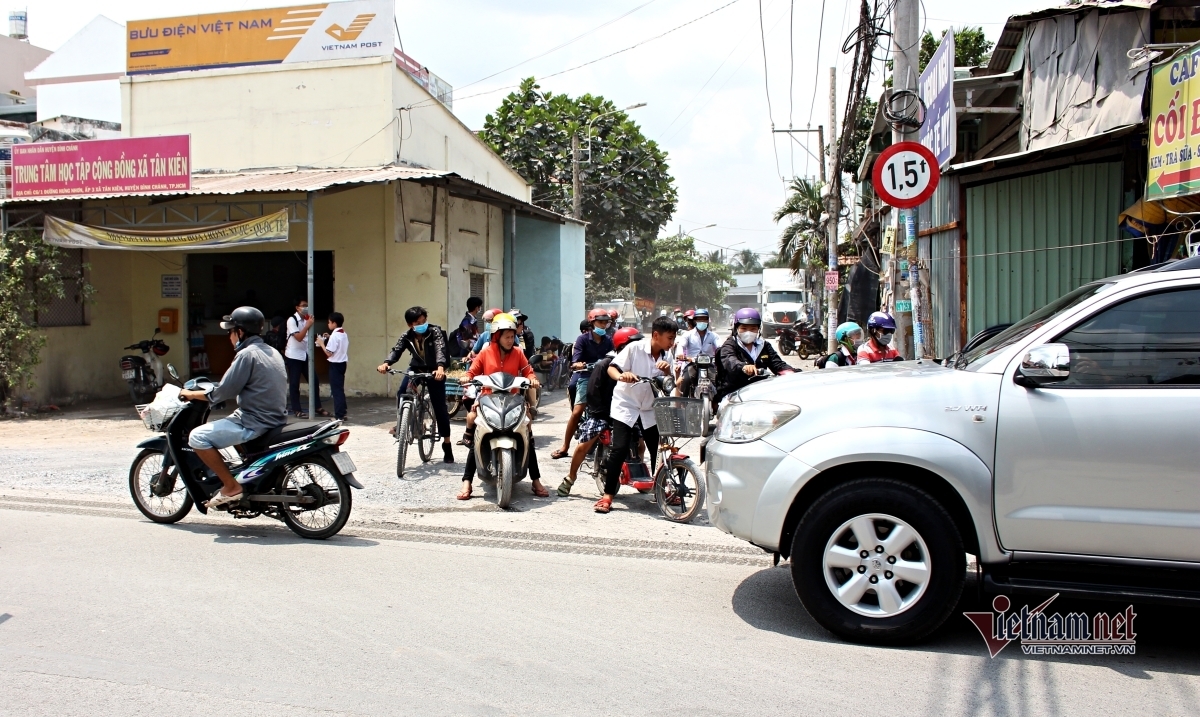 The small road from Tan Kien Secondary School to Hung Nhon Street. After school, students have to stand here for a long time trying to cross the road.
What she's doing is of her own accord and comes from her love for the children. Her house is opposite the road from Tan Kien Secondary School leading to Hung Nhon Street.
She said: "One day, I saw the children standing on the other side of the street for a very long time looking at each other and not daring to pass. This road is quite narrow with 2-way traffic. At noon, there are more cars, trucks, and containers, so it is dangerous with no traffic signs."
Some of them even pleaded for help so she ran out to them. After that day Mrs. Hai Tri wondered how to assist these kids with road crossing. She soon decided to take a pen and scribble on a cardboard, then waited every day for students to finish school, holding a doodle board in the middle of the traffic lane, leading the students through. In fear of what was written on the board as too small to be seen by the drivers, she even tried to bold the text with a felt pen.
Offering help, even without money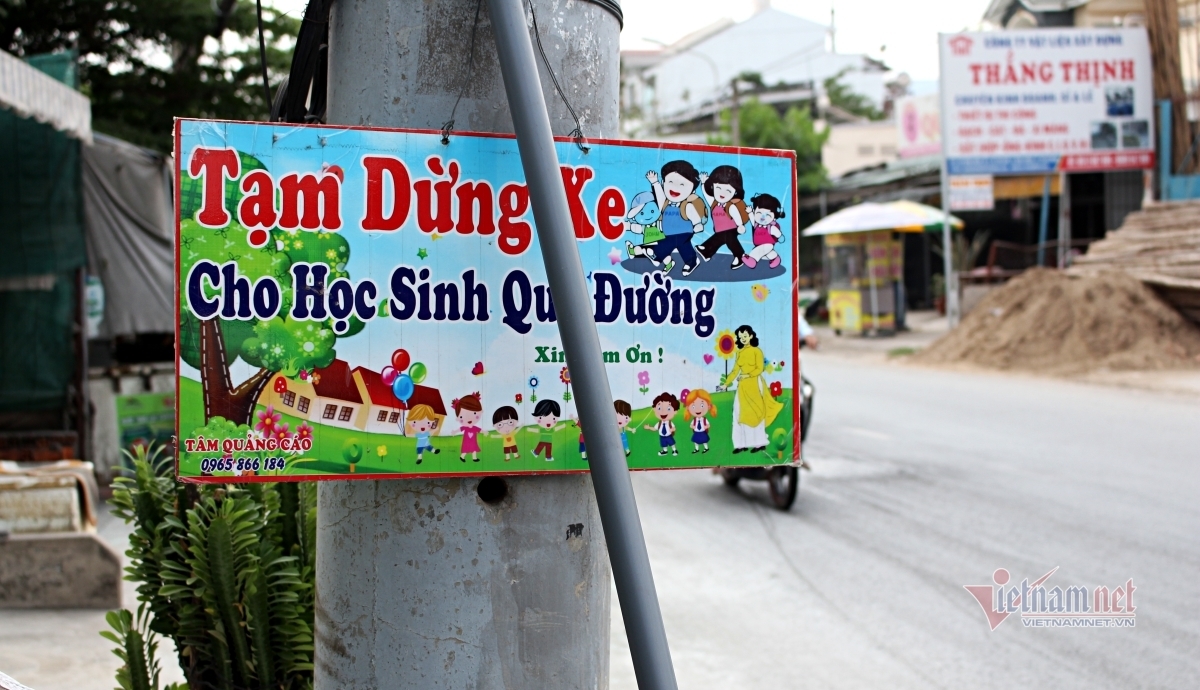 To help students cross the street safely, Mrs. Hai Tri hang a cardboard which writes: "Stop for students to cross the road". Later, the parent of a student presented her a professionally-design signboard.
The students now feel more secure when crossing the street. Parents are no longer worried about their children being in traffic jams after class.
Seeing that the children were more confident and bravely crossed the street, Mrs. Hai Tri didn't think there was any need to hold a traffic control sign anymore. But one day, the students, after crossing the street, came to her again and asked: "Grandma, why haven't you been holding the signboard to lead us across the street for several days? I'm afraid of cars."
Mrs. Hai Tri said: "I was deeply moved by that. For now, I think I will do it all the time as the children are used to having me ask for help. If they do not see me, they will look forward to it and dare not pass.
"I don't see myself as much help for them. It's only a little time and effort but the children are safe and happy. People have money, they go to charity. I don't, so I devote my effort and love and time," she added.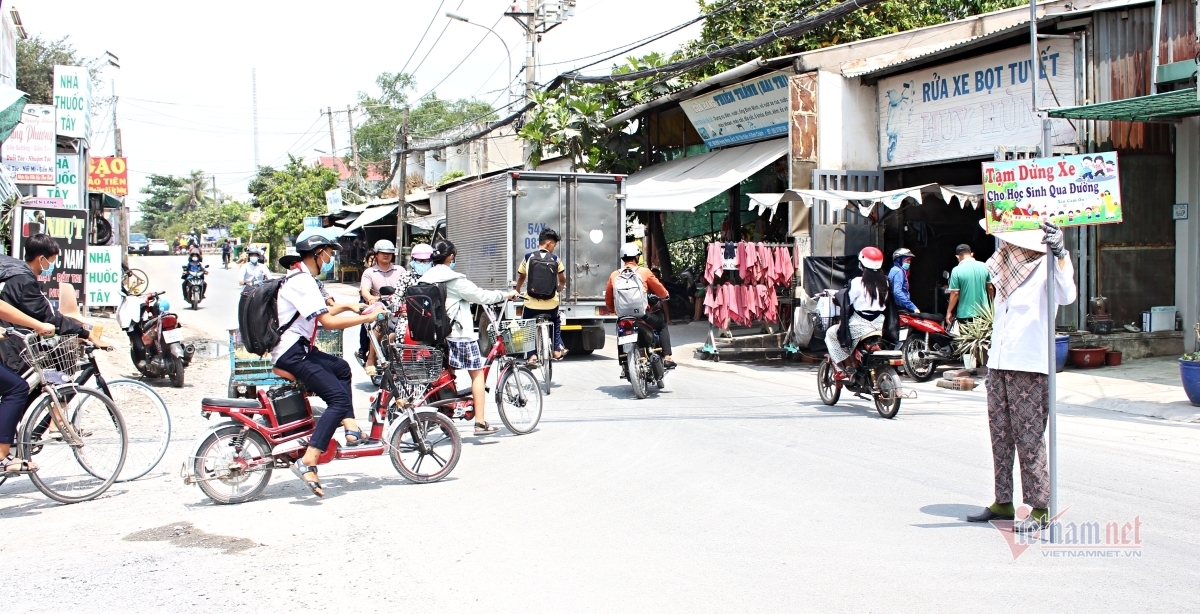 After school, she holds the board on the street to regulate traffic, helping children cross the street safely.
While some view her as a weirdo doing a "strange thing" or laugh at how she's not minding her own business, a great many others highly appreciate what she's doing for the children.
"I got laughed at a lot but also loved and cheered. Many parents see me, nod and say thank you. There was a parent named Tam who often picked up his children, saw me holding a handwritten cardboard board, and gifted me a more professional and beautiful sign. I offered some money back but he refused to take it, saying that he just wanted to pay it forward," said Mrs. Hai Tri.
However, being kind is not always easy. There have been countless times she was shouted at and scolded for standing in the middle of the road by reckless drivers who refused to slow down.
"It does take my breath away standing between two lanes of vehicles. I have no right to stop anyone's car. I just want to kindly ask them to speed down a bit so the students can cross the street, and then they can keep moving," she said.
"The traffic in this section is quite complicated. After school, students and parents at two primary and secondary schools in Tan Kien commune pour in a lot. This road has no signs or traffic lights, so it is very dangerous.
One parent said: "I could not rest my mind if it's not for the signboard and Ms. Hai Tri helping my child cross the street. We hope that the authorities do some research and arrange the traffic lights here to make the traffic circulation safer and easier."
Nguyen Son

On April 1, Dat Ma, a cable-stay bridge in the northern province of Thai Nguyen, was opened to traffic for free after 15 years of toll collection.