Ha Giang, Cao Bang and Bac Kan have great potential to develop adventure tourism, from skydiving, cave exploitation and forest trekking to mountain climbing, cycling and off-road racing. But tourism remains underdeveloped there.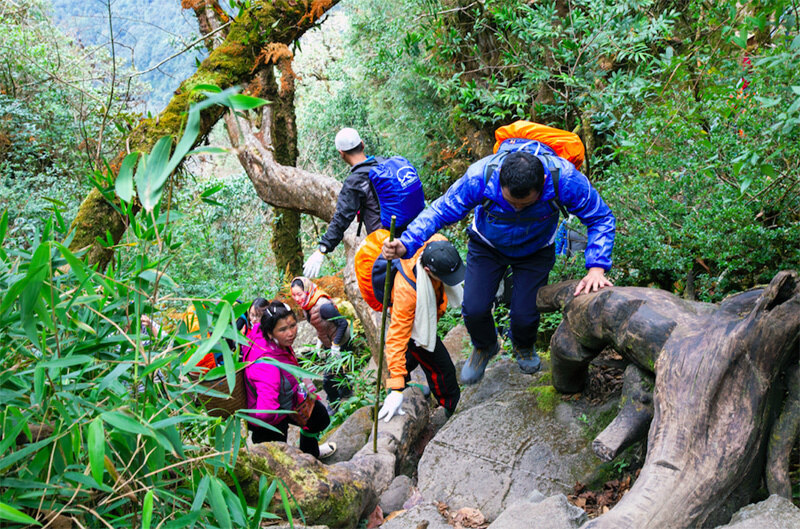 Before the Covid-19 pandemic broke out, Dung and members of his group in Hoang Mai district in Hanoi often organized phuot (a slang word used by youth which means backpacking tourism, or trekking) trips once every three or so months.
All the members of the group share the passion to conquer tough destinations which require crossing forests and streams, or climbing over steep uphill mountains.
"We departed from Hanoi on Friday and returned on late Sunday and to work Monday," Dung said.
Since they have taken a lot of trips, they have experience in ensuring safety. They also hire local guides.
Adventure tourism is the choice of many travelers but people mostly organize trips themselves, hire locals to guide, and carry belongings and cook, rather than book tours at travel agents.
While adventure tourism and the tours to explore caves in the central region, especially in Quang inh, are designed in a professional way and attract many travelers, this type of tourism still cannot find a foothold in the Northeast. Travel firms mostly provide adventure tours in combination with traditional tours.
One of the reasons is the lack of high-quality workers. The tour guides are not well trained for adventure tourism.
The other reason is the competition among destination sites. To compete with other rivals, localities need to make higher investments to develop adventure tourism products.
Ha Giang is an example. While the potential of the locality is great, adventure tourism is still in the very early stage of development.
According to the provincial Department of Culture, Sports and Tourism, the province only has two adventure tourism projects, including the paragliding project in Hoang Su Phi district and zipline project in Pa Piu resort in Bac Me district.
In Cao Bang, some individuals and groups have developed adventure tourism, but on a small scale. Since local authorities still haven't set clear regulations, some establishments providing adventure tourism have had to stop operation.
The lack of tour guides is also a challenge. Very few local tour guides can satisfy demand. Most of them serve travelers as porters.
Cao Quoc Chung, Deputy Director of Vidotour Hanoi branch, said that adventure tourism in the Northeast is still fledgling. The region is still considered in a 'depression' in tourism. However, this can be an advantage of the region as the potential has been preserved.
A study by Research DIVE showed that the world adventure tourism market in 2019 had the value of $609 billion, while the figure is predicted to rise to $1.796 trillion by 2027, which means the annual growth rate of 15 percent.
Europe is the key market that Asian countries target, accounting for 30 percent of travelers to Asia. About 100 million European travelers book adventure tours each year, most of them from Germany and the UK.
However, there are still many things that need to be done. Cao Quoc Chung said transport infrastructure remains very poor.
Since travelers can only reach the localities by land, they have to spend 1-2 days on the way. Meanwhile, major investors have not turned up, so the products are unprofessional and unattractive.
There is also no active connection between the localities and prestigious organizations, media or enterprises to organize periodic adventure tourism products.
Local authorities still don't pay appropriate attention to choosing and licensing adventure tourism projects. It seems that potential destination sites are still 'hidden'.
Meanwhile, in some cases, local authorities made the wrong decision when choosing investors. Opportunities to develop adventure projects were given to undeserving investors, which harmed the ecological environment and the sustainability of the destination.
Chung cited an example, including the splitting of mountain to build Lung Cu Pagoda, the installing of a lift to serve visitors' sightseeing and excursion at Don Cao Relic in Dong Van, and the Ma Pi Leng Panorama guest house in Meo Vac.
In order to develop adventure tourism in northeastern provinces, the Institute of Tourism Research has suggested strengthening cooperation between the Vietnam National administration of Tourism (VNAT), Vietnam Tourism Association (VTA) and local management agencies. 
Ngoc Ha

Paragliding and ziplining are among the four leading adventure tourism experiences that can be enjoyed in Vietnam, typically attracting travelers who are keen to test themselves through activities that require courage, patience, and flexibility.

Travelers who have been fully vaccinated with two Covid-19 vaccine doses will be exempted from Covid-19 testing.