Hanoi Medical University over five years received more than 1,000 letters expressing people's wish to donate their bodies after death, but it actually received about 10 bodies.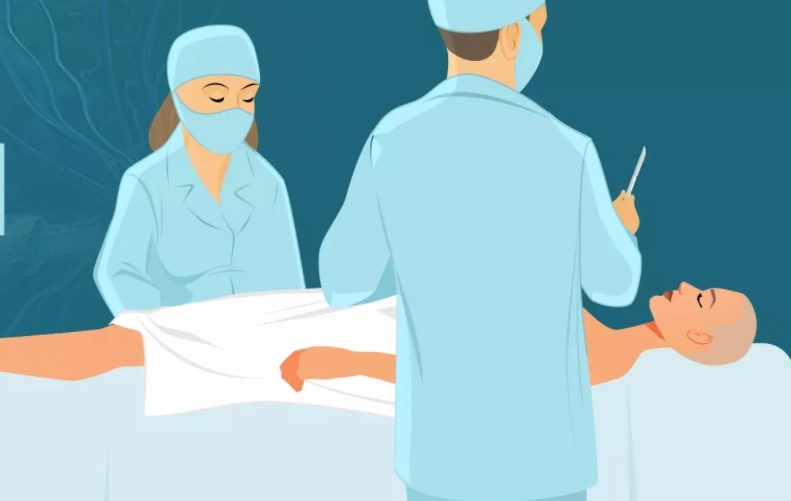 Entering the morgue for the second time, Vuong Ngoc Anh, a 2nd-year student at Hanoi Medical University, Thanh Hoa Province branch, was excited instead of feeling scared as she felt the first time. This was the second time she was allowed to study a real body.

"Indeed, there are very small details that could not be shown on the model or atlas. We can only research them in reality," Ngoc Anh said.

This was a rare time during the school year that Ngoc Anh had a chance to practice on a real body.

In a medical training program, human anatomy is the foundation for all other subjects, including basic medical and clinical subjects. Therefore, surgeons, without sufficient knowledge of the structures of the human body, will not be able to perform a surgery.

Students in Ngoc Anh's class are only allowed to go to the Hanoi Medical University in Hanoi once during each module to learn by practicing on corpses.

"We have all models, except for a practice room on corpses at the branch of the Hanoi Medical University in Thanh Hoa Province. Students need to study human corpses to have the most realistic visualizations. We often tell students that this is the most effective tool among all kinds of learning tools," said lecturer Le Thi Hanh of the Anatomy Faculty of the Hanoi Medical University in Thanh Hoa.

Hanh usually takes students from Thanh Hoa to Hanoi to practice on real bodies. Each trip lasts for 2-3 days. She said that this is a temporary solution to help students in Thanh Hoa. The university aims to set up a practice room on corpses at its branch in Thanh Hoa.

800 students have 2-4 bodies to study

At the headquarters of the Hanoi Medical University in Hanoi, the number of corpses for study is also very limited.

Dr. Nguyen Duc Nghia, Deputy Head of the Anatomy Faculty, Hanoi Medical University, said it is best for every 20 medical students to have a corpse to study. The bodies will be dissected to reveal the internal structures so each body can only be used once. But this is completely impossible in the current conditions, when the number of bodies in reserve is dwindling.

The Hanoi Medical University has about 800 students studying anatomy each year, but during each school year, they have only 2-4 corpses to study.

"The lack of human bodies for medical students to practice is a very urgent problem, not only for our university," said Dr. Nghia.

This is the common situation of many medical schools, especially those in the Northern region. Besides the Hanoi Medical University, the Military Medical Academy, which is also considered a medical school that "can create the best conditions for students to practice on corpses", has only about 2-4 corpses for students' practice per year.

Other medical schools in northern Vietnam like those in Hai Phong, Thai Binh, Thai Nguyen and Hai Duong, have about 1-2 bodies for their students to research. Students can observe and learn only through the model.

On the other hand, bodies for research require certain standards. The donated bodies must be kept intact, with no damage to internal organs. These bodies will be preserved with Formaldehyde for long-term research use.

But over time, the quality of these bodies will also decrease as organs get old, fibrous, etc., which make the research process difficult. These bodies will then be buried by the medical school.

Many barriers for body donation

In April 2011, Mrs. Tran Thuy Tu in Hanoi made a decision that went beyond the usual limits on customs and practices. She went directly to the Anatomy Department of Hanoi Medical University to voluntarily register to donate her body to the school. In October 2016, Tu died of a serious illness.

Her family fulfilled Tu's last wish of donating her body to science.

Tissue and organ donation is not very strange or "scary" to Vietnamese now. But it is extremely difficult to donate bodies after death to science as Tu did.

In the past five years, Hanoi Medical University received more than 1,000 letters expressing the wish to donate bodies after death, but the actual number of bodies it received was only about 10.

"Nobody wants their loved ones to die without a complete body. Therefore, although there were people who had applied to donate their bodies to science after death, when they died, their family did not donate the body. Spiritual issues also cause many difficulties in accepting donations," said an official of a medical school.

Before the Law on Human Organ and Tissue Donation and Transplantation was issued in 2006, in addition to donated bodies, medical schools could still ask for unclaimed bodies for research. But since this law came into effect, medical schools have only accepted donated bodies.

This partly explains the fact that many of the bodies donated to medical schools are people whose relatives had worked or are working in the health sector.

"Because of a number of legal and psychological barriers, the number of donated bodies to science is very limited. This causes many difficulties for medical training," Dr. Nghia said.

He emphasized that, in medical training, the human body is the most sacred means of teaching and learning. This is also a common training trend in countries with a developed medical background.

"We always keep in mind that those who donate their bodies to science are 'silent teachers'. Although they do not stand on the podium, their dedication and merit have contributed to improving the diagnostic and treatment ability and skills of physicians. This is extremely sacred to the development of the medical industry," Dr. Nghia said.

According to some experts, to overcome the shortage, it is possible to think about the application of 3D simulation technologies in medical studies.

Thuy Nga

Dr Do Pham Nguyet Thanh, born in 1995, an expert at the Biomedical Research Center under the Pham Ngoc Thach University of Medicine, has been honored as one of HCMC 2020 Outstanding Young Citizens thanks to her active contributions to the community.

"My dear P, don't be startled. If you wake up, you will feel pain. Please step in Heaven. On the two sides of the path to it, I will sprinkle flowers," To Thi Anh Hong said to her dead son.