After 10 days and nights of preparation, at 11 am on August 1, 2021, Dr Le Tuan Thanh received a message that "the system is through" and burst into tears. "I knew we could do something for HCM City residents," he said.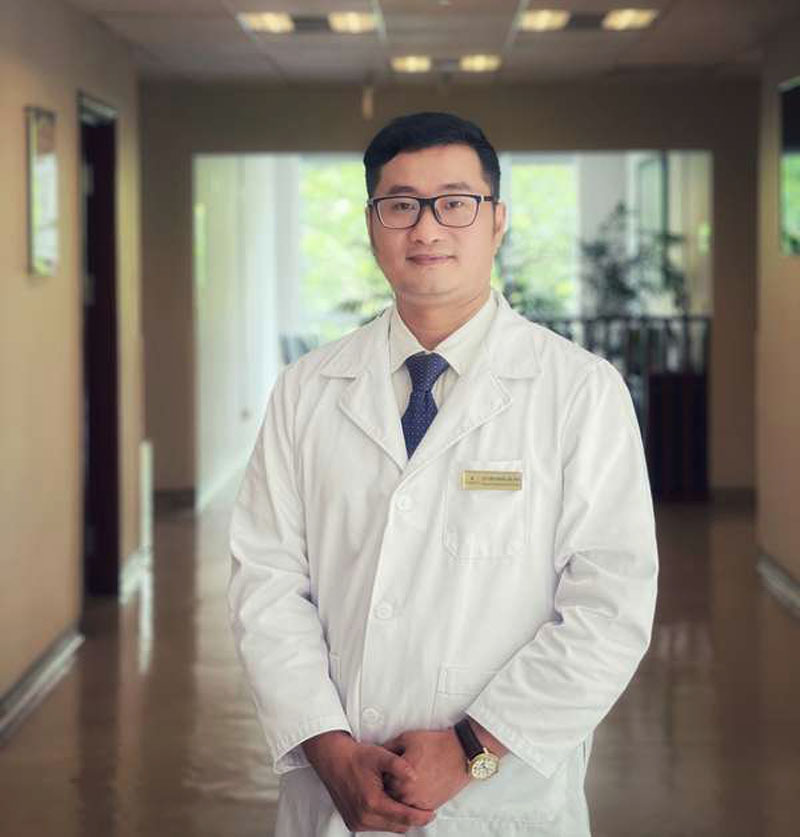 Doctor Le Tuan Thanh
Thanh, Deputy Chair of the Hanoi Young Doctors' Association, is one of three major founders of 'Thay thuoc dong hanh' (Companion Physicians).
The man called the 'chief architect' of the network said the first meeting discussing the establishment of the network was convened on July 22.
At the meeting, the 'father' of 'Companion Physicians', Associate Prof Dr Bui The Duy, Deputy Minister of Science and Technology, proposed the establishment of a hotline to share the work and help ease the pressure on Switchboard 1022 in the 'hotspot' of HCM City.
Meanwhile, Dr Ha Anh Duc, Chief Secretariat of Ministry of Health (MOH), Chair of the Vietnam Young Doctors' Association, thought about how to take care of Covid patients staying at home and support them if they turn severely ill.
"After the meeting, I set to work on a network which can undertake both tasks. Physicians could call people to classify patients, give advice, monitor their conditions, define levels of risks and join forces with local medical units to bring severe cases to hospital. They also could receive calls from patients to give advice and support them."
According to Thanh, this is a model for risk screening in the community based on the principle 'Steps Care', i.e. classifying patients in order to have the appropriate treatment.
They raced against the clock and worked hard to design the system and build documents to operate the network.
"We did not have much time when making a certain decision," he recalled.
Of 10,000 registrations from volunteer doctors, 6,300 were given professional training and instructions on how to use software. There were also 500 volunteers and technology experts supporting the 6,300 doctors.
The doctors had to undergo a test before working for the network.
G23 hot channel
After one week of operation, the heavy workload because of the information boom and complicated pandemic developments caused many members to feel tired.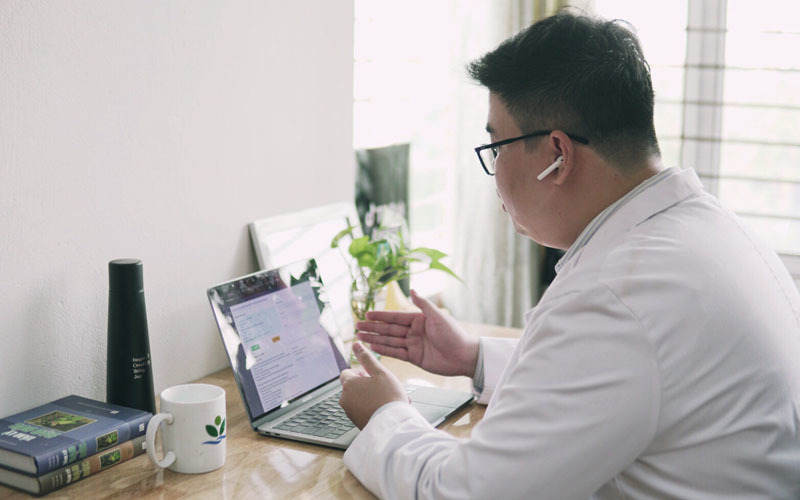 Some young inexperienced doctors suffered from psychological shock when facing deaths, and could not continue their work. Working groups had to talk to them to help them adjust.
Companion Physicians had 31 working groups, including 22 groups reserved for HCM City, encrypted for districts. The encryption prevented the exposure of patients' personal information.
The physicians in the network also received urgent calls forwarded from Switchboard 1022. These were emergency medically coded calls from people under a program deployed by the HCM City Department of Information and Communications (HDIC) as per the initiative of Deputy Minister Bui The Duy.
The number of such calls suddenly soared on August 4 evening. HDIC called Thanh and discussed the solutions for the following days. One day later, the network urgently looked for new doctors to set up a new group – G23. The doctors selected for G23 had to have many years' experience and deep professional knowledge.
On August 6, G23 officially became operational. Doctors took turns on round the clock duty to deal with emergency calls.
"Many experienced doctors had to leave the group later as they could not stand the psychological pressure. At first, we had 100 doctors, but after one week, 60 percent of them left," Thanh said.
The group had to recruit new doctors continually to perform its duties. On the last day, when Switchboard 1022 closed as the situation got better, 50 doctors were still there on the special force.
According to HDIC, G23 supported 9,300 Covid patients, including 1,200 cases in critical condition, who were then hospitalized.
The call at midnight
Thanh said in addition to calls from patients who asked for medical help, there were also calls from people who were panicking.
There was a man who "attacked the network all day long". He panicked when seeing a neighbor who was a Covid patient, and called the network: "She is going to die. You have to come immediately."
The doctors asked local medical staff to go to the site to assess the patient's conditions. After coming to a conclusion that the patient was not in danger, doctors had to call the man to calm him down.
One day, Thanh received at call at 2am, from a man, born in 1994, who was a factory worker. Shortly after picking up the call, Thanh heard the patient sobbing. He said he had been a Covid patient for two months and could not contact any doctor.
The man panicked after his roommates turned severely ill and had to be hospitalized. He did not have any information about his status.
"I'm so lucky that I can contact you. I could not seek advice from anyone over the last two months. I don't know anything about my situation, if I remain positive. What do I have to do to be able to return to my hometown?" the man said.
After being sure that the man had no symptoms of the disease, Thanh reassured the man and contacted a local medical unit to test the man to help him return to his home village.
From August 1 to October 10, Companion Physicians cared for and screened 373,096 patients, or 42 percent of total Covid cases in the country. On November 12, the network was reactivated to give advice and support patients.
Thanh said the doctors of the network received 'one star of hope' after they made 50 calls to patients. The spiritual gift served as a driving force for them, who work on a complete voluntary basis. Working under pressure and feeling stress, they never asked for support or compliments.
The HCM City Healthcare Department affirmed that if Companion Physicians had not worked during the pandemic peak days, the mortality rate in the city would have been higher. 
Ngoc Trang

On August 17, when hearing from a volunteer that two members of a family with four Covid patients were getting worse, Nguyen Van Chanh of the 'Thay thuoc dong hanh' network (Companion Physicians) immediately picked up the phone.

They are the doctors of the Ministry of Health's last unit under the assistance program which is still operating in HCM City. They continue to make every effort each day to save Covid-19 patients' lives.