Hoang Tuan Anh, known as the creator of the rice ATM and mask ATM, which provide rice and protective masks to the needy, is developing a network of oxygen ATMs.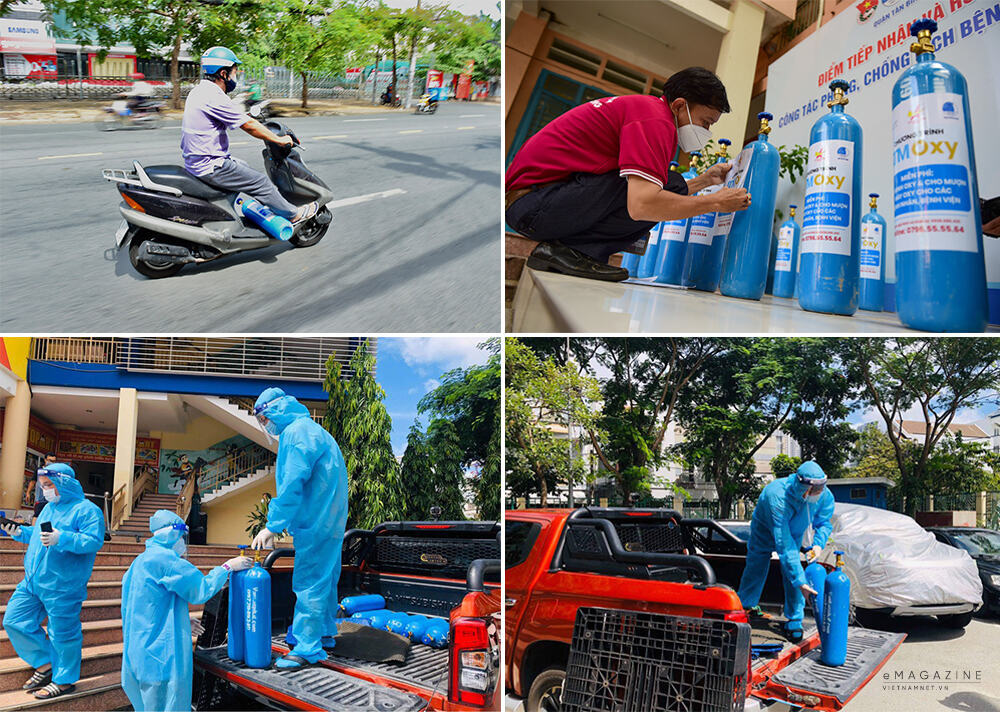 You are a successful businessman, but are better known as a benefactor. What contributed to making you the person you are today?
Doing benefactions is the nature of humans. We take action to help people at specific moments, depending on the thoughts and nature of each person. I had the awareness of sharing difficulties with people in childhood. Iwas influenced by my parents' behavior.
My father, who was a doctor, voluntarily managed the Leprosy Department of a hospital in HCMC. He always went to other provinces to support the hospitals there.
My mother always gave financial support to neighbors who needed money for medical examinations or for their children's study. Many people still visit our home and burn incense to commemorate her. They relate how my mother helped them when she was alive.
When did you begin doing charity?
At first, I spent time and effort to support some works. But I soon realized that this was not the right way and I changed the method of doing charity.
In the first outbreak, my company gave camera doorbells to field hospitals to help medical workers better take care of patients. After that, I ran rice ATMs, protective mask ATMs, and now oxygen ATMs.
How do you come up with your ideas?
Actually, I have a 'sensitivity' about the market, about the needs of society. In 2020, when the country experienced lockdown, I found that many people became unemployed and they needed food to survive. I decided to run rice ATMs.
However, the current situation is now different and what concerns us is the sharp rise in number of patients in HCMC. This forces many F0 cases to treat themselves at home instead of being hospitalized. So, I found a new problem – the lack of oxygen tanks.
The oxygen sources at hospitals and medical centers are not necessarily lacking. However, the problem lies in the transportation. The patients at home also have the same problem. When the city is in lockdown, it is difficult to travel from one district to another. They have difficulties in changing oxygen tanks. So, I decided to run the oxygen ATM program.
What do you expect from the oxygen ATM program?
Helping doctors save as many people as possible by providing oxygen to those who need it.
As of the end of August 5, we had 300 oxygen tanks in 11 districts. There will be 900 oxygen tanks this week in 22 districts and Thu Duc City. If the financial capability improves, we will install 5-10 oxygen ATMs in every inner and suburban district, or one ATM in every ward.
If so, it will be easier to get oxygen tanks and the program will be able to help more people. When the number of infections in HCMC decreases gradually, we will apply the model to support other provinces.
How do the oxygen ATMs satisfy medical requirements?
For the patients who have to use oxygen tanks as prescribed by doctors, we only help them replace old tanks with new tanks. For new F0 cases, local medical staff will come to see if the patients' conditions are suitable to use the oxygen tanks of this kind.
Our major work is preparing and carrying oxygen tanks to patients who need them as prescribed by doctors.
You suffered heavily from Covid-19 in the first outbreak. You even had to sell house and mortgage assets for loans to pay workers. The current situation is even more difficult. Why do you still go ahead with large-scale charity programs?
I think I am luckier than many people, because I have enough food and clothing. Why don't I share what I have with the needy?
You are so busy with charity programs. How can you take care of your family?
One month ago, I built a yard for my kids to play, and repaired the orchid garden for my father, two years later than promised. But better late than never.
Luckily, I can receive support from my wife for charity activities. When I run programs, she seeks information and calls for support from foreign enterprises. She takes care of our kids and my father so that I can devote myself to my charity works.
Dr Tran Anh Tuan, head of the Respiratory Department of the HCMC Children's Hospital No 1:
I really appreciate the creativity in forming the oxygen ATM network, because oxygen is necessary and vital for severe Covid-19 cases.
However, I still have some professional concerns. First, the use of oxygen is not simple. For patients, when their situation turns severe and they have to breathe with oxygen tanks, oxygen alone won't be enough.
The patients still need specialized medicine and close supervision. If patients use oxygen without supervision, they will have a false peace of mind and may not be hospitalized in a timely way. This is the dark side of the issue.
Second, one needs to follow strict directions to ensure the safe use of oxygen tanks. If not, this could lead to explosion.
Third, if everyone rushes to buy oxygen tanks to store at their homes, this will lead to 'oxygen fever' in the market. Oxygen will run out in the market. Meanwhile, medical centers, which really need oxygen tanks for patients, will lack oxygen.
I think individuals and institutions should not give oxygen tanks directly to people, but should support field hospitals and medical units that treat Covid-19 patients.
Nguyen Son - Dang Duong

The first 'oxygen ATMs' were put into operation in Ho Chi Minh City on August 2 with the message "Giving oxygen-extending life".