The digital transformation process is being carried out throughout Vietnam, from large enterprises to small shops.
Tens of thousands of technology firms have been established in the last year, promising to create a new engine for economic growth.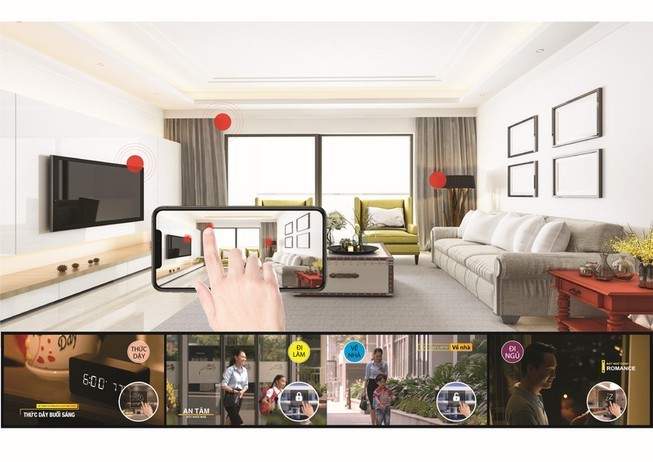 Vietnam aims to become a developing country with industry marching towards modernity and income surpassing the lower average level by 2025; a developing country with modern industry and higher average income by 2030; and a developed country with high income by 2045.
With such important changes, VietNamNet introduces readers to a number of articles on the topic.
Reform is a must
The factory of Dien Quang Lamp JSC in the HCM City Hi-tech Park is witnessing strong digital transformation. Dien Quang, which has been in business for many years, has shifted from an equipment manufacturer to a provider of comprehensive solutions in the power, lighting and information technology sectors.
The area displaying Dien Quang's technological solutions, including a smart home and smart lighting system, catches special attention. In December 2020, Dien Quang Smart V2, the smart solution system of the enterprise, became one of the top 10 'Make in Vietnam' excellent digital products recognized by the Ministry of Information and Communications (MIC).
"When developing the product, we targeted Vietnamese customers first. As the product is made by Dien Quang, the design can be changed to customers' orders. The software is also developed by Dien Quang, so it can be customized to fit Vietnamese usage trends," a representative of Dien Quang said.
As a state-owned economic group, the Electricity of Vietnam (EVN) has also been moving ahead with the digital transformation process in recent years. At present, transactions between clients and EVN, from service ordering and contract signing to payments can be carried out online via digital platforms, such as QR Code, Epoint (the app for customer care) and chatbot (to give consultancy to clients).
"Our clients can order services, from electricity purchase contract signing and equipment installation, to problems to be fixed to bill payment. There is no need to travel to our office," said Vo Quang Lam, EVN's deputy general director.
At first, EVN planned to complete the digital transformation by 2025. However, after the working session with MIC, EVN decided that the process would be shortened and would be completed by 2022.
Activating new growth engine
Digital transformation is proceeding very strongly in Vietnam, not only at large enterprises, but also at small stores and street rice shops.

MIC's report, released at a forum on digital tech business development held recently, showed that after one year of implementing the Make in Vietnam strategy, more than 13,000 digital technology firms were established, an increase of 28 percent.
People now use 'digital tools' to sell more products and access more clients at more reasonable costs. Their habit of making payment in cash has been replaced by online payment.
Amcham's report presented at the 2020 annual Vietnam Business Forum showed that like many other countries, the pandemic has accelerated Vietnam's digital economy and e-commerce.
Schools and offices throughout the country have shifted to use online solutions. The number of online orders increased by 10 times during the social distancing period.
The institutions and enterprises quickly deploying new platforms, apps and services can better adapt to new circumstances. While trying to maintain continuity in current business, they have shifted to working and learning from a distance. They have even tried new methods to satisfy customers' requirements.
This is the driving force that will help create more and more Vietnamese technology firms. This will be the source of life and growth for young enterprises.
MIC's report, released at a forum on digital tech business development held recently, showed that after one year of implementing the Make in Vietnam strategy, more than 13,000 digital technology firms were established, an increase of 28 percent. Vietnam now has a community of over 58,000 firms.
Vietnam once thought of having 6,000 firms a year, but that has been greatly surpassed. The goal of having 100,000 digital technology firms by 2030 may be attainable by 2025.
A recent report of the National Center for Socio-Economic Information and Forecasting said the 4.0 industry revolution and the digital economy are expected to develop faster after Covid-19, giving Vietnam the opportunity to step up economic restructuring and a growth-model reform based on science, technology and innovation.
Taking advantage of 4.0 industry can create a foundation for Vietnam to shift from a growth model based on resources, low-cost labor and capital-intensive industries to a growth model based on productivity, quality and efficiency.
The Vietnam Economics Institute has recommended changing the way of thinking, considering information technology and digital transformation as an important push and a fundamental pillar to support the recovery process, increase the resilience of the economy, and improve growth quality towards an efficient, green and sustainable path.
A representative of the Japan Business Association in Vietnam, speaking at the Vietnam Business Forum 2020, said he believes that Vietnam, with policies to build a reasonable business environment to attract FDI and carry out digital transformation, will continue to grow strongly in the future. 
Luong Bang

The 13th National Party Congress is expected to set the country's average annual growth rate of 6.5-7 per cent from now until 2025, when Vietnam may become a higher middle-income nation. 

Many economists have said the Vietnamese economy is set to speed up this year.