Some destinations are ready to reopen to receive travelers, while travel firms are preparing to serve domestic travelers with green cards.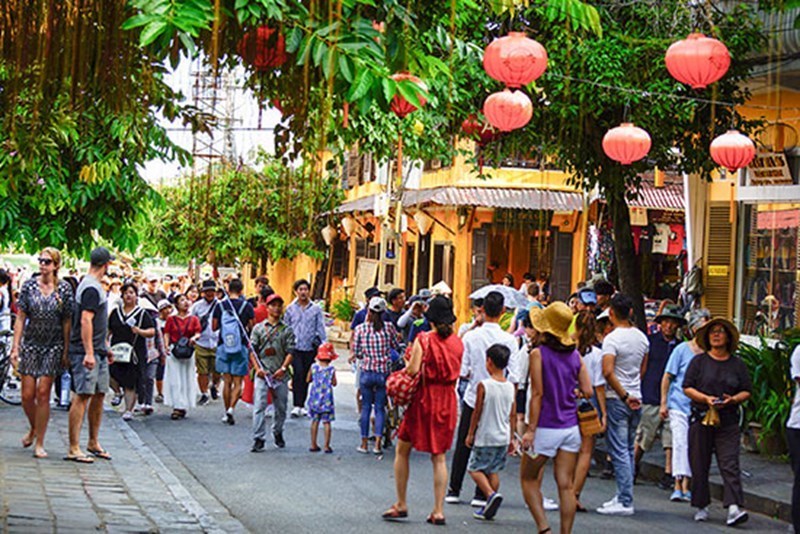 Khanh Hoa announced it would begin receiving tourists from October 15. The provincial tourism department said the tourism reopening plan would be implemented in three stages.
In stage one, Khanh Hoa would stimulate local demand with the slogan 'Khanh Hoa people travel Khanh Hoa'.
In stage two, it would attract travelers from neighboring provinces, including Lam Dong, Dak Lak, Gia Lai, Binh Dinh and Phu Yen, and then the larger markets of Hanoi and HCM City.
In the third stage, Khanh Hoa would try to receive foreign travelers with vaccine passports, after the plan gets Prime Minister's approval. The province hopes it can receive its first foreign travelers to 12 tourism sites north of Cam Ranh Peninsula.
Khanh Hoa Chair Nguyen Tan Tuan, on the provincial portal, said in the immediate time, priority will be given to sea tourism, quarantine, and golf, with travel restrictions and absolute safety for travelers. Coastal resorts would be used to receive domestic travelers.
The provincial authorities have allowed Vinpearl, Vietjet Air and Vietravel to pilot the program on receiving foreign travelers to Khanh Hoa. In the immediate time, they will receive foreign specialists who want to work or relax.
Other localities have also announced tourism reopening plans. Ninh Thuan province allows hotels and resorts to receive travelers with negative testing results. The travelers in the immediate time will be working groups, specialists and workers from other provinces at local production workshops and projects.
Accommodation establishments and attraction sites in the locality will be opened in accordance with a roadmap, depending on pandemic development. The province is about to reopen to receive tourists, while designing measures to ensure safety.
Ba Ria – Vung Tau has proposed allowing local people and visitors to sea bathe from 5am to 7am everyday, commencing on November. Prior to that, the province allowed tourism activities on a trial basis in green zones.
The hotels that can provide closed services and ensure measures to prevent and control the pandemic, including Melia Ho Tram, Ho Tram Strip, Binh Chau hot spring and Six Senses Con Dao, have been allowed to receive domestic travelers since September 15 in closed tours. Travelers must be fully vaccinated and test negative for SARS-CoV-2.
After 90 percent of population aged 18 and over are vaccinated, Ha Long City in Quang Ninh reopened beaches and some sports activities on September 19. Mid-autumn festival activities will also be organized.

The provinces of Lam Dong and Vinh Phuc have loosened restrictions on many business activities. Tourism sites, restaurants and golf courses now can serve clients, but operate at just 50 percent capacity and only receive clients in the provinces.
The provinces of Lam Dong and Vinh Phuc have loosened restrictions on many business activities. Tourism sites, restaurants and golf courses now can serve clients, but operate at just 50 percent capacity and only receive clients in the provinces.
Flexible solutions
According to travel firms, the pilot program on receiving foreign travelers to Phu Quoc succeeds, it will bring opportunities to other destinations in the country, such as Da Lat, Ha Long, Nha Trang, Cat Ba and Hoi An. They will be able to receive not only foreign travelers, but also domestic travelers and help stimulate domestic demand.
Tran Dao Duc, Deputy CEO of CEO Group, thinks that Phu Quoc will rely on domestic travelers who accounted for 70 percent of visitors in in the last few years.
Under its pilot program which lasts six months, Phu Quoc expects to receive 2,000-3,000 travelers in each stage.
Nguyen Khac Huy, Deputy Chair of the Kien Giang Tourism Association, CEO of Vina Phu Quoc Travel, said at a recent webinar on vaccine passport and demand in aviation, tourism and service sectors, that a vaccine passport is an "oxygen tank" for businesses to "regain consciousness".
Experts say that travel demand is very high now, but travelers will consider their financial situation and pandemic developments to make decisions on whether to book tours. There won't be big waves of traveling as seen in July and August 2020.
Phung Quang Thang, CEO of Hanoitourist, said with the characteristics of the fourth wave, with the Delta variant raging, localities and businesses need to find effective solutions to ensure safety for travelers at destinations. This is the most important goal. However, the solutions need to be flexible and adjusted in accordance with pandemic developments.
Thang believes that it's no longer possible to develop mass tourism. Travel firms, while preparing plans to serve travelers, are still expecting an enlargement of vaccination coverage. 
Bao An

Reopening Phu Quoc to receive tourists has proven to be a big challenge.

The HCM City People's Committee has issued a set of criteria assessing the safety level of tourism activities, applied to accommodation establishments, travelers, travel firms and attractions.