Nguyen Van Hoang in Vinh Phuc Province won the Outstanding Vietnamese Farmer award last year for successfully developing a red dragon fruit plantation which earned him VND1.3 billion.
Number of fruit, veggie processing plants rises in Vietnam
Vietnamese fruit farmers encouraged to apply GAP standards
New support for agriculture yields results
Strawberry farm in Hanoi - evidence of potential farm tourism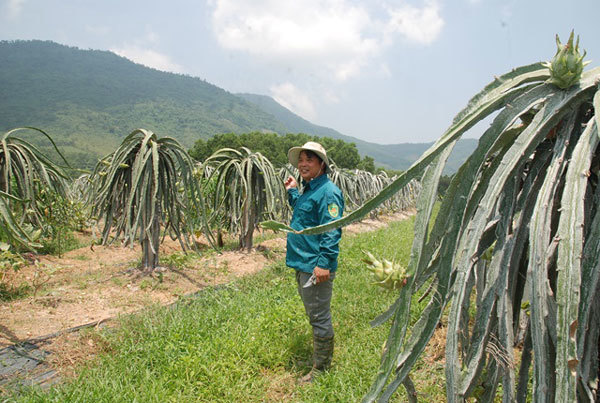 Hoang is happy with his red dragon fruit farm. Photo Thanh Tra
Hoang was also the first farmer in the province's Lap Thach District to export his fruit to Malaysia and Chinese Taiwan in 2016.
He started growing the fruit in 2012. He and his wife sent their children and his parents to the southern province of Binh Thuan to learn the techniques necessary to grow red dragon fruit in addition to researching the process online.
Over the first years he faced many difficulties such as buying low quality saplings that produced small yields that were sour.
In 2015, Hoang harvested his first high-quality fruit: sweet with a thin skin.
"The climate in the north is very harsh so we can only harvest from April to October compared with the south where the trees fruit all year round. I've invested all my time and efforts on nurturing my plants to ensure they are strong enough to survive the severe heat of summer and chilling cold of winter.
"Temperatures below 18C or above 36C can harm the trees. During severe hot weather in June I often trim the flowers to protect the trees. After harvesting I lay more fertiliser down to help the trees survive winter," Hoang said.
Unlike other farms, Hoang prunes his trees to ensure quality and big fruit that can be sold for between VND30,000-70,000/kilogram compared with small ones at VND10,000-15,000/kg.
With the aim of producing organic, safe fruit, before planting the trees, he focused on improving his land and invested millions of dong to buy microbial fertiliser and organic manure.
"Chemical fertilisers make the land infertile with a lot of insects," he said.
He also invested in a pipeline from a pig farm to carry manure to his biogas tank. After treating the manure for a month to get rid of the bad smell and any toxins, the fertiliser is pumped to another 40-cubic-metre tank ready to fertilise the trees.
"My work has been highly appreciated by local authorities because I not only help the pig farms reduce pollution but also create manure to use on my trees. If I didn't have the pipeline I would have to hire people to transport the pig manure, which would cost a lot of money," he said.
Since 2015, Hoang has harvested around 70 tonnes of red dragon fruit, earning roughly VND1.2-1.3 billion.
"Now I make four times as much as I did when I was a construction worker," he said.
Many traders and exporters have signed contracts with Hoang to purchase his fruits which are not only available in big supermarkets in Hanoi but also exported to Malaysia, Taiwan and Australia later this year.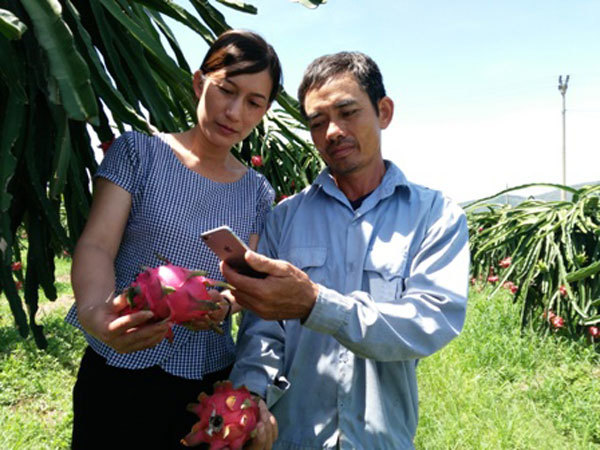 Thuan (right) helps a trader use the internet to purchase his fruit. Photo Tran Thi Lien
Like Hoang, Nguyen Van Thuan in Hai Duong Province's Bach Dang Commune also earned more than VND650 million last year from growing red dragon fruit on his two hectares of land.
Thuan was born into a farming family.
Using old cultivation techniques had left his family very poor, so he decided to research and invest in growing organic fruit and vegetables.
"By chance, I found some information online about Israeli farmers who had successfully planted fruit and vegetables in greenhouses despite facing a harsh climate, infertile soil and water shortages," said Thuan.
He then registered for a training course on how to grow organic plants. After three months of studying, he started a pilot project cultivating red dragon fruit.
"I use rice husks to incubate the manure for a certain period before fertilising my trees. I'm determined not to use chemical fertiliser or stimulants. In the first days I was anxiously awaiting the results," he said.
Thanks to his hard work and knowledge of suitable techniques, he harvested nearly 70 tonnes of red dragon fruit last year.
Local agriculturist Tran Thi Lien said Thuan's red dragon fruit trees were not as tall as their counterparts in the south, but they were durable and less affected by harsh climates.
In contrast, many of Thuan's neighbours who overuse chemical fertiliser and stimulants have lost their crops.
The agriculturist said Thuan's organic fruits were high-quality, sweet and fragrant with a natural aromatic flavour and thin skins. "You can keep the fruit for 10 days, no problem."
Many large traders from surrounding provinces such as Hanoi, Hai Phong and Quang Ninh have signed contracts to purchase Thuan's fruit with prices ranging from VND18-25,000 per kilogram.
"Excluding other costs, I earned VND650 million last year," Thuan said, adding that he was very happy because his fruit had been recognised by the Hai Duong Farm Produce Quality Management Department as organic and safe.
Thuan has also learned to build plastic tunnel or net greenhouses in an attempt to grow unseasonable fruits such as melons, strawberries and bitter melons.
Witnessing initial success, he decided to invest in a greenhouse covering 1,500sq.m.
After two months the fruits are growing well in the greenhouse.
According to Thuan the greenhouse is very lucrative. It ensures light and helps avoid risks from harsh weather and harmful insects. An automatic irrigation system also ensures the plants receive the water they need for high yield with quality fruit.
Tran Van Tang, chairman of Bach Dang's People's Committee, said Thuan's red dragon fruit had become a model in his locality, benefiting local customers with safe, organic fruit and vegetables.
" We are encouraging other farmers to apply Thuan's model in an effort to build our own trademark for Bach Dang red dragon fruit. VNS
Thanh Lien