For over the past year, one of the largest 5-star hotels in Ha Long City, Quang Ninh Province, has been used as a quarantine site for visitors who enter Vietnam by air. 
Most of them are foreign experts and overseas Vietnamese who are willing to pay for good services and safe quarantine.
Similarly, a 4-star hotel in Ha Dong District, Hanoi also provides quarantine services. Although not all of the rooms are occupied and the revenue is not as high as before, the hotel owners have had a source of income to maintain the operation and wait for the post-pandemic period.
These hotels are "lucky" as the hotel system in Vietnam has been paralyzed for nearly two years. According to the General Statistics Office of Vietnam, due to the impact of the Covid-19 pandemic, international visitors to Vietnam reached about 3.7 million last year, down 79.5% compared to 2019; domestic tourists reached 56 million, down 34.1%; total tourism revenue was only VND312 trillion, down 58.7% - equivalent to $19 billion.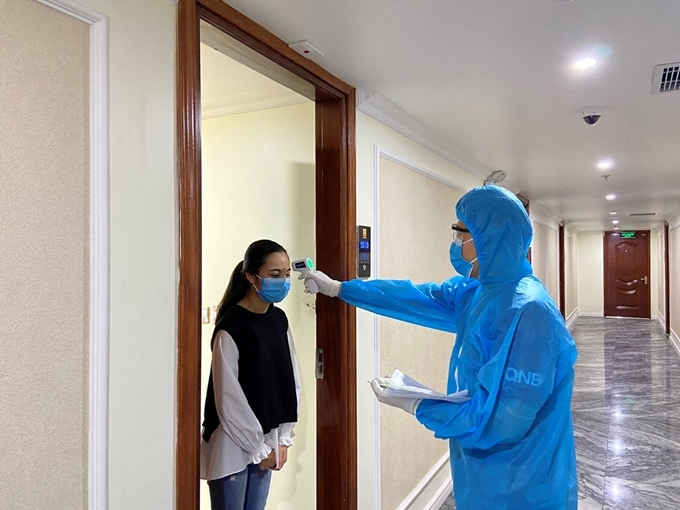 A hotel in Quang Ninh province that is used as a quarantine site. Photo: Quang Ninh newspaper.
About 40-60% of workers in the tourism industry lost their jobs or had working days reduced. About 95% of international tour operators stopped operating. Many hotels had to close, and the room occupancy rate was sometimes only 10-15% for the entire system.
A report by Savills Vietnam showed that the average hotel room rental price in 2020 was $70/room/night, down 39% year on year. The average occupancy in 2020 reduced 44% YoY, while the average rent was 29% down YoY.
According to the Department of Tourism of Ho Chi Minh City, the revenue of 5-star hotels decreased by more than 80%, that of 4-star hotels fell by more than 70%, and that of 3-star hotels fell more than 80%. Many hotels temporarily closed to minimize costs.
Vietnam's tourism economy with a scale of $30 billion and a workforce of about 4.5 million people has been almost paralyzed for over a year and its future is still vague as Vietnam is still affected by the ongoing 4th wave, which started in late April 2021.
In an effort to achieve the dual goals of anti-epidemic and economic development, Vietnam has been carrying out measures in order to gradually open its border for foreign visitors, such as piloting a vaccine passport in the country's largest island tourist center Phu Quoc, and organizing the first pilot flight for those with a vaccine passport between Japan and Vietnam on July 10.
Paid quarantine services
In mid-2020, a Vietnamese corporation wanted to invite foreign experts to Vietnam to help them assemble a food processing chain. It took this group nearly a month to seek and fulfil all required procedures to bring foreign experts to Vietnam. When it comes to 'dual goals', an official of this corporation recalled his group's case and said that in order to reopen the economy, Vietnam firstly needs a complete quarantine process for foreigners. That is the way to help businesses fight the epidemic and operate safely.
In Singapore, upon entering the country, all foreign students, experts and visitors must undergo quarantine. Instead of being isolated at home or hospitals, they can choose a 5-star hotel to stay.
According to real estate website 99.co, more than 7,500 hotel rooms and serviced apartments in Singapore have been used as quarantine places for those who enter the country from abroad, including luxury hotel chains such as Hilton Worldwide Holdings, InterContinental Hotels Group and Accor SA. According to the Singaporean hotel association, this measure helps relieve financial pressure on hotels, when tourism demand no longer exists.
In Sydney (Australia), people returning from abroad are arranged to stay in a number of luxury hotels such as InterContinental, Hilton or Novotel at Darling Harbor. All three hotels offer standard rooms for more than 200 USD/night.
Meanwhile, in Melbourne, people can pay at least $233 per night to use quarantine services at the Crown Promenade. Stephen Ferguson, CEO of the Australian Hotel Association, said that this is a lifeline for hotels that choose to continue operating. For hotels that are still open, only about 10% of the rooms are filled while only key employees remain on duty.
Many people are willing to pay for good services while still complying with the quarantine regulations. Turning hotels and resorts into quarantine sites is one of the "living with epidemic" solutions because nobody knows when the epidemic will end.
According to a report published recently by Savills Vietnam, in the second quarter of 2021, 25 hotels in HCM City were allowed to provide quarantine services, providing more than 3,000 rooms.
In Hanoi, 10 hotels from 3 to 5 stars have become quarantine sites. Not only in Hanoi and Ho Chi Minh City, many other cities such as Da Nang, Nha Trang, and Hoi An have also turned some hotels into quarantine sites.
The director of a hotel chain said that this model has not been expanded widely in Vietnam yet but in the future, it is necessary to perfect this service model as it benefits all related sides: the people who are under quarantine, hotels and the authorities. And more than that, it helps complete and facilitate economic revival during the pandemic.
Management by technology
According to the request of the Ministry of Health, hotels that are used as quarantine sites, where people under quarantine have to pay fee, must meet certain conditions in terms of security, position, service quality, disinfection... Notably, hotel staff must be trained in terms of quarantine and the hotels must be equipped with cameras to ensure monitoring of the people under quarantine.
From Singapore's experience, quarantine can be implemented at home or hotel by taking advantage of technology. In order to minimize contact between guests and hotel staff, there will be no housekeeping staff during the stay and meals will be prepared and arranged at shelves outside the room.
Guests can still use the self-service coffee bar, buy food and drink at the vending machines or buy food via food delivery services. Hotel staff are required to wear masks, drop shields and gloves while room staff and other special staff will be equipped with protective clothes.
According to Bloomberg news service, in Singapore, people under quarantine will be monitored by medical staff at least three times a day to make sure they follow the rules and do not leave the residence. Individuals who violate the quarantine rules can be imprisoned for up to 6 months and have to pay fines of up to 10,000 SGD.
The people who are under home quarantine have to take a monitoring device for 14 days. This electronic device is provided immediately after people complete their immigration procedures. Alerts will be regularly sent to the device and the user will have to confirm it in time. Doing something wrong with the device or removing it from the hand during the 14-day period of quarantine can result in a fine of up to SGD$10,000 or imprisonment for up to 6 months, or both.
Vietnam can consider using a similar model as the one used in Singapore.
Duy Khanh

The "tsunami" of hotels shutting down during this surge is having the biggest impact on workers, especially those working in low-level positions.

Five-star hotel brands are ready to receive travelers back to the country with the strong belief that the tourism industry is coming back to life.