In addition to grading, both oral and written forms will also be used to assess students, according to the Ministry of Education and Training's (MOET) newly released Circular 22.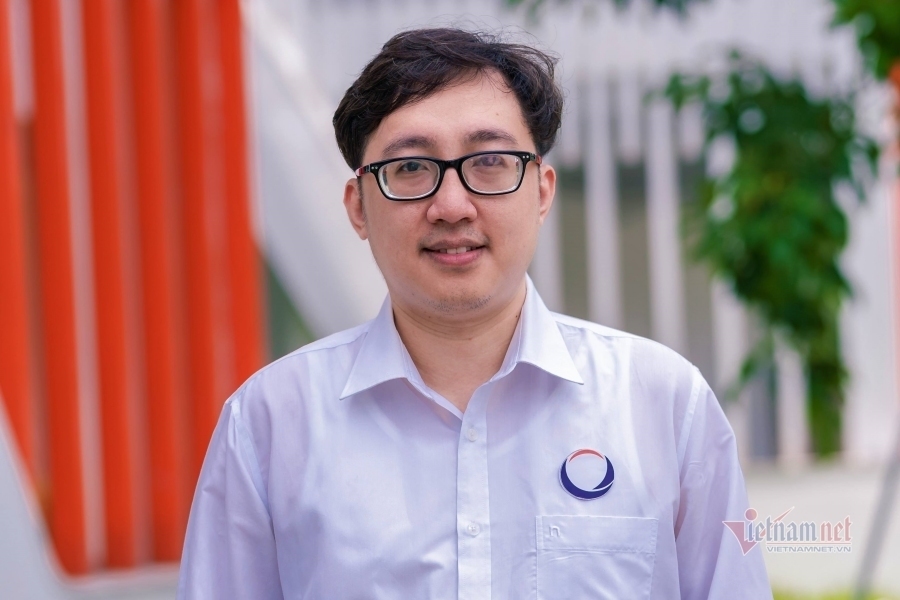 Ngo Huy Tam, head of the international programs at Phenikaa School
The newly released circular will take effect from September 5, 2021, or when the new academic year begins, for sixth graders. It says that there are two methods of assessing students' abilities – through formative assessment by giving comments, feedbacks and through summative assessment by standardized scores.
Teachers will only give assessments with comments for some subjects, including physical education, arts, music, arts, local educational content, experiential activities and career guidance. Teachers shall use oral or written comment to assess students' performance, giving feedback on their progress, highlighting students' outstanding  features and major limitations .
For remaining subjects, both comments and grades will be used.
Ngo Huy Tam, head of the international programs at Phenikaa School, believes that Vietnam is on the right track and is in line with international progressive education as it encourages and promotes regular formative assessment, using teachers' comments to track progress.
However, he believes that it is not an easy task for many teachers to properly execute.
For a long time, Vietnam's education  has focused on the results of tests or exams in the form of summative assessment. Teachers assign scores to students' works according to an academic grading system based on a zero to 10-point scale.
Meanwhile, regular evaluation through feedback, encouragement and suggestions has not received adequate attention. When tformative assessment practices are going to be applied nationally, many teachers may have different ways of interpretation and application.
Regular formative assessment, in its pure essence, must originate from teachers' own aspirations and desires to better understand individual students. The act of giving comments alone, especially if too broad and lacking concrete direction - cannot be considered effective formative assessment. Therefore, when teachers really want to accurately evaluate students, effective observation skills are critical for the success of personalized education.
There are various forms of formative assessment, where flexibility is the advantage. Tam stressed that successful formative hinges on teachers' capability to observe and objectively evaluate students in the entire process of teaching and learning. A fall trap, Tam highlighted, is that the typical large class in Vietnam will seriously  affect the auccracey of formative assessments.
To holistically evaluate a student , both regular formative assessment and summative evaluation are needed. These two methods complement each other and one cannnot replace the other.
In modern education, scores are, however, just one of the input data needed to assess students. The other criteria for assessment are concentration level, level of participation in learning, enthusiasm and capability of overcoming adversities.
To effectively implement the new circular, Tam believes that firstly, formative  assessment of teachers must be implemented. Such data allows education leaders to understand if teachers have gained an accurate understanding of student assessment, and if they have possessed the capability to assess students.
For example, teachers need to know the type of language appropriate for assessment and comment, the frequency for such comments to be made, the timing necessary for formatie assessments, and the different options of intervention needed for a variety of scenarios.
When teachers no longer feel uncomfortable about the evaluation, the application and policy implementation could be successfully applied on a larger scale, gaining support from parents and students along the way.
Tam stressed that if teachers are not properly trained or lack the innate understanding that formative assessment can bring valuable education experiences to students, teachers will have to a difficult time implementing the new circular.
Some positive signs have been noted, Tam said. Some teachers have already been implementing formative assessments through technological apps. They encouraged students with online stickers and bonus marks to keep track of both learning and classroom behaviors.
Tam thinks that teachers can apply technology when implementing formative assessment, because this will save time and resources. This has been a trend in international education during the current Covid-19 pandemic. 
Thuy Nga
Under a newly released circular on assessing secondary and high school students, the results of students' learning each semester and the whole academic year will be shown with the marks Good, Fair, Pass and Fail.

Many universities have added another admission method for candidates who are under special consideration for high school graduation this year.