Pham Van Vuong, 32, from Thanh Tri district in Hanoi, uses both hands to pour out tea into a cup when receiving guests. His arm transplant, which came from the body of a 51-year-old man, has become part of him and he can now feel it and move with it.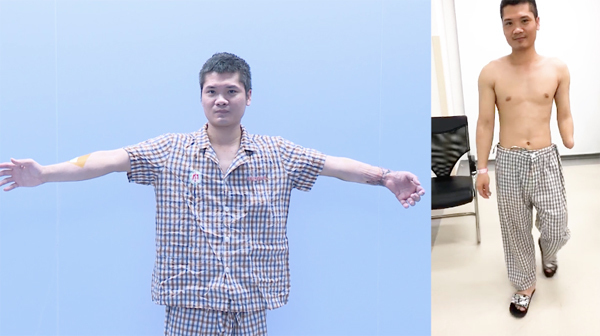 Pham Van Vuong
Later, he turns to his motorbike, starts the engine and drives it with both hands, with his son sitting behind him. Previously, when he had only one hand, he had some difficulty or had to ask for help from relatives. But now he can do all the moves himself.
Every day, he drives his motorbike to a bus station about one kilometer from his house and then catches a bus to a factory in Hung Yen province.
Five years ago, Vuong lost one third of his left arm because of an accident at the metal package manufacturing factory. The young strong man became disabled when his son was just one year old and his wife, a factory worker, had an unstable income.
He felt useless because he could not work.
"I shed tears at night as I found my future gloomy. I did not know what to do to support my family," he recalled.
In July 2016, when he had to have his left arm cut, the doctors at the Military Hospital 108 told him that he could get an arm transplant once suitable donors were found. But Vuong did not hear anything about donations in the following years and forgot about it.
After five months of staying at home, he returned to his company and took a job with a lower income.
In August 2019, he received a call from doctors who said they had an arm from a 30-year-old brain-dead man. But that transplant operation was never done because the donor's family changed their mind at the last minute.

The wrist and forearm grafting is one of the most difficult operations because there are 43 muscles, eight large blood vessels, and numerous complex nerves with tendons, muscles, cartilage and joints.
On January 20, 2020, Dr Nguyen The Hoang from Military Hospital 108 called him and said he found another donor and could conduct the transplant operation the next day.
He was then immediately hospitalized with VND18 million, which was all the money he had at that time. The transplant was carried out on January 21 and Vuong became the first patient in Vietnam to receive an arm transplant and the first in the world to receive an arm from a live donor.
The donor was a 51-year-old man whose left arm was cut in a work accident. The man agreed to donate the arm to Vuong, but he did not tell his family about it.
Only in January 2021 did Vuong have the opportunity to meet his benefactor to thank him. When seeing his arm on Vuong's body, the man was speechless with emotion.
About 11 hours after his operation, Vuong opened his eyes in the postoperative room. Looking down at his new arm, he burst into tears as his body has been healed again as in a miracle.
Honoring donor's merit
The four months after the transplant operation were a difficult time for Vuong, who had to take medicine and practice rehabilitation.
"On the first days, I could not hold a ping pong with my hand. Actually I felt very depressed. But I kept practicing because I thought about the man who gave me one of his body parts. I thought I had to try to practice so that the efforts of the man and Dr Hoang would not be in vain," he said.
He carried a ping pong ball all the time and tried to practice with the ball during lunch time and on the bus.
At first, Vuong could feel very little with the new arm. He could not feel pain even when his hand touched hot water. But things gradually improved.
Now Vuong can carry a small bucket of water with his left arm, put on clothes, and hold his sons tightly with two arms.
After the major surgery, Vuong lost weight and could not hold small things or perform complicated operations. The arm of the donor is bigger and shorter than his right arm by 4 cm.
"Previously, I always felt an inferiority complex and had to wear shirts with long sleeves to hide the lost hand. But now I am confident again," he said.
Vuong now has to go to the hospital periodically to have re-examination, get medicine and have blood tests. This costs him VND2 million a month.
Prof Hoang, recalling the historic transplant case, said it was a daring decision. The wrist and forearm grafting is one of the most difficult operations because there are 43 muscles, eight large blood vessels, and numerous complex nerves with tendons, muscles, cartilage and joints.
Hoang said the operation succeeded, but the patient still needs to practice for one more year to make his hand work even better. 
Thuy Hanh

The boy received kidneys from live donors after an eight-hour surgery.

The Children's Hospital 2 in Ho Chi Minh City has successfully performed an autologous stem cell transplant on the smallest patient so far - a 32-month-old girl suffering from severe neuroblastoma (NB).