Minister of Heath Nguyen Thanh Long, answering questions from National Assembly Deputies on test kit prices, on November 10 affirmed that test kit prices have been put under control.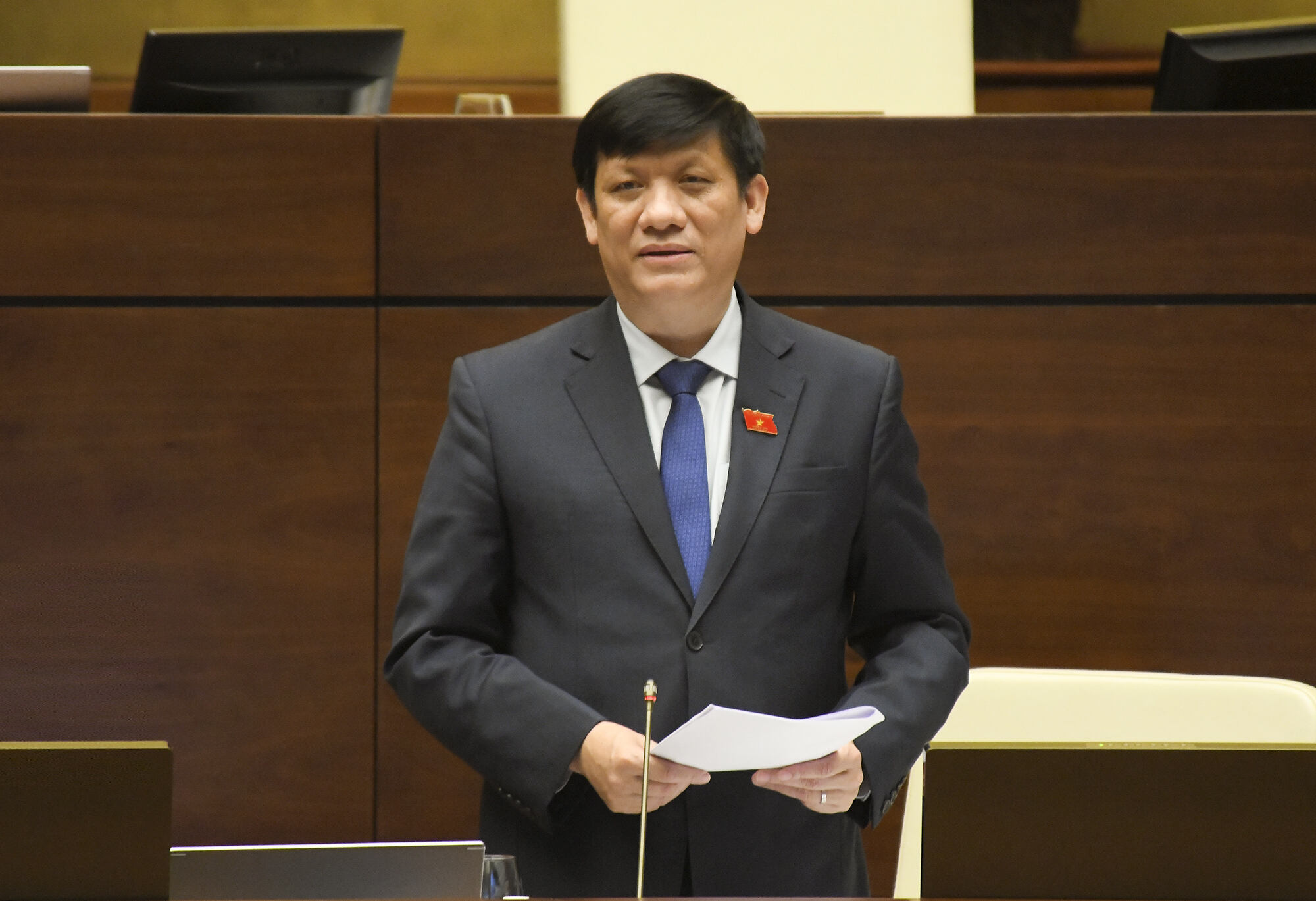 Minister of Health Nguyen Thanh Long
Pham Van Hoa, a National Assembly Deputy from Dong Thap, expressed his concern about the testing fee turmoil. Sometimes people are required to pay up to VND450,000 for a test, he said. He asked if there was an interest group involved this problem and what the Minister's responsibility was.
Local newspapers also reported that a rapid testing kit sourced from China is being sold at three different price levels. The number of test kit importers increases proportionally with the increase in infection cases. People complain that the testing fees are higher than the real costs, and the testing service fees vary at difficult medical units.
Dang Hong Sy, a National Assembly Deputy from Binh Thuan, said Vietnam was one of the first four countries in the world that successfully isolated coronavirus. It has produced test kits since 2020 and has been selling kits to many countries. Why does Vietnam still have to import test kits? Where are the Vietnamese-made test kits being used?
Long answered that previously, under the Law on Prices, medical equipment and diagnostic biologicals were not listed among products subject to price stabilization by the State. The prices of products from different manufacturers and countries differ. They vary at different moments and depend on the quantity ordered. Buyers can enjoy lower prices if they order big quantities.
In early 2020, when the pandemic broke out, the prices of protective face masks, gloves and ventilators rose because of the scarcity. Countries all over the world competed to purchase the products in the first phase of the pandemic.
However, according to Long, as more businesses later began importing the products, the prices decreased.
MOH has chosen to solve this problem step by step by making the supply of medical equipment and materials transparent. MOH has required companies to quote their prices on MOH's information portal. The ministry has also asked businesses to increase supply and lower the prices. It has licensed more businesses to join the market to increase competition among suppliers.
"We have licensed 131 diagnostic biological products, including 60 rapid test products, and 43 PCR and 28 products for antibody testing," Long said.
Vietnam has successfully called for support from other countries with 50 million test kits committed. MOH has also released guidance on how to reduce testing costs, including guidance for the pool testing method – 3-5 samples for rapid testing and 10-20 samples for PCR testing.
"This is technically permissible and cost effective," said Long. He also said that MOH has made adjustments to guidance about testing, depending on the level of the epidemic to ensure "effectiveness and economy".
Prior to July 1, the number of rapid test kits being used was small. But after that, MOH anticipated that the market would be more bustling because of higher demand. The ministry decided that hospitals could collect fees based on the input costs from people who voluntarily asked for tests. Therefore, a price gap existed between hospitals.
"Since we were too busy with the fight against the pandemic, in September, when MOH repeated that hospitals could only collect testing fees equal to the input costs, units admitted their mistakes, saying that they were too busy to implement the instruction. We have asked localities to deal with the problem," Long said.
The ministry has released a document and the Prime Minister has repeatedly asked localities to strictly observe regulations to be sure that there is no room for wrongdoings, embezzlement and waste, or interest-group interference.
The bidding for medical equipment and diagnostic biological product procurement, has been included in the inspection program in 2022.
Regarding the question on how made-in-Vietnam test kits are being used, Long said Vietnam is one of four countries that have successfully isolated and sequenced the virus genome. In April and May, 2021, MOH cooperated with Viet A, the Military Academy and Thai Duong Company to produce Real-Time PCR (Polymerase Chain Reaction) test kits.
Based on the epidemic situation and testing strategy, Vietnam has promoted the production of rapid antigen tests.
"As for antibody testing, we also are also trying to be self-sufficient," said Long. 
Thu Hang - Hong Nhi - Tran Thuong

The Ministry of Finance (MOF) and Ministry of Health (MOH) are considering adding rapid test kits to the list of products subject to price stabilization after reports about price turmoil.

The administration of Berlin city on August 19 presented 30,000 COVID-19 quick test kits to Vietnam to support the country's fight against the pandemic.