The closure of much of the Mon Hue chain has demonstrated the risk that food and beverage businesses can suffer from, as the collapse cements that attracting investment funds does not equal an ability to balance the books.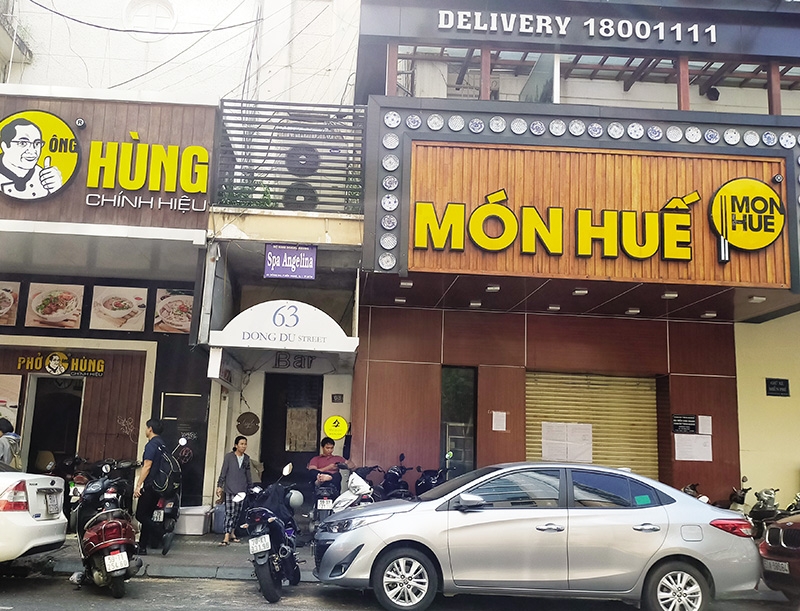 Some of Mon Hue restaurants were located on prime land in Hanoi and Ho Chi Minh City 
Almost all Mon Hue restaurants closed their doors last week, suffering an accumulated loss of nearly VND107 billion ($4.65 million) in the last three years as its expansion costs rose faster than revenue.
It was revealed on Friday that investors who placed $70 million into Mon Hue are suing its founder for fraud. The investors filed a lawsuit with the Ho Chi Minh City People's Court against Huy Nhat, founder of Mon Hue's parent company, Huy Vietnam Food Processing JSC, after over 80 outlets closed across the country.
Expressing regrets about the brand, Tran Bang Viet, CEO of Dong A Solutions said, "Over ten years ago, almost all foreign tourists considered visiting Mon Hue as an indispensable part of their trips to Vietnam. Eventually, my visits became rare and I heard that these chains received massive investment capital. While the restaurant volume soared year-by-year, the quality of dishes and the service became worse. At that time, this brand died in my mind and I thought that the closure was just a matter of time," Viet said.
The closure of Mon Hue and other brands under Huy Vietnam is an example of large food trading store and restaurant chains receiving massive amounts of money from investment funds, to then face difficulties and even closure after an initial hot growth period.
Before the failure of Mon Hue, Hanoi-based fusion food chain The KAfe made national headlines for successfully attracting $5.5 million in foreign funding from Cassia Investments. However, just over a year afterwards The KAfe disappeared from the market.
Another example is Pho 24, which once dominated the Vietnamese food chain business with 60 restaurants over the country and 20 restaurants overseas. In 2011, the brand agreed to an acquisition by Viet Thai Ltd., the owner of the Highlands Coffee chain.
In his first public appearance after the deal in January, Pho 24 founder Ly Qui Trung stated that Pho 24 needed money to refresh its image, brand, and marketing strategy. He also affirmed that before the acquisition, Pho 24 had not suffered losses and did not take up loans to maintain operations. After the ownership change, the number of Pho 24 restaurants fell to 16 in Ho Chi Minh City and a single restaurant in Hanoi's Noi Bai International Airport, according to its website.
After the closure of dozens of Mon Hue restaurants, Trung posted on his Facebook account, "That is the food and beverage business – gaining and losing are too fierce."
These cases all have collapsed after getting investment from giants. Different from other sectors, running food and beverage store chains puts many companies at large risk due to the pressure of expanding the number of stores despite untested finance performance at that level. Therefore, even gifts of such huge capital fail to meet their demands for expansion.
Viet from Dong A told VIR that some investment funds, especially subsidiaries, pour capital into food and beverage businesses not only because of their potential, but also for completing the missions for their parent companies. So, they would not care about the current performance of businesses they are investing in, and also have no support for the businesses' operation.
Lacking the support of investors and an inability to estimate risks had put the companies into corner and, therefore, their failure will happen sooner or later.
Discussing with VIR about the failure of Mon Hue, Dao The Vinh, general director of the current successful restaurant chain Golden Gate, said, "Our experiences of running a chain business after getting investment is to just only carry out business naturally." After receiving such money from investment funds, Golden Gate focused on developing the chain while not using the investment for other purposes, something other groups may not follow when they have other interests.
Meanwhile, the price for land leasing in golden spots in Hanoi and Ho Chi Minh City sit at tens of thousands of US dollars, and this numbers tend to keep increasing. Responding to VIR previously, Vo Thi Phuong Mai, CBRE's deputy director and head of retail land leasing department, said that the monthly land leasing price has grown by 30-50 per cent against several years ago, and some spots in shopping malls have even doubled in price against just five years ago. This partly shows that how much risk threatens food and beverage companies.
Since 2015, after attaining $15 million from US investor Mark Mobius, Mon Hue had kept building on the number of stores at favourable destinations across the country. In Hanoi, Mon Hue stores were opened at Vincom Ba Trieu, while in Ho Chi Minh City, stores were also located at busy Phan Duc Ke and Le Thanh Ton streets in District 1.
Food branding expert Hoang Tung also told VIR that the biggest challenge of running a food store chain is how to make all dishes at every store within the system with the same flavour and quality. However, it is an impossible task because once the growing numbers of stores require more personnel, this leads to less ability to manage correctly.
Viet from Dong A Solutions insisted that it is easy to manage several stores, but the problem comes once that number spikes suddenly, which usually leads to disaster. "That will be more painful if expanding to areas with bigger differences in culture," he added.
Moreover, the power of branding has been highly evaluated, and their products have to be good enough. "We can eat good dishes without branding, but cannot eat at well-branded vendors without good dishes," Viet said.
Developing such a huge number in a short time easily gets brands into risk of offering lower quality of products. Thus, according to Viet, the good way or the sustainable way for developing a food and beverage store chain is a timeline that is long enough to recover strength after launching each new store.
Along with Mon Hue, hundreds of food and beverage brands are having the same headache, not easily solved by the simple fact of owning a lot of money through investment.
A good personnel training system, ability of adapting technologies, and improving the business culture can ease the pressure. However, those all require a significant amount of time, a commodity that not all groups believe they have.
Nguyen Ba Ngoc – Founder NBN Media
The failure of Mon Hue was foreseen some years ago, that was shared by one of my friends.
The reason why we did not publish the view at the time is because my friend was running the same business, and it was not a case I should get involved. And now, everything is done, so I can share something behind the fall of restaurant chain.
Mon Hue restaurant chain had already received around $30 million for the rapid expansion and attracting a lot of customers.
However, bad outcomes were anticipated much earlier. Mon Hue's cuisines was so boring. Rapid expansion led to poor performance, and the rate of the number of closed stores to opened stores set an alarm.
We could see bad administration in purchase and internal management, while marketing and brand communications were not paid enough attention. Mon Hue was planned to fail but someone could probably, ultimately, earn from this.
In short, what has happened has happened and I am so sorry for the result of a once famous restaurant chain, and also for that Vietnamese companies' images will be affected after the case.
Tai Tran - Chief investment officer Simple Tech Investment
Mon Hue overexpanded and quality deteriorated. Customers became dissatisfied with Huy Vietnam's offerings, and valuation creation for investors was subliminal.
Value creation depends on the specific project, industry, product, maturity, field players, and market entry. Certain projects would require rapid expansion to capture market share; others need to be more prudent. There's no silver bullet for all investments. Therefore, investors may want to be thorough in due diligence. Founding team integrity and transparency are a must. To reduce risks, investors might want to target companies are at least break-even, strictly adhere to accounting standards, possess differentiated products and competitive advantages, and operate on proven business models in growing industries.
Nguyen Hy Hau - Officer, Lien Chieu district Danang
I ate at Mon Hue restaurant once several years ago, and I was not impressed with its dishes because they are not different from the food vendors' but the price was always higher. A bowl of beef noodle is at VND30,000 ($1.30) at food vendors but at VND60,000 ($2.60) in Mon Hue.
I readily pay more money for enjoying high-quality foods, but foods in Mon Hue are not at that standard. So, it makes me feel undesirable for paying large fees for normal dishes. Therefore, when I heard Mon Hue chain was closing, I was not surprised.
Pham Thi Nhung - Japanese language teacher Hanoi
I had tasted foods at Mon Hue many times. In my opinion, the foods at Net Hue seem better due to the tastier flavour and more choices. Wrap & Roll is also a choice for me and my friends. The price there is also affordable so the restaurant is usually crowded.
I heard the information that Mon Hue was closed, and it did not really surprise me. Because as I can see, the number of guests that go to Mon Hue was not as much as Net Hue. On one occasion I could not book a table in Net Hue for my friend's birthday, however, Mon Hue still had many empty tables.
Huynh Nguyen Anh Duong - English teacher Quang Ngai province
I ate at Mon Hue restaurant in Danang city when I travelled to the city. I was really disappointed about the quality of food there, completely unequal to the money I paid. With prices of nearly VND100,000 ($4.30) for only two dishes at the restaurant, I could eat more street food dishes outside. The restaurant was decorated very well but always quiet.
When I first heard the news, I was really surprised because despite poor-quality dishes the brand was very good, and I previously guessed the restaurant chain would survive more years. Indeed, some food chains only exist at all thanks to good branding.
Cao Minh Duc – Officer Hanoi
I have visited Mon Hue and some other restaurants under the same parental firm, such as Pho Ong Hung and Com Tho Chay several times. All of these places have bright colours, minimal design, and they look really clean and tidy. But their food quality, the most important part of a restaurant, did not meet my expectations. The quality was not too bad, but the taste was not unusual, special, or exciting.
I really appreciated their design concept and hygiene compared to street food vendors on the road, but when it comes to finding a good place to eat, I don't think I would try Mon Hue again. I think the shutdown is mainly due to the opening of too many branches without proper management leading to the inconsistency in each brand i.e. poor food quality and customer service.
Nguyen Huu Duong – Officer Hanoi
Mon Hue was not a top-tier restaurant and the chain's food was poor in appearance and less tasty compared to Net Hue. For Wrap & Roll, given the difference in menus between Mon Hue and this vendor, it's hard to compare their food quality.
This is just a consequence of a traditional food chain with poor food quality and inappropriate prices. Mon Hue may have focused on food safety, but the most important factor with a traditional food business is its appearance and taste, which Mon Hue failed to deliver. VIR
Kim Anh 

A woman who introduced herself as an investor of Huy Viet Nam, the company that owns Mon Hue restaurant chain, wants to buy Mon Hue to revive the unprofitable chain.

Mon Hue, a chain of restaurants with a large network of outlets across the country, suddenly closed its doors recently.

Major investors of Huy Vietnam Group Limited have taken legal action against Huy Nhat, the founder and chairman of Mon Hue, a chain of up to 80 restaurants across the country, as the firm has closed its eateries due to heavy debts.