The Ministry of Health (MOH) on October 14 sent a dispatch to local healthcare departments informing them about the plan to vaccinate children aged 12-17.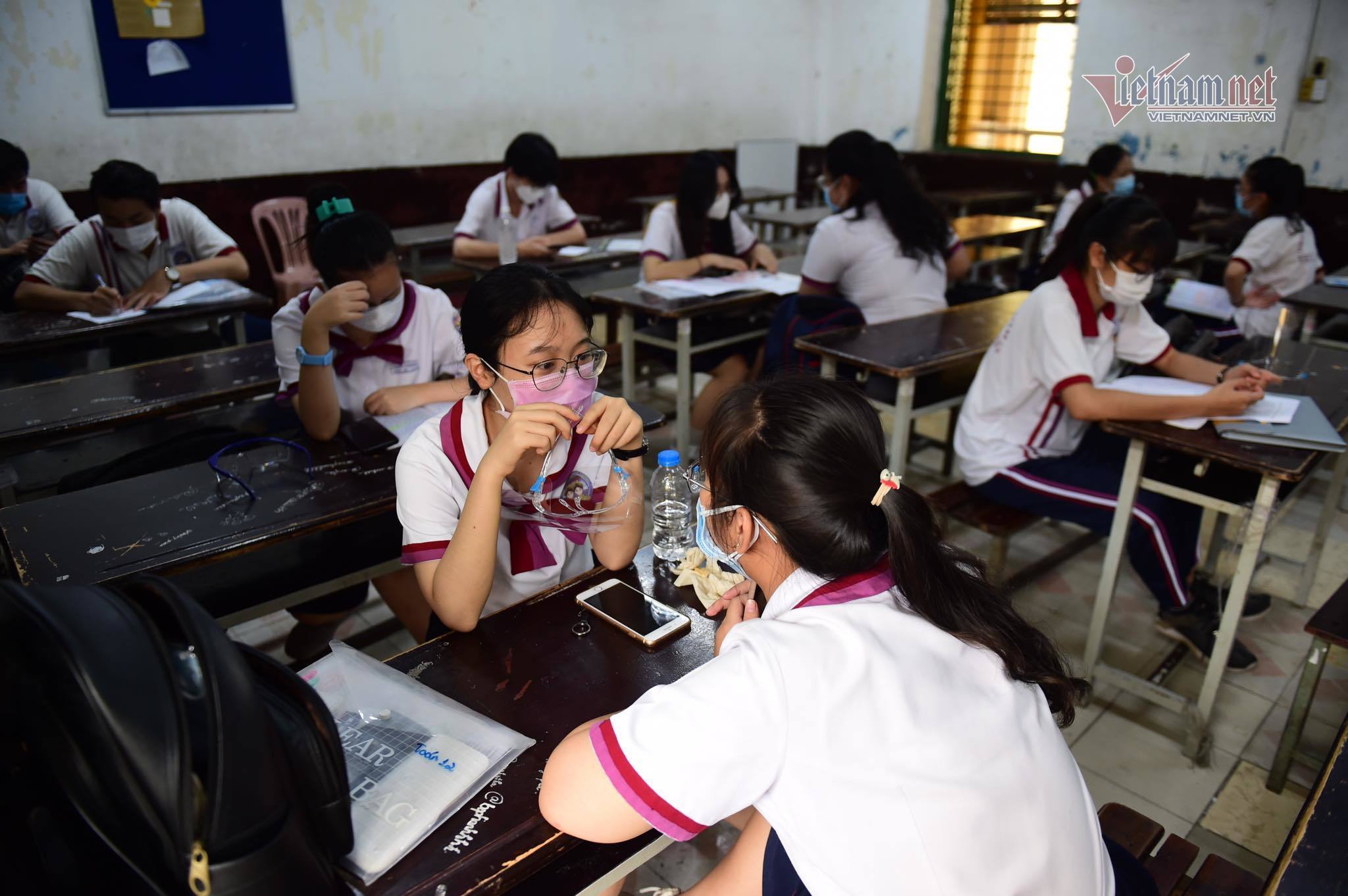 The document said Vietnam will expand the vaccination program step by step, from higher to lower ages (children aged 16-17 will get vaccinations first, followed by children at lower ages).
It's unclear which vaccines will be used for the program, but parents believe that the Pfizer vaccine will be approved because this is the only vaccine being used in the world for teenagers.
Meanwhile, many people fear that the vaccines using mRNA technology may intervene with human genes, especially small children.
Nguyen Van Long in Tan Binh District in HCM City is one of them.
Long said all his family members have been safe during the fourth pandemic wave. "We strictly follow the 5K principle and we regularly clean our nose and throat, and drink vitamins to improve resistance. I ask my children to spend 30 minutes a day on physical exercise," he said.
His view is that children have their own resistance which can be strengthened with physical exercise, food and supplemental micronutrients. His two children rarely get sick. He doesn't intend to have his children vaccinated in the first campaign.
"I will make a decision on whether to vaccinate my children later, when there is more scientific research about the vaccines and when more vaccines receive approval from WHO (World Health Organization)," he said.
Thu Lan in Cau Giay district has also expressed concern that the vaccination may cause undesired effects on students.
"I think I won't let my children get vaccinated in the first campaign. If unvaccinated students are not allowed to return to school, my children will study online," she said.
Unlike Long and Lan, Tran Xuan Son, a parent in district 10, HCM City, said he hopes his son, a 10th grader, is vaccinated as soon as possible.
"He went to school and extra classes last year, and has been learning online for the last few months. He doesn't have opportunities to communicate and go out," he said, adding that the vaccinations will allow him to return to a normal life.
Le Thi Anh Van in district 3 said she is not worried about the safety of vaccines.
"I believe that the ministry thoroughly considered before deciding which vaccines would be used for teens. Many countries in the world are also vaccinating children to ensure a safe return to school," she said.
"What worries me now is the physical and mental health condition of children who have had to study online for a long time, not the rumors about the side effects of vaccines," she said.
Nguyen Ngoc Hieu in Ba Dinh district in Hanoisaid he will let his child, a seventh grader, get vaccinated.
"Children cannot stay at home forever. They need to go out and return to their normal lives," he said. "It will be safer to go out if they are fully vaccinated."
What do schools say?
The opinions of high schools headmasters vary.
Huynh Thanh Phu, Headmaster of Nguyen Du High School in district 10, said it would be better to organize immunization at schools.
"Schools are large enough to ensure necessary distance between students. If students get vaccinations at schools, we will be able to know exactly the number of vaccinated and unvaccinated students," he explained.
According to Phu, parents and students have the right to decide whether to get vaccinated.
"Unvaccinated students also have the right to return to school. The Ministry will decide the required percentage of vaccinated students for schools to be able to reopen," Phu said.
A school headmaster in Binh Thanh district, however, said students should be allowed to get vaccinated anywhere that is convenient for them, not only at schools.
Deputy Minister of Education and Training Ngo Thi Minh said the ministry would release a document on building a safe school environment in the new normal situation this week.
Asked if the unvaccinated can return to school, Minh said the Government's policy is to vaccinate all children aged 12-17 to ensure a safe return to school.
"We will conduct more studies and consult with the Government and MOH on whether unvaccinated students can return to school at the same time as vaccinated ones," she said. 
Hanoi to open COVID-19 vaccination registration for children from age 3
The capital city has started reviewing and making lists for vaccinations of children aged 3 and above.
However, many parents are expressing concerns on whether or not the registration is mandatory.
Addressing these questions, Tran Thi Nhi Ha, Director of Hanoi Department of Health, said the Ministry of Health (MoH) was planning to inoculate children against COVID-19, however there are not yet detailed guidelines on the age range, types of vaccines, and timeline.
For Hanoi, although age 3 is still in the vaccination age, the city cannot inoculate children of 3 years old yet and will deploy the possible vaccination programme for those aged 12 to 17 only, according to the Director of Hanoi Department of Health. "That is possibly the case, as there is yet to be a specific guideline from the MoH. But in the immediate future, the MoH's direction is to inoculate children age 12 and older," Ha said.
"Vaccination always requires prescription and consent from the vaccinated. For children, it depends on the commitment and consent from their guardians, and thus parents can decide whether or not their children will get the jab," said Ha.
According to Khong Minh Tuan, Deputy Director of Hanoi Centre for Disease Control (CDC), the child vaccination programme is expected to be deployed with ease, as there are fewer than one million children aged 12 to 17 in the city. Vaccination sites will be at schools or at each locality, depending on whether students have come back to school or not.
"Everything is ready for the child vaccination programme. The thing is we don't know when the vaccine supply will arrive and which types will be given to children," said Tuan. VNS
Phuong Chi

In many countries, only Pfizer vaccine has been approved for people aged 12 to 17. In Vietnam, this vaccine may be also used for children.

With 98.5 percent of people aged 18 and over having been vaccinated and 75 percent of adults fully vaccinated, many people mistakenly believe that HCM City has reached herd immunity.