Old floodplains in HCM City still have not been cleared, while new flood sites continue to appear.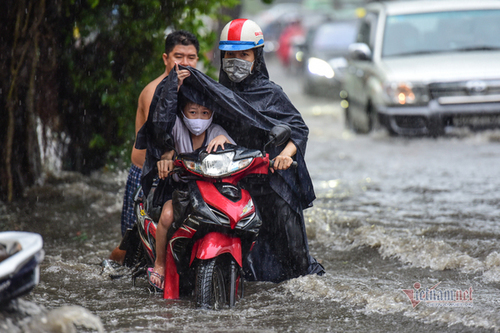 Hundreds of thousands of people driving home after work oftenhave to struggle with floods after spells of heavy rainfall.
On sunny days, the trip takes only 10 minutes, but when the road is flooded, it can take several hours to go home. People have to wade in water, moving inch by inch. Houses are inundated for several days after every high tide or heavy rain.
Not only inner roads such as Nguyen Huu Canh, Dien Bien Phu, Nguyen Xi, Ung Van Khiem and Xo Viet Nghe Tinh, but suburban roads are also flooded.
In Thu Duc City, Pham Van Dong Road, higher than ground level, floods have become more serious in nearby areas, including Hiep Binh, Kha Van Can, To Ngoc Van and Vo Van Ngan streets.
After Kinh Duong Vuong roadbed was raised, inundation worsened at neighboring roads such as Phan Anh, Lam Hoanh, Do Nang Te, Bui Tu Toan and Nguyen Thuc Duong. Even new urban areas have flooded after heavy rains.
The Sai Gon River for years has served as an excellent water drainage channel. A large natural landbank with trees along the Sai Gon River, from Tan Cang to Ton Duc Thang Road in Binh Thanh district, was never flooded in the past despite heavy rains and it served as a natural drainage channel for Ung Van Khiem, Dien Bien Phu, Vo Duy Ninh, Ngo Tat To and Ton Duc Thang streets.
But after real estate projects and high-rises arose along the river, they "blocked" the riverside, causing severe floods on Nguyen Huu Canh Street and neighboring areas.
Nguyen Huu Canh Road in Binh Thanh district, from the Sai Gon Bridge to Ton Duc Thang Street, is one of the most flood-prone areas.
A water pump was installed there and the roadbed level raised. However, the area still floods after rains and the images of people wading in water with motorbikes can be seen.
The Nguyen Huu Canh Road project, 3.7 kilometers long, kicked off in 1997 and was put into operation in 2002. After that, the road subsided and inundation has occurred over the last 16 years.
Many workshops and meetings have been held to discuss the methods to prevent floods. An enterprise suggested fighting against floods with water super-pumps. The amount of money spent to prevent flooding has been increasing as flood levels have become higher.
More flooding sites have appeared on Le Van Viet and Nguyen Van Tang streets in  the new city of Thu Duc. Even the highest areas of the city, including Le Duc Tho, Pham Van Chieu and Nguyen Van Khoi streets in Go Vap district, also suffer inundation.

The city's drainage system was designed to serve only 1.5 million people in 1975. The drainage sewer system, 4,000 kilometers long, was installed in the French colonial period. Many sluices are more than 50 years old.
A report of McKinsey released in 2020 showed that flooding risks in HCM City may grow 10 times more intense by 2050, given the current prevalence of poorly regulated construction projects and economic activities.
Patchy solutions
The city's current drainage system has become out of date amid rapid urbanization and population development. There are 13 million people living and working in the city, and the city adds about 1 million people more every five years.
The city's drainage system was designed to serve only 1.5 million people in 1975. The drainage sewer system, 4,000 kilometers long, was installed in the French colonial period. Many sluices are more than 50 years old.
The system is no longer suited to a city that has expanded in area and population. The the waste water volume is 8.5 times more than the past.
Many solutions have been designed to fix the problem, such as heightening road beds and pumping water from flood-hit areas to others, but they have been patchy solutions at best.
Modern natural drainage system needed
HCM City should take advantage of favorable natural conditions to drain water to rivers, canals and arroyos. Water pumps should only be used if the terrain is low, with no existing low-lying area and drainage flow. The water on Nguyen Huu Canh Road, for example, could be drained to the Sai Gon River and Van Thanh Canal.
In areas with inundation because of sewer overloading, new sluice systems should be used instead. In low-lying areas, water reservoirs could bring water to parks and flower gardens. The water could also be provided to irrigate trees and wash roads.
Local authorities need to restrict the leveling of canals, arroyos and ponds and encroachment on the Sai Gon River. The city should reconsider the tentative plan on shifting 26,000 hectares of agricultural land and prioritize projects for sustainable development.
It was not by chance that architects of the last century paid special attention to protecting the Sai Gon riverbank and taking full advantage of natural landscapes. They respected the natural environment in order to maintain ecological balance. 
Tran Van Tuong

An unprecedented downpour was prolonged in Minh Luong Commune, Van Ban District in Lao Cai Province from the night of April 16 to the following day, triggering ferocious flash flood and landslide leaving three deaths.

Flood control projects in HCM City will be sped up in preparation for the upcoming rainy season.