Some real estate developers engage in dishonest practices: One apartment is sold to many people. Developers receive deposits and take reservations though the legal status is unclear.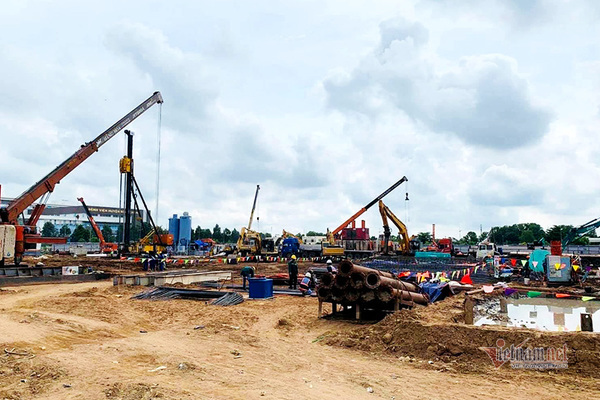 Brokers and developers are dishonest in providing information, trying to trap customers.
The HCMC Construction Department has sent a report on the city's real estate market in 2020 and the first half of the year to the HCMC Police.
In 2020, as many as 31 real estate projects were confirmed by the department as meeting requirements to mobilize capital for housing projects in the future with 16,895 products in total. Of these, 7,114 products were in the high-end market segment, 9,618 mid-end and 163 affordable products.
In the first half of this year, 12 projects in the city met the requirements to mobilize capital, with a total of 6,541 products. There were 3,586 products belonging to the high-end market segment, while the remaining belonged to the mid-end segment. Affordable products were not available.
According to the department, the supply of mid- and high-end apartments continues to develop, while affordable and social housing products are in short supply.
The number of transactions for high-end products is predicted to level off. In some areas, real estate prices are fluctuating slightly, depending on the market segment. However, the prices of land in the eastern part of the city, especially in areas with good infrastructure, are expected to continue to increase.
The report also noted that violations in real estate business have been found recently. This was attributed to an inadequate legal framework with inconsistent legal documents, which creates difficulties in preventing and dealing with violations.
There are different types of violations. One apartment is sold to many people. Or the legal status of projects is not clear, but investors still accept deposits and take reservations.
Another problem is that real estate brokers, project developers and investor and cooperation parties do not disclose or incompletely disclose information about real estate projects when signing contracts with clients.
In late January 2021, HCMC Police issued a decision to take legal proceedings against "fraud to appropriate property" in a criminal case that occurred at Sieu Thanh Co, the investor of Nam An apartment project (Kingsway Tower), Binh Hung Hoa Ward in Binh Tan District.
Prior to that, HCMC Police detained and prosecuted Vu Bao Trinh to investigate the act of "scamming to appropriate property" that occurred at Nam Thi Real Estate Company, the investor of La Bonita Residence, Ward 25, Binh Thanh District.
These are the two latest cases where investors were accused by customers of selling the same apartments to many people in order to appropriate property. While the construction at La Bonita has been completed, at Kingsway Tower, customers still cannot receive apartments because the execution of the project has been suspended.

The developer of La Partenza apartment project in Nhon Duc commune in Nha Be district, developed by Giao Huong Xanh, a subsidiary of Khai Hoan Land, was found taking reservations and receiving deposits when the legal status of the project was still not clear.
Since late 2019, a lot of clients have paid deposits to buy apartments at La Partenza by signing an agreement with Khai Minh Land, the distributor of the project.
The payments were made by instalments and many clients have paid 30 percent of the apartments' value so far. However, Partenza remains an idle land area with no construction activities.
Vo Phan Le Nguyen, Deputy Chair of Nha Be District, said there is no project in the locality called La Partenza.
As for the apartment project in Nhon Duc commune in Nha Be district developed by Giao Huong Xanh, Nguyen said the 1/2000 division plan was approved by the HCMC People's Committee on December 18, 2020.
Similarly, the apartment project in Tan Tuc Town in Binh Chanh District was introduced in early 2020. With 2,000 products, the apartment prices range between VND36-38 million per square meter, a relatively high price in that area. 
Phuong Anh Linh

The latest Covid-19 outbreak, which began in late April, has slowed down the industrial real estate market. There have been only small-scale projects and no large scale one announced.

Real estate companies in Vietnam are currently facing grave difficulties, with most localities implementing strict social distancing measures due to the outbreak of the fourth wave of the Covid-19 pandemic.