General Le Duc Anh was a leader whose contribution was of immeasurable importance to Viet Nam during both war and peace.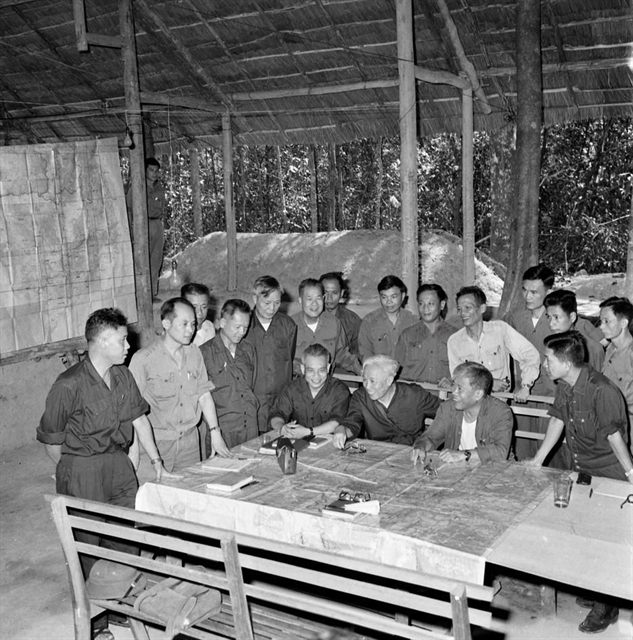 Lieutenant-General Lê Đức Anh (circled) and his comrades at the Tà Thiết military base in Lộc Ninh District, the southeastern province of Bình Phước, at a meeting during the Hồ Chí Minh Campaign in 1975. He was the campaign's second-in-command.
The former President and Politburo member passed away on Monday at his home in Hà Nội due to illness and old age. He was 99.
He was the last general that partook in all major battles of the country to pass away, including the anti-French war, the American war, and the wars to defend the southwestern and northern borders, according to Deputy Minister of Public Security Bùi Văn Nam.
To former Minister of Defence Phạm Văn Trà, General Lê Đức Anh was a brave and fair leader who dared to make decisions and take responsibility for his actions during difficult times.
He allowed everyone to speak up during discussions of military strategies and encouraged them to defend their opinions until the end, Trà said.
"I stood up against him twice. At first I thought he wouldn't listen to me, but he did," Trà said.
"Our most-heated discussion was at the beginning of 1978 during the Battle of Phú Cương Mountain against Pol Pot's regime in the southern province of An Giang. His tactics were different to what we were used to, so I said to him we couldn't do it.
"He resented it at first, saying if we don't want to do it, then don't do it. But I said to him it was his responsibility to make that decision, we would do whatever he said. Finally, he gave in and opted for our tactics. During that battle, the Khmer Rouge ran away."
General Lê Đức Anh was born in 1920 in the central province of Thừa Thiên-Huế.
Since he was young he had had the opportunity to meet with patriots and revolutionists, and read about Communism and about the activities of Nguyễn Ái Quốc (President Hồ Chí Minh) in France.
In 1938, at 18 years old, he became a member of the Communist Party of Việt Nam. He served as a commander in Thủ Dầu Một City in the southern province of Bình Dương during the August Revolution in 1945, and later joined the anti-French resistance in the southeastern region.
He took part in several major battles as Deputy Chief of General Staff of the Việt Nam People's Army, Deputy Commander and Chief of Staff of the Command of the South Vietnamese Liberation Army, and Commander of Military Zone 9.
He was the second-in-command of the Hồ Chí Minh Campaign, the military offensive that put an end to the three-decade conflict in Việt Nam and unified the country on April 30, 1975.
In 1984, he was promoted to the rank of General, then served as Chief of General Staff of the Việt Nam People's Army (1986), Minister of Defence (December 1986 – December 1991). He was President of Việt Nam during 1992-97.
An outstanding diplomat
Not only did he make major contributions to the fight for freedom, General Lê Đức Anh also played a significant role in the development and expansion of diplomatic relations of Việt Nam, especially in normalising relations between the country and China and the US.
The normalisation of the relation with the US began in 1986, at the same time as the Đổi Mới (Renewal) process started. As a defence minister, General Lê Đức Anh started to implement Operation Smile – an initiative that repairs childhood facial deformities – and ran a search of American soldiers declared as missing-in-action during the war, which was considered a new approach to normalising relations with the US.
In July 1991, he visited China as a Politburo envoy, creating a foundation for an official visit of the then Party General Secretary Đỗ Mười and then Prime Minister Võ Văn Kiệt to the country in November of the same year. The two countries later issued a joint statement and signed an official agreement to normalise relations as the result of the visit.
He said about the process of building the diplomatic relations: "It's a process that we must take caution every step of the way, and it must serve our nation's independence and interests.
"The independence and interests of our nation and the sacred sovereignty of our fatherland must always be our first priority."
Lê Đức Anh's devotion to the country was highly appreciated by former Prime Minister Võ Văn Kiệt.
He once said: "After all these years, whether as a soldier in the battlefield or a State leader, Lê Đức Anh has always been a great officer and a leader of dignity, bravery and responsibility.
"As a defence minister, he made drastic changes to the organisational structure of the Việt Nam People's Army and People's Armed Forces, and he was a leader of great influence in the period of national renewal.
"If I am to be honest, we don't have many leaders like him."
Deputy Minister of Public Security Bùi Văn Nam said: "I've heard a lot of stories about him having an outstanding vision when it comes to handling issues of national defence, security, foreign affairs, economics and society.
"He was also a great child of the central province of Thừa Thiên-Huế. I've had the chance to visit his hometown and I've seen with my own eyes the admiration that people there have for him.
"They are proud of him – a commander, a great leader who made great contributions to the country during both wartime and peacetime." — VNS