Vietnam, a global phenomenon in renewable energy development, has risen to the top of the region in terms of renewable energy, particularly solar power, in a short period of time. 
However, a number of solar power projects in particular and renewable power projects in general have been sold to foreign investors.
The names of foreign investors like Jormsup Lochaya or Chaphamon Chantarapong Phan are familiar to those who work in the power industry of Vietnam. Mr. Chaphamon Chantarapong Phan is the legal representative, Chairman of the Board of Directors and General Director of several energy enterprises in Vietnam, such as SSE Vietnam 1 JSC, SSEBP3, SSE LN2, Thinh Long Phu Yen Solar Power JSC, Van Giao Solar Power, Super Wind Energy Cong Ly Bac Lieu, ASIA Energy, Everich Binh Thuan Energy Co., Ltd., and Van Giao Solar Factory JSC.
These companies carry out many power projects in the provinces of Phu Yen, Bac Lieu, An Giang, Dak Nong, and Binh Thuan.
The companies are now under the control of Thailand's Super Energy Group after this group bought a majority of shares in these power projects.
Another name, Mrs. Napatpawankwan Apitedsurathan (Thai nationality) is the legal representative of a series of renewable power companies such as Gulf Energy Vietnam, Gulf Tay Ninh 1, Gulf Tay Ninh 2, and Mekong Wind Power. These companies own many of Vietnam's leading solar power plants, especially after Thailand's Gulf Energy Development acquired most of the shares from Vietnam's Thanh Thanh Cong Group.
Since mid-2018, many foreign investors have acquired controlling shares of many renewable power projects (solar, wind power) in Vietnam. Thousands of MW of solar and wind power are owned by foreign investors. Besides Thai investors, partners from Saudi Arabia, the Philippines, and Japan also own controlling shares in many renewable power projects in Vietnam.
It is common that renewable power projects are licenced, developed and completed by Vietnamese enterprises, and are sold to foreign investors. Many local businesses transfer shares right after completing the investment procedures. There are still only a few domestic investors who retain their decision-making power in power projects.
Why are these projects sold?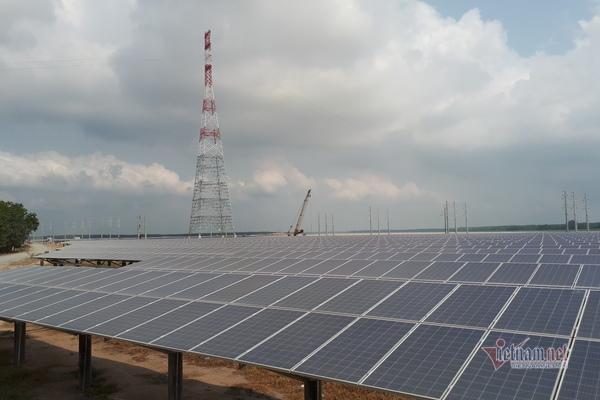 Recently, Trung Nam Group decided to transfer a 49% stake in the 204 MW Trung Nam Thuan Bac Solar Power Plant project to ACIT. On May 14, Trung Nam Wind Power Joint Stock Company signed a strategic cooperation agreement with Hitachi Sustainable Energy (Hitachi SE), a subsidiary of Hitachi Group (Japan), under which the Japanese partner owns a 35.1% stake in Trung Nam Wind Power Plant.
Meanwhile, after the boom in selling solar power projects, the sale of wind power projects will also flourish. Why do solar power projects have to sell capital and need to attract investors after these plants are put into operation?
An official from the Ministry of Industry and Trade explained that large energy corporations in the world rarely directly develop projects in order to avoid and reduce risks, time and costs at the project development stage, such as compensation for site clearance, approval of the government, local and central partners.
Domestic investors are knowledgeable about laws, mechanisms, policies, order and procedures... so they have many advantages in carrying out the investment preparation stage. On the other hand, foreign investors have potential in capital, technology, experience in investment and factory operation... The combination of domestic and foreign investors will bring good results for the project. Foreign investors often participate in large-scale projects or combine many small-scale projects. This helps reduce overall operating costs for the foreign investors.
An energy expert said that the financial capacity of most domestic investors is limited. Spending trillions of VND on a power project, many investors run out of capital when they want to do other projects. Therefore, in order to rotate capital, they have to sell most of their shares or sell part of their shares because it is difficult to access bank loans while interest rates are high. This can be seen in almost all areas of the economy when businesses want to raise capital to expand business investments.
"We only sell shares when there are new projects to develop," said Mr. Nguyen Tam Tien, General Director of Trung Nam Group.
Mr. Tran Dang Khoa, Head of the Electricity of Vietnam group (EVN)'s Electricity Market Department, said that from the perspective of enterprises, it is the change of shareholders or the percentage of ownership in that enterprise. This transfer is the right of shareholders under the Law on Enterprises. Thus, the essence is the transfer of shares in project enterprises.
However, the transfer of shares in an energy project is not only sold for money but also requires harmonization of long-term business interests and the whole economy. So investors need to choose partners with strong financial capacity. And Vietnamese investors need to improve their management and technology capabilities when conducting new projects.
Balanced development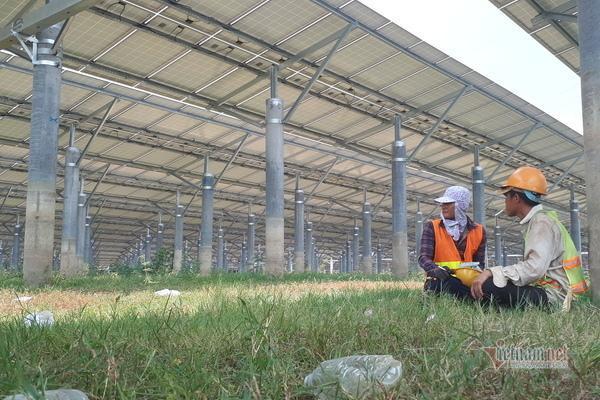 Energy is a conditional business sector, related to energy security and socio-economic stability. Therefore, the phenomenon of selling dominant capital to foreign partners has confused people.
Although the installed capacity of wind power and solar power totals more than 20,000MW, accounting for 30% of the installed capacity of the whole system, the electricity output from these sources only makes up 12%.
Basically, the power system supply still depends on traditional power sources such as hydroelectricity and thermal power. For many years, foreign investors have owned many BOT (build-operate-transfer) power projects with a capacity of thousands of MW, but energy security is still guaranteed. Therefore, the concern about energy security, although necessary, is not that intense.
An investor said that, from the stage of project investment to transfer of shares to foreign investors, enterprises and local governments must consult with central agencies, such as the Ministry of Planning and Investment or even the Ministry of Defense. Only when the security and socio-economic factors are guaranteed will the transfer be conducted.
The Ministry of Industry and Trade has expressed the view that the transfer of all or part of an investment project is a normal operation in markets and is regulated by the Law on Investment.
Vietnamese law permits the transfer of projects to foreign investors that fully satisfy the conditions for transfer of investment projects in conditional industries. According to current regulations, the transfer of projects and change of shareholders are handled by the Department and Ministry of Planning and Investment depending on the size of the project.
Economist Pham Chi Lan said that the transfer of shares in renewable energy projects should be implemented in the spirit under which investors can only transfer their shares after a certain time. He said the host country should be prioritized to acquire the project; and the State of Vietnam given the right to refuse the partner chosen by the investor to transfer the project, if the partner is incompetent or may harm energy security and national defense of Vietnam.
From the business side, Mr. Nguyen Tam Tien, General Director of Trung Nam Group, affirmed that the group does not sell controlling shares to foreign investors and will never sell to partners with unclear capital resources. Many partners from the Philippines, Thailand and Hong Kong have asked to buy shares, but Trung Nam Group has refused them all. This group only sells its shares to Vietnamese enterprises and partners from Japan or Europe, or others with a good background on a global scale.
Luong Bang

Wind and solar power are sustainable energy sources that are prioritized for development.

Wind and solar power continues to be prioritized but solutions are needed to ensure the safety of the electricity system when operating volatile sources of energy.