Vietnam received only 0.5 percent of travelers from Spain in 2019, although the number of visitors has increased in recent years.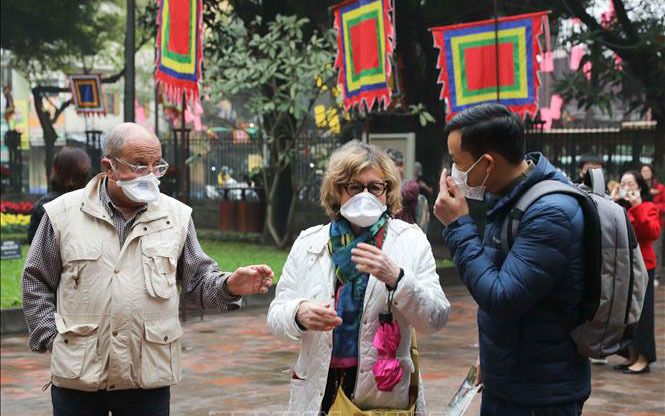 Aurora Travel is one of the Vietnamese travel firms pioneering to exploit the Spanish market.
Its head of sales division in charge of Spanish market Le Thu Phuong said she has been witnessing considerable developments in the market, from the days when there were only small groups of 15-20 travelers to the current days when the firm served groups of 60-100 Spanish travelers.
Vietnam is also the choice of many MICE (Meetings, incentives, conferences & exhibitions) groups from the country.
However, Nguyen Quang Vinh from the Institute For Tourism Development Research said that the number of Spanish travelers to Vietnam is modest if noting that Spanish people have high spending level, have long stays, and travel a lot.
In 2013, Vietnam received 33,183 Spanish travelers, while the figure rose to 83,600 in 2019, which meant a growth rate of 17 percent per annum in 2013-2019. The number of Spanish travelers to Vietnam accounted for 0.5 percent of the 23 million Spanish people traveling abroad that year.
Research shows that 13-23 million Spanish people travelled abroad in 2008-2019, or 48 percent of the country's population.
They prefer traveling in summer and to distant destinations on trips that last more than two weeks on average. Visiting museums, experiencing indigenous culture, shopping and relaxing are the main activities of Spanish travelers. They often make plans for long trips many days before departure.
On average, one Spanish traveler spends $1,477 in Vietnam ($1,043 for independent travelers and $1,757 for booked tours). Of this, hotel room rent accounts for 33.4 percent of their total spending. The figures are 23.3 percent for food, 18 percent for transportation and 10 percent for shopping.
.
Spaniards mostly focus on local original experiences. Enjoying arts and culture is one of the main reasons for their trips. However, food specialties have become more important, influencing their experiences.
Spanish travelers are willing to pay a high amount to use specific local services or products, but the quality must be good value.
According to Nguyen Duc Thang from the Tourism Institute under Kinh Bac University, opening non-stop air routes is the vital issue. All Spanish travelers to Vietnam in 2019 took transit flights. Many of them visited China, South Korea and Thailand before coming to Vietnam.
He explained that there are no direct air routes to Madrid or Barcelona. With non-stop flights, it would take 11 hours on average to fly from Spain to Hanoi or HCM City. With connecting flights, 13 hours at least.
The problem is that European travelers tend to stay in the first stopover longer before subsequent destinations.

Vietnam received only 0.5 percent of travelers from Spain in 2019, although the number of visitors has increased in recent years.
Thang said that the Vietnam National Administration of Tourism (VNAT) should discuss with Vietnam's carriers, including Vietjet, Vietnam Airlines, Bamboo Airways and Vietravel Airlines, on the opening of non-stop air routes to Spain soon.
"It would be better for Vietnam to take the initiative in opening air routes to the country as two-way demand is believed to be high. Vietnam should not expect European airlines to open non-stop air routes to Vietnam first," he commented.
Phan Anh Vu from the Ministry of Culture, Sports and Tourism (MCST) said because of the lack of direct air routes, Vietnam remains a less competitive destination with high tour fees.
In the immediate time, according to Vu, Vietnam's travel firms could join forces with Lao, Cambodian and Thai firms to create a "one flight, three destinations" program.
He also suggested designing sample tourism products with 1-3 destinations in Vietnam, specifically targeting the Spanish market, and consider chartered flights.
Another problem is the shortage of Spanish speaking tour guides.
According to VNAT, Vietnam had 260 Spanish speaking tour guides in 2019, which meant one tour guide for every 321 travelers. Meanwhile, 68,500 travelers from Latin America also speak Spanish and Portuguese.
The ideal ratio is one tour guide for every 300 travelers.
Nguyen Van Gia from the Tour Guide Association, said the number of Spanish speaking tour guides is, in theory, enough, but tour guides are mostly in large tourism cities, so in high tourism season, the serious shortage of tour guides occurs from October to April.
He believes that Vietnam needs to speed up training to have 1,000 Spanish-speaking tour guides with official practice cards.
Phuong said it's necessary to advertise Vietnam's tourism images via trade fairs so that Asian destinations in European travelers' thoughts include Vietnam as well.
She also suggested waiving visas for 30 days instead of 15 days, and exempting visa fees for those who return to Vietnam after visiting countries in Indochina. To stimulate demand in the post-Covid period, tourists should be exempted from excursion tickets at some attractions, she said.
Vietnam welcomed 3.8 million foreign arrivals in 2020, down 78.7 percent from 2019, as a result of the serious impact of the pandemic. 
Ngoc Ha

Phu Quoc island in southern Kien Giang province is set to receive first charter flights from November 20 this year to bring foreign travelers with a vaccine passport to the resort city under a pilot scheme recently approved by the Prime Minister.

Vietnam has stunning landscapes, its architecture and cuisine are worth mentioning, too. Here are the top 10 famous places in Vietnam that foreign tourists should visit at least once in their lives.