Sam Van Binh was proud to be one of the attendees at an event held in Hanoi recently to honour role models from across the country who study and follow the ideology, morality and lifestyle of President Ho Chi Minh.
He is from the Thai ethnic group, and lives in Yen Luom Village in the central province of Nghe An.
"It is a rare chance for me to meet many people from across the nation," he said. "Everyone has made great efforts but the common feature is that all things are based on President Ho Chi Minh's thoughts, morality and lifestyle. I'm very happy."
On the outskirts of Hanoi, Dao people are struggling to retain an ancient script
Vietnam promotes ethnic minority language preservation
Lai Chau province's cultural clubs preserve Dao ethnic traditions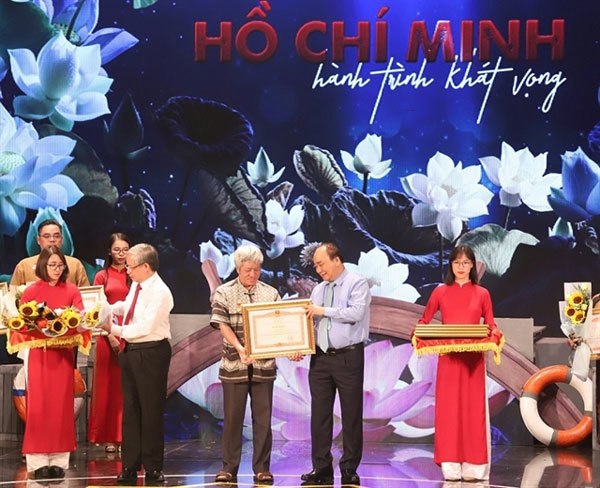 RECOGNISED: Sam Van Binh (third from right) receives a certification from Prime Minister Nguyen Xuan Phuc at a programme in Hanoi recently. VNS Photo Thanh Hung

Binh has spent many years collecting Thai manuscripts to preserve and develop the written language. Most significantly is that many Thai people in the province can now read and write in their own script which they speak every day.
Although he graduated from Maritime University in 1987 he was unable to find a suitable job. He returned home to find work.
He often saw old documents but was unable to read them. He was concerned that the script was almost forgotten.
This prompted him to begin collecting and learning the script to understand more about the customs and habits of his ethnic group.
An opportunity arose when the district built a library under a national programme. He came across an old book entitled Luật Tục Thái Việt Nam (The Law and Custom of the Ethnic Thai in Việt Nam).
"I remembered that there were some old books in my district so I asked to borrow them," he said.
He began to study the spelling and grammar of the Thai script, which was not difficult as he already spoke the language.
However it took about three months to read and write the script fluently.
"The more I researched the script the more beautiful and valuable things I saw," he said. "In the integration, if people do not preserve the traditional culture it will disappear."
Although he has been collecting and preserving the script for over 20 years, he never thought he'd be able to write a dictionary until Thai writer Quan Vi Mien – a member of the Viet Nam Writers Association – encouraged him.
However, he is not a linguistic researcher so he didn't know how to compile a dictionary.
He started work on the outline for the dictionary. The structure of the first consonants of the old Thai and Latin scripts is quite different so he contacted overseas Vietnamese Chau Kim Quoi in Thailand and met him at a seminar in Chiang Mai in 2009.
Quoi introduced him to reference a book entitled Southwestern Tai Dialects by William J. Gedney from the Center for South and Southeast Asian Studies at the University of Michigan.
He also got support from Ta Van Thong from the Viet Nam Academy of Social Sciences.
"It's good to have a dictionary for the Thai script," Thong said.
"If a language is passed down orally it will be lost.
"Many ethnic minority groups in Vietnam are at risk of losing their language, causing their culture and traditional customs to disappear.
"The preservation of Thai script will promote solidarity in the group."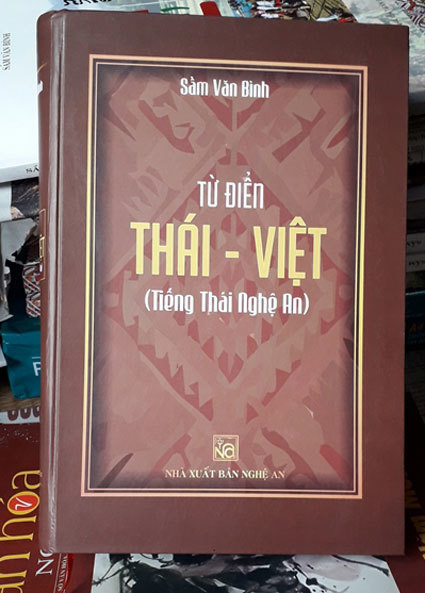 PRESERVATION: The Thái - Việt (Romanised Thai) Dictionary is published by Nghe An Publishing House. Photo courtesy of Sam Van Binh
For ten years, Binh worked on the Thái - Việt (Romanised Thai - Vietnamese) Dictionary with 14,000 entries. It has 845 pages and about 500 copies were published by the Nghệ An Publishing House in 2018.
There are four main Thai dialects in Vietnam including Thai Son La; Thai Tay Thanh; Thai Lai Tay and Thai Lai Pao.
The dictionary is the first document to systematise Thai Lai Tay. This kind of script is used mainly in Nghe An and the central province of Thanh Hoa.
Lai Tay is distinct from others. But Lai Tay is written up to down and read from right to left.

From 2011 to 2017, Binh researched Lai Tay in Nghe An. He received a Special Prize in the provincial Science and Technology Renovation Competition.
SAVING CULTURE: Sam Van Binh was in Hanoi recently to attend an exchange programme to honour role models from across the country in studying and following the ideology, morality and lifestyle of late President Ho Chi Minh. VNS Photo Thanh Hung
His research has helped more than 500 people learn the script in seven districts of the province. Most learners are young students aged from 15 to 18.
The Thai classes had 90 learners, with the youngest 13 and the oldest 45.
Many people see Thai script as important in understanding their culture and customs.
From 2012, newspapers and magazines including Nghệ An's Weekend newspaper have published articles in Thai script.
"I will focus on literature and art of my ethnic group," Bình said. "I hope my work will preserve and promote Thai culture, making its contribution to national cultural development."
"The provincial Department of Culture, Sports and Tourism is preparing a dossier to propose recognising the Thai Lai Tay script as a national intangible heritage," Binh said. VNS
Nguyen Binh