At field hospitals, medical staff are not only constantly busy treating Covid-19 patients but are also overwhelmed with administrative papers.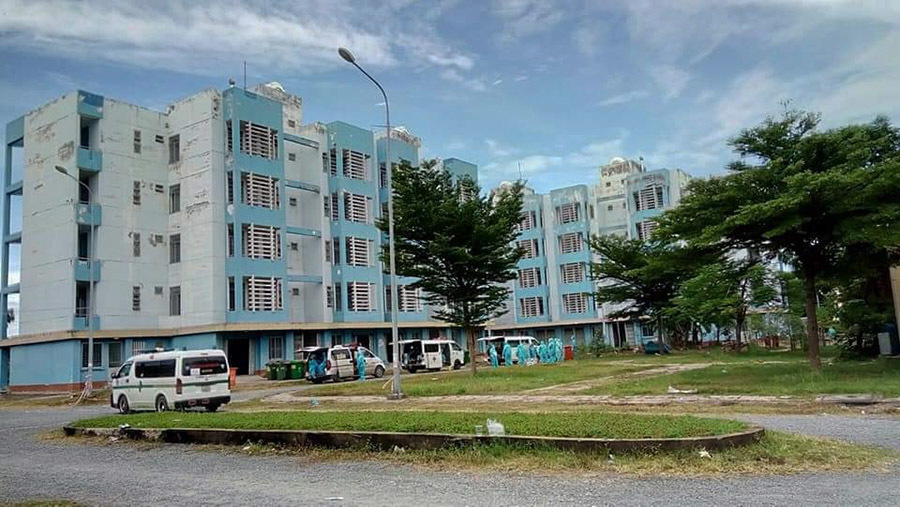 The Field Hospital No 4
Field Hospital No 4, with 3,000-5,000 beds, has been set up in a resettlement area in VInh Loc B ward in Binh Chanh district in HCM City. The hospital, which opened on July 7, is managed by the staff of the HCM City Children's Hospital.
Dr Nguyen Cat Phuong Vu said the buildings there had been left idle for a long time so everything was lacking and inconvenient, from electricity and water supply to rooms and belongings. When they first came, the rooms were dusty and mossy.
But the hospital was quickly renovated thanks to the patients and creativity of medical staff, administrative officers and technicians.
The patient rooms are split by partitions to prevent cross infection. In emergency rooms, high oxygen tanks and resuscitation facilities are ready to provide emergency treatment if F0 cases turn severe.
The loudspeaker system to patient rooms disseminates regulations and rules to patients and supervises emergency situations.
Vu said after just three days of operation, the hospital received 1,600 F0s. "On the first days, patients were carried from all districts of the city. Ambulances parked in long rows. The car horns and loudspeakers sounded noisy," he said.
The most difficult problem is arranging safe and convenient accommodation for patients. The conditions are not that good, but medical staff try to encourage patients to settle down.
The hospital used a nursery school space to set up offices for administrative staff and technicians.
Doctors and medical workers redesigned the school and turned it into an office. They set up executive and administrative areas; reception and patient classification; diagnosing imaging; testing; emergency and resuscitation area; treatment areas for mild, medium and severe patients; isolation area before hospital discharge; pharmaceutical zone, drugs, supplies and chemicals distribution area; medical equipment area; canteen; resting area for workers; areas for storing and preserving corpses; and infection control zone.
Vu said the field hospital received more than 5,000 F0 cases in the first 20 days of operation, and hundreds of patients have been discharged. The patients treated there are mostly from Binh Tan and Binh Chanh districts, and from industrial zones in the districts.
Dr Ho Tan Thanh Binh, deputy director of the hospital, said one of the difficulties the hospital faced in the first days of operation was the stream of patients with negative and positive tests.
He cited other problems. Some patients don't observe the rules of the hospital. There is no detailed guidance on the regime for patients aged below 16. It is difficult to fulfill administrative procedures and grant codes to patients because of the lack of identity papers. He weber, these problems are discussed and settled at online meetings every day.
Vu said doctors and administrative officers are always busy.
"Sometimes, when we feel pressure and stress, we come across the leaders of hospital at a corner of the corridor. Dr Binh and Dr Nam talk to each other about patients and share their worries," Vu said.
After lunchtime, the team of medical workers on duty heard that a pregnant woman needed to be brought to an end-line hospital. But the hospitals were full. Everyone tried to make calls to every hospital and asked to receive the patient.
Finally, Trung Vuong Hospital accepted the patient. Medical workers felt immense relief. 
Tu Anh

The HCMC Export Processing Zone and Industrial Park Authority Business Association (HBA) has proposed the HCMC government and relevant agencies establish field hospitals at industrial parks (IP)

Trinh Hoai Duc Gymnasium in Dong Da district has become a vaccination site. This is one of 10 vaccination sites organized under the model of a "field hospital" in the capital city.