Hundreds of trains have been left vacant, thousands of railway workers work perfunctory, and millions of people inch meter by meter on jammed roads from the suburbs to the city center.
In 1881, the Saigon - My Tho railway route marked the beginning of the formation of the railway sector of Vietnam. The year 1902 was a landmark for a new era when Vietnam's railway reached out to the world: the completion of Long Bien Bridge in Hanoi connected three railway routes to Hai Phong port, to Dong Dang (Lang Son province), to Lao Cai, and then to the South of China and to an international seaport.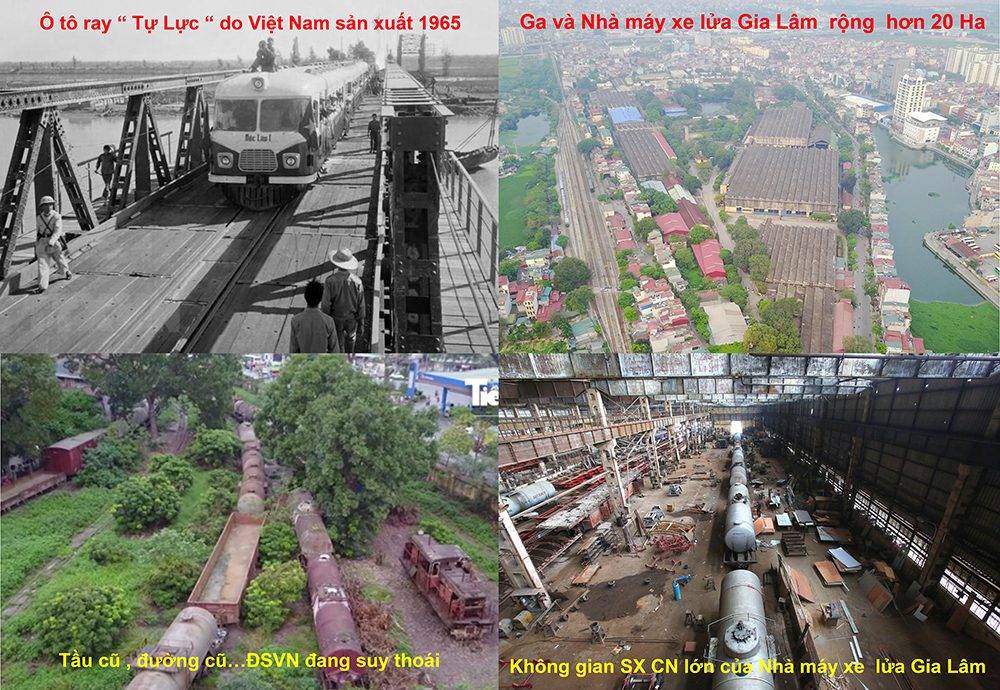 Vietnam began manufacturing rail cars in 1965. The infrastructure managed by the Vietnam Railway Corporation is of great value, but has not been used effectively.
At that time, Long Bien Bridge was the biggest investment but it yielded multiiple benefits. It not only enabled trade exchange but also promoted the development of the railway system in Vietnam, which went along with the information and postal revolutions, and cultural and urban connections during peacetime. During wartime, this bridge was the target of air raids to cut off vital traffic vessels. Whenever it happened, the key bridge was repaired as soon as possible.
There was a time when the railway system passed through the center of Hanoi with a total length of 12km, four stations and one factory, occupying 1 million square meters, playing a core role in forming a chain of urban centers and an industrial railway town.
Since the 1980s, the railway system has expanded its space by additional 5 million square meters along with the establishment of a new 48km route from Ngoc Hoi via Thang Long bridge to Noi Bai International Airport. In 1986, the railway system carried 20% of passengers and 50% of goods but the figures dropped to 0.17% and 0.24% in 2019, respectively.
The railway sector currently not only has run out of money but also faces the risk of collapse. It is considering abandoning stations and removing railways out of the city center to provide land for housing development. Meanwhile, there is no funding to repair Long Bien Bridge.
World railway industry overcomes difficulties
Railways all over the world have experienced difficult periods, and were on the verge of bankruptcy due to the change of modes of transport when they were unable to compete with air and road transport.
The railway route from San Francisco to Gilroy (Silicon Valley) is 124km long, serving over 58,000 passengers per day. Since 2011, the number of passengers traveling by train has increased by over 10% a year. This is the fastest means of travel during rush hour.
In the United States, 98% of passengers traveled by rail on inter-regional routes in 1916 (nearly 42 million passengers). The number decreased to 67% in 1940 and increased to 74% by 1945 due to military needs. After that, despite constant upgrades of the railway, the number of passengers dropped to only 32% in 1957.
In 1945, Indonesia gained independence and gradually took over the railway system built by the Netherlands. Indonesian railway began implementing electrification in 1917 and officially operated by 1927 but in 1966, it resumed the use of steam and diesel trains. In 1972, Jakarta imported electrical equipment and trains from Japan, and then from Korea, Belgium and the Netherlands.
In 2000, Japan presented Indonesia 72 used trains with air conditioning. While Bangkok (Thailand), Kuala Lumpur (Malaysia) were struggling with projects to import urban railways, Manila (the Philippines) had already built urban rail routes but still struggled with traffic congestion. Hanoi and Ho Chi Minh City began to design urban railway development plans, and Jakarta was steadfast in the modernization of suburban rail routes and kicked off 11 BRT lines with a length of 251.2km, capable of transporting more than 1 million passengers per day (2004 - 2020).
In 2019, Jakarta opened the first 16km of imported urban railway, carrying 170,000 passengers/day. This line connects with five suburban railway lines in and out of Jakarta. In 2021, a model of low-cost ticket for an integrated transport system of trains, BRT, regular and mini buses (7 seats) and bicycles in Jakarta named "Jak Linko" was awarded the Asian Transport Award.
Urban railways rescue railway sector, urban traffic
Railways evolve constantly, but there is no successful lesson from the import of a new systems to replace the existing one. Good results only come from efforts to reform the existing system to satisfy travel needs, and transforming long-distance routes into short ones, modernizing the existing system to make it be more friendly to users.
The first thing to do is to form suburban railway routes - train services for people traveling between home and work, using current railways. There is no need to change the current railway with a new one of 1.45m gauge.
Hanoi has 110km of railway connecting the Hanoi railway station in all directions: Noi Bai, Quang Minh (North); Ngoc Hoi (South); Duong Xa (East); Ha Dong - Duong Noi (West) with dozens of stations, and two bridges over the Red River.
Hundreds of trains are left vacant, thousands of railway workers have to work perfunctorily and millions of people have to inch meter by meter on jammed roads from the suburbs to the city center. Why don't we renovate the current railway system to help deal with these problems?
Total investment in upgrading bridges, railroads, stations and factories for 100km of suburban railways in Hanoi is less than the capital to build 8km of the Hanoi railway station - Hoang Mai underground metro line. The capital can be completely mobilized from internal resources.
Hanoi is drawing up "the miracle of the Red River", and the transport industry dreams of building the "trans-Vietnam high-speed railway" with estimated capital of trillions of VND. Should we do this little thing immediately: Urgently reinforce the Long Bien bridge and trial the 6km railway connecting the Hanoi railway station and Gia Lam railway station (before 2022) and gradually extend this route by 10-20km each year, upgrading the Gia Lam train factory, and step by step master national and urban railway technology?
Tran Huy Anh

Many provinces have proposed building their own airports, but if there are high-speed rail routes, many people will not choose to fly a 300-500km distance.

Integrating national and inter-regional railways with an urban transport system is a direction that can be chosen by megacities like Hanoi.