After a tough 12 months, with Vietnamese pharmaceutical giants continuing to report poor business performance in the first quarter of 2019, new solutions are being sought to hold firm amid increasingly mounting competition from international rivals.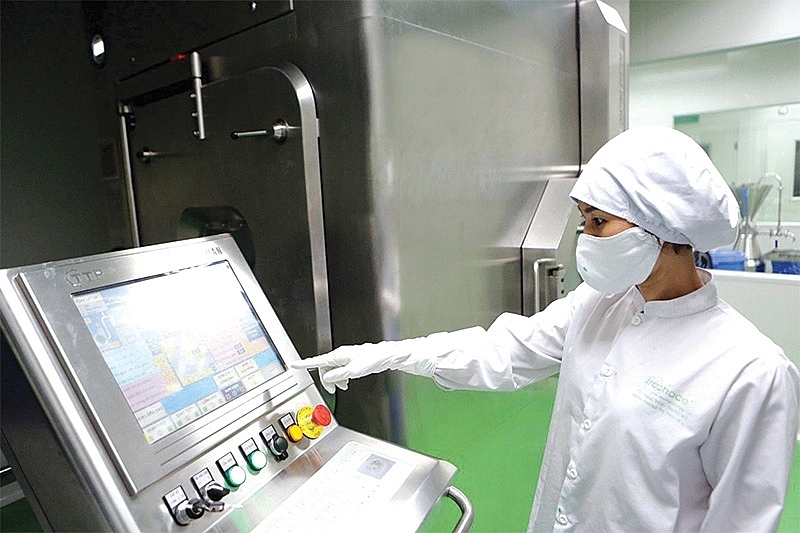 Foreign ownership limit changes and adjustments to corporate income tax are some of the factors in profit drops by the major drugmakers
On April 29, the annual shareholders' meeting of Vietnam's third-largest domestic drugmaker Domesco (DMC) took place in a heated atmosphere with a series of questions for leaders, focusing on the strategy to maintain the company's market share.
The queries were raised as DMC garnered lower-than-expected results in the first three months of the year, following poor business performance in 2018.
According to the first-quarter ­financial statement, DMC made net revenue of VND309.68 billion ($13.46 million), up 5.9 per cent ­on-year. Despite the slight rise, it ­reported a 4.05 per cent on-year fall in after-tax profit, reaching nearly VND50 billion ($2.17 million).
Leaders blamed the tepid profit partly on stiffening competition in the pharmaceutical market, rising input materials prices, and challenges in tenders.
DMC's biggest shareholder is now Abbott Laboratories with 51.7 per cent, followed by State Capital Investment Corporation (SCIC).
This first quarter was also ­difficult for other Vietnamese ­pharmaceutical giants including the country's top two publicly-traded drugmakers, Hau Giang Pharmaceutical JSC (DHG), and Traphaco (TRA).
DHG made net revenue of VND767.19 billion ($33.35 million) and an after-tax profit of VND135.17 billion ($5.88 million) between January and March, down 15.55 per cent and 20.94 per cent on-year, respectively. The company's acting general director Doan Dinh Duy Khuong blamed the fall in revenue for DHG's halt in ­distribution of its MSD and Eugica pharmaceuticals last year, before lifting the foreign ownership limit (FOL) to 100 per cent in July.
Under the current rules, if a Vietnamese pharma company's foreign partners hold a 51 per cent stake, this could cause it to be classified as a foreign-invested enterprise, depriving them of the profitable right to distribute medicines of other brands.
"The profit drop is due to the application of corporate income tax in 2019 of 5 per cent at the DHG plant branch in the southern province of Hau Giang, instead of zero, as in 2018," Khuong said.
Last week DHG witnessed a major change in business governance when it announced Japanese pharmaceutical group Taisho Pharmaceutical Holdings had spent over VND2.47 trillion ($107.4 million) acquiring 20.6 million DHG shares, thus increasing its stake in the Vietnamese drugmaker to 50.78 per cent. The move, though paving the way for Taisho to boost its' footprint in the lucrative local market, will heat up competition in the Vietnamese pharmaceutical sector.
At TRA, though the official result was not announced, the situation is said to be similar. At present, SCIC, Magbi Fund Ltd., and Super Delta Pte., Ltd. are TRA's largest shareholders. with respective stakes of 35.67, 24.99, and 15.12 per cent.
Looking back 2018, it was a tough year for DHG, DMC and TRA when they made lack-lustre profit and revenue. Compared with 2017, both TRA and DMC saw double-digit growth.
Nguyen Anh Tuan, deputy chairman of TRA's Board of ­Directors, said, "2018 saw fierce competition in the pharmaceutical market. At that time, drugmakers were waiting for the Ministry of Health's (MoH) circular on drug tenders. We are venturing further into the ethical and prescription drugs (ETC) channel, but the MoH is yet to issue the circular despite a number of revisions. The ETC channel still makes up 65 per cent of the market share."
NEW SOLUTIONS
The three dugmakers have announced upcoming steps to stand firm, at a time when more multinational corporations (MNCs) are boosting their presence in Vietnam.
DMC is to complete all necessary procedures for the franchising project of Abbott products. As planned, franchised products will contribute to DMC's revenue by next year. To keep its market share and achieve a growth target of 6 per cent in 2019 and 7 per cent in 2020, the third-biggest drugmaker will not invest in upgrading the existing factories to PIC/S and EU standards, but instead aims to focus on exports and tenders of key products while signing franchising deals with American and Canadian companies.
Similarly, TRA is planning to look at developing the ETC channel, seeking partners and production of franchised products, expanding the distribution network, diversifying products, and boosting sci-tech application in production. Importantly, TRA has kicked off a technology transfer project with South Korean partner Daewoong for its strategic products, at the factory located in the northern province of Hung Yen.
This year TRA has set targets of making consolidated revenue of VND2.16 trillion ($93.9 million), and consolidated after-tax profit of VND205 billion ($8.9 million), up 15 per cent and 30 per cent on-year, respectively.
Like TRA and DMC, DHG also targets the ETC segment and exports in its long-term development. In mid-April, DHG announced two assembly lines meeting PIC/S-GMP and JAPAN-GMP standards. This is expected to help the company leapfrog its way into the ETC arena and in exports.
Boasting a wide network of 28,000 distribution agents at home, DHG is also expanding its export network to 14 countries, including Singapore, Cambodia, Laos, Myanmar, Nigeria, and Indonesia. Last year, the company's export turnover grew 25 per cent from 2017 to VND62 billion ($2.7 million).
Furthermore, DHG will boost technology transfer and co-operation with Taisho in upgrading its beta-lactam factory to increase access to the ETC channel and exports to Russia and Moldova. In 2019, DHG aims to obtain consolidated net revenue of VND3.94 trillion ($171.3 million) and consolidated pre-tax profit of VND754 billion ($32.8 million), up 1.6 per cent and 3 per cent on-year, respectively.
CHALLENGES FROM FOREIGN RIVALS
The targets of the drugmakers will face challenges as domestic players and MNCs are strengthening their presence in the country to cash in on growth potential of drug spending.
A recent move from Taisho is obvious evidence, with the Japanese group beginning investment in DHG in 2016 and continuing to increase stakes in the Vietnamese company.
Magbi Fund has also showed ambitions that TRA could make a 20 per cent ratio of its revenuew from new products in the next few years.
"Vietnam is a developing ­country; thus drug spending will definitely increase. Magbi Fund has a wide network of shareholders who have a strong interest in the local market," said Lee Choong Hwan, representative of Magbi Fund. "We commit to make a long-term ­investment in Vietnam. We now have 3,000 staff in the country and will continue to invest more there."
In addition to Taisho and Magbi Fund, MNCs who are members of EuroCham's Pharma Group are targeting to join public-private partnership projects in the healthcare sector, including Novartis and GSK.
Elsewhere, US-headquartered MSD Group and B.Braun aim to ­expand local production to reap the incentives from the country's ­policies from domestically-­produced pharmaceuticals, and to benefit from the Comprehensive and Progressive Agreement for Trans-Pacific Partnership, and the ­upcoming EU-Vietnam Free Trade Agreement.
In this trend domestic rivals such as Vingroup, Mobile World, FPT Retail, Digiworld, and Nguyen Kim are also increasingly joining the race. FPT Retail, in particular, has announced an increase in the ­number of Long Chau drugstores to 70 in 2019, before expanding the network nationwide and aiming to make up around 30 per cent of the market share of the ­over-­­the-counter channel in the next three to four years.
According to the IQVIA ­Institute for Human Data Science, Vietnam is named among the emerging markets in ­pharmaceuticals, and is continuing to be a key driver of growth in the global pharma market. VIR