A series of famtrips have been organized by travel firms in cooperation with local authorities as a part of a plan to 'break the ice' in the tourism market.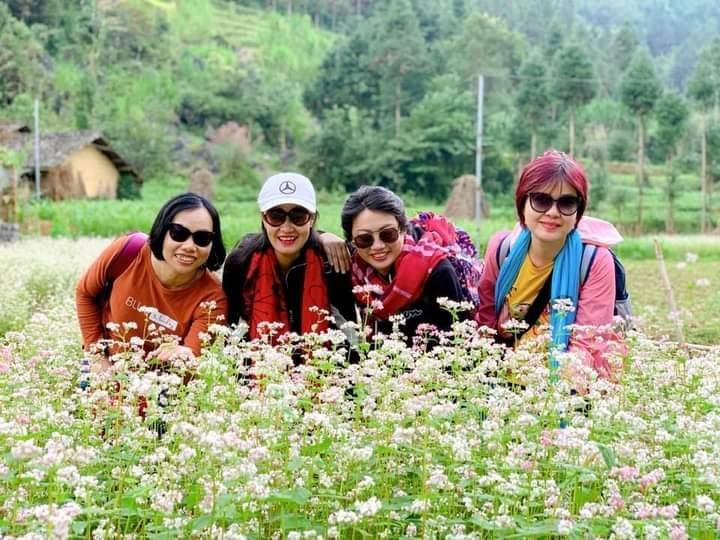 Vietnamese travelers in Ha Giang province
Seventy guests, including officials from VNAT (Vietnam National Administration of Tourism), Hanoi and Quang Ninh Tourism Departments and 35-40 travel firms had a 3-day and 2-night famtrip to Binh Lieu in Quang Ninh province late last week.
According to Hanoi Tourism CEO Nhu Thi Ngan, the trip was aimed at developing agricultural and rural tourism products in border and mountainous areas.
Travelers met ethnic minority people in the areas (96 percent of locals are Tay, Dao and San Chi ethnic minorities), participated in harvesting arrow-root, tried Dong Van pho xao (browned beef noodle) and visited medicinal herb areas. The most interesting part of the trip was the 'conquering of dinosaur's spine', the border landmarks in Binh Lieu amid the white reeds blossoming.
According to Ngan, the climate is cool all year round, and there is great potential to develop healing tourism.
This famtrip was organized before Hanoi Tourism's first group of travelers went to Binh Lieu during the 'golden harvest, new rice' festival opening later this week. Only 70 travelers participated in the famtrip to ensure safety.
Meanwhile, nearly 100 leaders of tourism departments, travel firms, hotels, tour agents and media agencies took a caravan famtrip to Lang Son – Bac Giang on November 5-7.
The trip included trekking at Phia Po Mountain which still preserves its pristine beauty and special attractiveness to travelers who like adventure tourism, and Tay Yen Tu spiritual destination in Bac Giang province.
In late October, a famtrip to Ha Giang was organized by VTA (Vietnam Tourism Association) with the participation of VNAT leaders, preparing to bring Hanoi's guests to the land of buckwheat flowers.
Another group of tourism companies went to Hoa Binh to attend a tourism demand stimulus conference and survey of new tourism products in the locality. Hoa Binh will organize famtrips for travel firms to survey and build short-term tours to Song Da lakebed and community tourism products.
Yen Bai, Bac Kan, Cao Bang and Lai Chau will also organize famtrips to introduce their tourism potential.
A representative of UNESCO Hanoi Travel Club said that provinces, which had never organized famtrips before, are considering trips of their own. This shows that leaders of provinces consider tourism as a key business field.
Breaking the ice
Hanoi Tourism successfully organized a tour for 10 travelers to the green zones of Cao Bang – Bac Kan. Hanoitourist also organized inner city tours and the first tour to another province (Bac Giang).

A series of famtrips have been organized by travel firms in cooperation with local authorities as a part of a plan to 'break the ice' in the tourism market.
Under the Autumn - Winter Tourism 2021 scenario, travel firms continue to offer tours to the East and Northwest, including Sa Pa in Lao Cai, Pu Luong in Thanh Hoa, Mai Chau in Hoa Binh, Moc Chau in Son La, Dien Bien, Mu Cang Chai, and Binh Lieu and Ha Long in Quang Ninh.
The director of a tourism company in Dong Da district in Hanoi said he still sells vouchers for a night cruise on Ha Long Bay, though there are only travelers on weekends.
Another company plans to organize a MICE (meetings, incentives, conferences, and exhibitions) group of 200 travelers to Quang Ninh on November 19-21, following a closed journey.
These are the 'bright spots' in Vietnam's tourism but the sector still cannot escape the gloom caused by the Covid-19 pandemic. Travel firms all say that they have a modest profit of VND100,000-150,000 per traveler, which is just enough to maintain their office operation, or sell tours at cost prices to stimulate demand.
"We are making every effort to break the ice in the tourism market so that the tourism sector can end its hibernation period and workers don't leave us," Ngan said, adding that they will learn experiences from the tours for big groups later.
As the Covid-19 developments remain complicated, the number of domestic travelers is still low.
The director said in previous years that his company received many travelers from HCM City and southern provinces who booked tours to Northeast and Northwest, but there have been no such tours this year.
When travelers book tours, they pay a 50 percent service fee in advance and travel firms have to pay a deposit of 50 percent to partners. But if a new pandemic wave breaks out, travelers will cancel tours and claim their money. In such case, firms have to pay money back to travelers, but they cannot get money back from their partners.
A representative of a Hanoi branch of a HCM City-based travel firm said the company will 'hibernate' until the year end, because it will surely take a loss if it reopened now.
In such conditions, some travel firms are still diligently surveying destinations, designing new products and organizing tours, trying to 'break the ice' in the market. They have drawn up long-term development plans with not only internal tours but inter-provincial tours as well, striving for inter-regional connections.
Ngan believes that more people will travel towards the end of the year, when the vaccination rate in Vietnam increases. Once medical units are no longer overloaded, people can treat themselves at home or drug treatment supply will become more plentiful.
"I believe domestic tourism will bounce back by March or April 2022," she said. 
Ngoc Ha
With Vietnam's prolonged social distancing now in the rearview mirror for both Hanoi and HCM City, the country's attention can turn to the possible re-opening of its borders to international travelers.   

Foreign travelers wishing to visit Vietnam are required to be fully vaccinated against COVID-19, have a negative COVID-19 test, book package tours, and have travel insurance.