While many travel firms and hotels have gone bankrupt or are idle, others have been thriving thanks to new business strategies and creative products.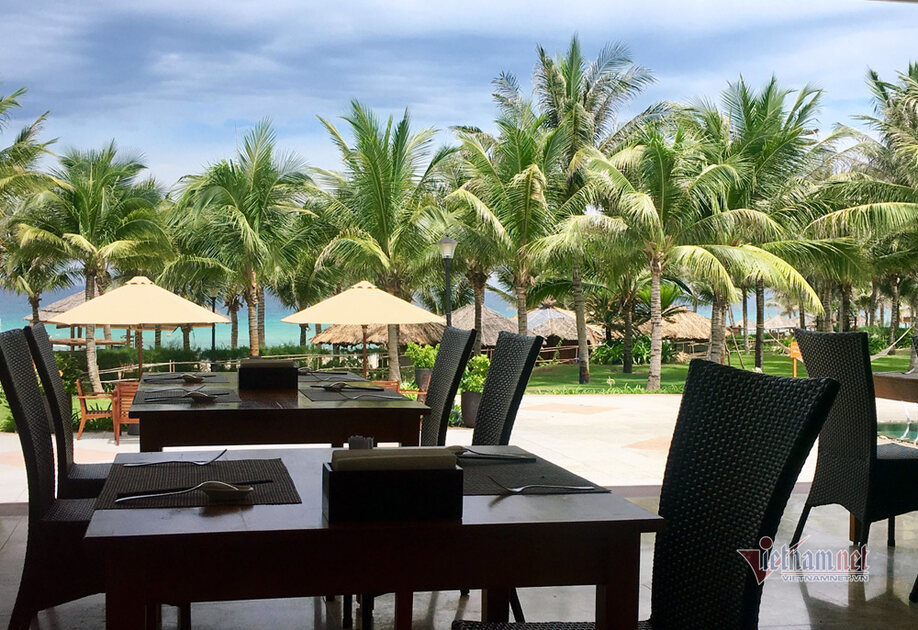 Visits to historical sites, especially prisons, always leave a strong impression on visitors, and sometimes, fear.
However, the Hoa Lo Prison site has recently attracted a high number of visitors, many of them young people and primary school students. Some of them have visited a second time.
This occurred after Hoa Lo Prison's management board changed tours on innovative ways.
In the past, 70 percent of visitors to Hoa Lo were foreigners. However, because of Covid-19, that source dried up, but there were also not many Vietnamese visitors. The number of visitors dropped by 76 percent.
The problem, in addition to its recent independent operational status, created difficulties for the relic's staff. The reduction in revenue from excursion fees seriously affected their 'rice pot'.
But adversity brings wisdom. In such difficult conditions, the idea of night tours emerged. Two tour versions, 'Dem thieng lieng sang ngoi tinh than Viet' (Sacred night – shining with Vietnamese spirit) and 'Song nhu nhung doa hoa' (Living like flowers), started in late June last year.
With the night tour, the stories about Hoa Lo Prison seem to be more touching, sacred and impressive thanks to the support of sound and light effects. It affects the senses of visitors who feel as if they hear the clamorous slogans shouted from revolutionary soldiers. And they can touch the chains with their own hands and smell the gunpowder.
Visitors can also see scenes retracing life in prison and understand the courage and resilience of the soldiers in the space. They can also receive gifts made of the 100-year-old Malabar almond (Terminalia catappa) tree at the relic site.
The night tour has attracted many young people and students. Overcoming their fears, they visit revolutionary evidence in the central area of the capital city to better understand history, and respect and take pride in the previous heroic generation.
The Hoa Lo Prison fanpage has received positive comments from visitors thanks to the images and stories which are moving and convincing. It is run by a staff of six 9X-generation administrators, trained well in media.
The third version of the tour, in English, targeting foreign travelers, is being created.
Bright spots in gloomy picture

While many travel firms and hotels have gone bankrupt or are idle, others have been thriving thanks to new business strategies and creative products.
In 2020, while many hotels in the sea city of Nha Trang faced a low occupancy rate of 20-30 percent and many others had to shut down, Cam Ranh Riviera Beach Resort & Spa ran well with an occupancy rate of 90-100 percent.
According to Cam Ranh Riviera's CEO Mehmet Kin, the hotel previously mostly served travelers from Russia and East Europe (70 percent), South Korea (20 percent) and Vietnam (10 percent). But when the pandemic broke out, there were no foreign travelers.
Riviera then quickly shifted to focus on serving Vietnamese travelers when the domestic travel market reopened in May 2020, based on All Inclusive package service which served Russian travelers previously.
With three big promotion campaigns in May, August and November, after two days Riviera had an occupancy rate of 80-98 percent.
According to Mehmet Kin, it is the combination of good prices and services which brought success. Riviera provides free services to children aged below 12 and people over 70 to reduce difficulties for travelers who have seen income decrease because of the pandemic. It also offers free stay after check-out and provides entertainment services for three generations.
The Flamingo Dai Lai Resort has also succeeded in attracting travelers by offering green and safe space. Located a 20-minute drive away from the Noi Bai International Airport and 45-minute drive from Hanoi's center, with large greenery and open space, the resort has attracted many travelers from MICE ( meetings, incentives, conferences & exhibitions) and team-building groups to groups of students and families.
Attaching much importance to epidemic prevention, Flamingo Dai Lai has been a safe destination. This, plus its advantages and good services, has helped the resort remain attractive to travelers.
The resort has had a 90 percent occupancy rate on weekends and 50,000 travelers in the last three months.
Nguyen Cong Hoan, Flamingo Redtours' CEO, said that travel trends have changed as travelers prefer green resorts. Consumers nowadays have become more aware of physical and spiritual health, and the value of life, and tend to be more demanding about tour quality.
Vu The Binh, deputy chair of the Vietnam Tourism Association (VTA), believes that tourism will bounce back immediately when the pandemic eases.
"We are preparing in advance and are not pessimistic. Businesses are looking forward to the future," he said.
The General Statistics Office (GSO) reported that Vietnam received only 3.8 million foreign arrivals in 2020, down 78.7 percent from 2019, as a result of the Covid-19 pandemic. 
Ha Yen

Nearly 10 years ago, the buffalo appeared in the fields of Hoi An for tourists to rent and ride, creating a strange freshness among the village fields.

Over the past 20 years, Mr. Son has selected old peach trees of fancifully defined shapes with the nicest blossoms for his southward-bound journey to serve customers in HCM City.