Domestic tourism in the new conditions where people 'live together with Covid-19' will require travel firms playing the pioneering role and local authorities encouraging people to travel in safe tours.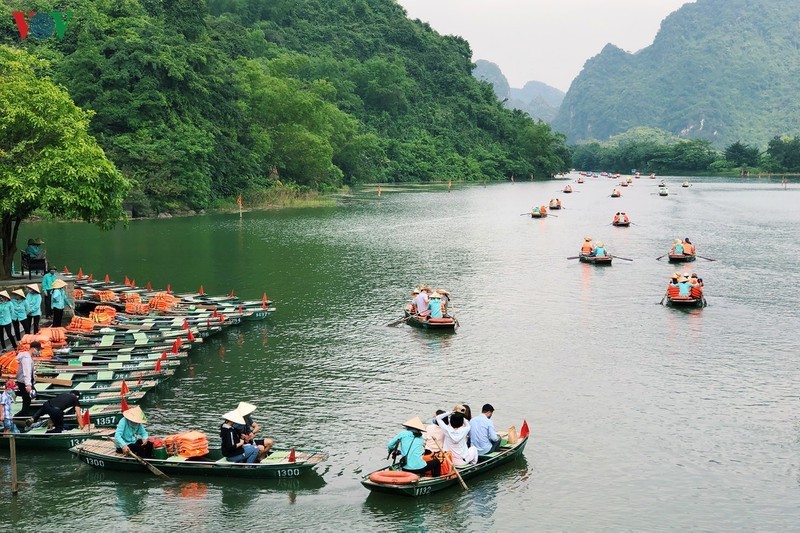 The ceremony on launching the program on restoring domestic tourism nationwide to overcome the consequences of the fourth Covid-19 outbreak took place on September 28.
With the theme "Vietnam green tourism connection", the program will set safety criteria in the tourism service chain, including tourists, travel firms, accommodation facilities and tourism services.
Tourism associations and local tourism companies will apply criteria based on their specific conditions.
Vu The Binh, Deputy Chair of the Vietnam Tourism Association (VTA), said the criteria and regulations may change to fit the situation. When there are new developments of the pandemic, VTA will announce the amendment of criteria for localities to adjust their operation.
The important role of travel firms is emphasized in the tourism promotion campaign. According to Binh, in the first phase, tourism activities will be organized by travel firms while ensuring package tours, safe destinations and safe services.
Phung Quang Thang, CEO of Hanoitourist, said the tours to be provided have close supervision, so the company has the responsibility of checking if these are green zones and if tourists have been fully vaccinated. Reports on tour assessments are required after the tours end.
Businesses will also have to have tourism routes and transport plans that ensure safety and clearly announce fees for SARS-CoV-2 testing and treatment if infected.
Travel contracts need to consider possible costs or events which may arise, such as tour cancellation, postponement and traveler isolation, as well as alternative excursion plans.
According to Binh, travel firms are at the center of the domestic tourism recovery campaign because not all businesses can join the campaign and certain requirements must be met. The requirements may be for a short time, before Vietnam fully reopens the tourism sector.
The biggest problem when implementing the campaign lies in the workforce. Most tourism companies have few staff left after many months of struggling with the pandemic.
"However, if we don't kick start, tourism activities won't be able to recover. Tourism companies will have to do everything once again, create conditions for people to travel with the new definition about safety," Binh said.
Localities that open doors

In the new normal, one should not wait until the entire province and entire city becomes 'green' to promote tourism. It would be better to choose places in specific green zones in localities.
The domestic tourism program is being launched across the country, but it is reserved only for 'brave localities' which dare to open their doors and carry out tourism activities.
Analysts said there should be changes in the way of thinking. In the new normal, one should not wait until the entire province and entire city becomes 'green' to promote tourism. It would be better to choose places in specific green zones in localities.
At the launching ceremony, many localities, including Quang Ninh, Ha Giang, Khanh Hoa, Quang Nam, Da Nang, Thanh Hoa, Ba Ria – Vung Tau, Binh Dinh and Binh Thuan, explained scenarios to open the door to receive travelers with safety criteria.
Chair of the Da Nang Tourism Association Cao Tri Dung said the city has prepared to receive guests. At 34 hotels to receive guests for quarantine, 100 percent of workers have been fully vaccinated. Meanwhile, 11,000 workers in the tourism sector have had the first vaccination shot.
Da Nang plans to begin receiving guests in mid-November. It will receive guests within the city first before receiving guests from other provinces.
According to Deputy Director of Khanh Hoa Tourism Department Nguyen Thi Le Thanh, companies with 100 percent of workers fully vaccinated will be allowed to operate. In October, when all people in the province get their first shots, Khanh Hoa will begin receiving domestic travelers.
Tran Trung Hieu, Deputy Director of the Hanoi Tourism Department, said Hanoi plans to carry out operation in accordance with Phase 3 in October – allowing accommodation facilities, destination sites, travel firms and transportation companies meeting requirements to resume operation and mostly serve clients in the city.
After Hanoi enters the new normal period, the tourism department will assess the situation and propose Phase 4 – allowing tourism companies to operate as usual and receive travelers from the localities which can control the pandemic.
Vuong Thi Hai Yen, Deputy Director of the Thanh Hoa Department of Culture, Sports and Tourism, said the province will organize an online conference to announce the reopening of tourism. Hotels in Thanh Hoa have begun receiving guests, but they can operate at 50 percent of capacity only.
Nguyen Thi Khanh, Deputy Chair of the HCM City Tourism Association, said after successfully organizing the tour to Can Gio and Cu Chi, the city will organize other tours to Cu Chi – Tay Ninh, Ba Ria - VungTau and northern provinces. Where there are green zones, tours will be organized.
Meanwhile, Phu Quoc plans to receive first charter flights from November 20 which carry foreign travelers with a vaccine passport to the island. 
Ngoc Ha

Some destinations are ready to reopen to receive travelers, while travel firms are preparing to serve domestic travelers with green cards.  

Reopening Phu Quoc to receive tourists has proven to be a big challenge.