Travel firms have been advised to focus on the domestic market for the immediate time. However, they also need to draw up new strategies and new programs to conquer this group of travelers.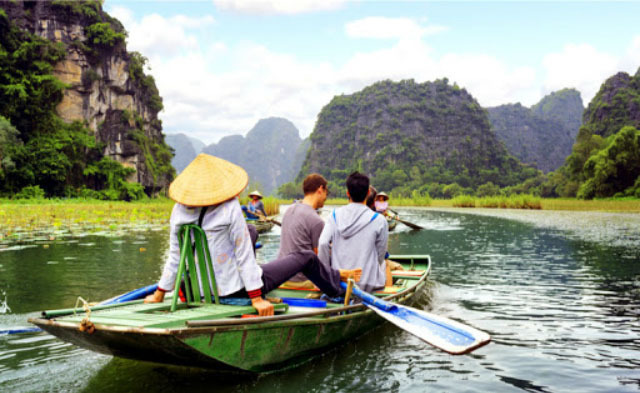 A recent seminar on Vietnam tourism recovery from Covid-19 in the 2021-2023 period attracted the special attention of agencies and businesses in the aviation and tourism sectors.
Nguyen Ngoc Thien, Minister of Culture, Sports and Tourism, said in 2021-2023, Vietnam would consider the domestic market as the development focus.
Vietnam is deploying a series of programs to stimulate domestic demand and is preparing to receive foreign travelers.
In 2020, Vietnam's tourism, which was a fast growing industry, turned stagnant because of Covid-19. However, it gave time to the industry to reevaluate priorities and prepare for the recovery after the pandemic ends.
In the time to come, Vietnam will focus on domestic tourism, while developing new tourism products to open the market to foreign travelers, striving for full recovery of the international tourism sector in the new normal.
Nguyen Thanh Binh, deputy chair of Thua Thien-Hue, said the province has prepared plans and scenarios to make local tourism bounce back.
It has been planning for a tourism recovery but safety must be the top priority in the new conditions.
The activities to build up the image of Hue as a safe destination have been organized and specific problems have been addressed.
Nguyen Van Thi, deputy chair of Thanh Hoa province, affirmed that the local authorities have prepared well for the summer tourism season.
Thanh Hoa will focus on two major tasks – organizing annual tourism activities and original culture-sports-tourism events. It now has a street festival, Hai Tien sea tourism, and many other attractive events scheduled in the months from April to September.
Asked about business in the domestic market, Phung Huu Hoang from Saigontourist said tourism companies, all have had encouraging results. Many companies have signed big contracts for May and June.

Travel firms have been advised to focus on the domestic market for the immediate time. However, they also need to draw up new strategies and new programs to conquer this group of travelers.
Hoang said he has never seen such close cooperation among airlines and hotels, which has allowed Vietnamese to enjoy luxury tours at reasonable prices.
When Covid-19 resurged, airlines and large hotels shared difficulties with travel firms by reserving money deposited by travel firms.
"Vietnam's tourism turns on and off with Covid-19 performance," he said.
"I believe that Vietnam's tourism will recover very soon. I hope all travel firms get ready to receive international guests," he added.
The Prime Minister has asked relevant agencies to study the use of "vaccine passports" and gradually resume international flights.
The Ministry of Health said it is cooperating with the Ministry of Information and Communications to develop a vaccine passport.
Nguyen Cong Hoan, CEO of Flamingo Redtours, said Vietnam needs to stimulate domestic demand by offering new creative programs. They need to cut prices but also renew products, offer service preferences and improve service quality. Tourism products need to be personalized to fit every traveler.
Meanwhile, Pham Dinh Doan, president of Phu Thai Group, suggested that the Government needs clear long-term policies for the tourism industry. If so, though 63 cities and provinces will have similar 'tourism menus', they will also have specific policies to attract travelers within the frame of national tourism.
Cao Hoai Duong, president of PV Oil, noted that many Vietnamese now choose domestic destinations instead of outbound tours. This means that the number of domestic travelers will increase after Covid-19. In order to take full advantage of the opportunity, Vietnam should have longer holidays for families to better design their travel plans.
Vietnam received only 3.8 million foreign arrivals in 2020 because of Covid-19, a decrease of 78.7 percent compared with the year before. 
Ngoc Ha

The annual Vietnam International Travel Mart (VITM) 2021 will take place in Hanoi from May 5 to 8 with the theme "New Normal - New Opportunities", a press conference in the capital on April 5 heard.

Travel agencies are attempting to be more creative as more people are choosing backpacking.