As the first author of six scientific articles and owner of one patent, Dr Ta Thu Hang has had great opportunities to get a promotion at a leading Australian university.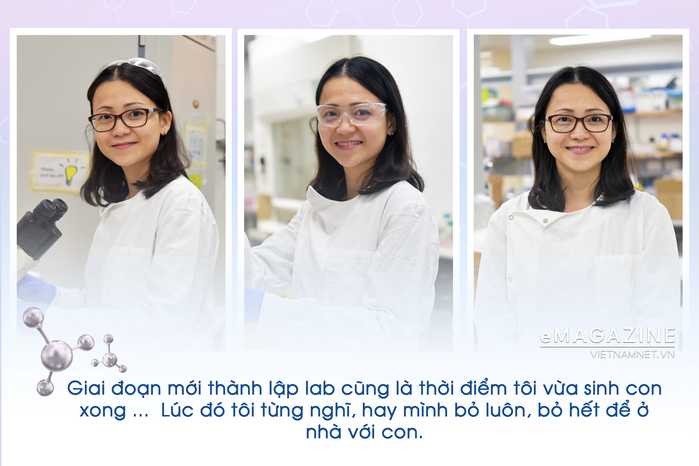 Dr Ta Thu Hang
Hang works for Griffith University in Australia. In addition to teaching, she is also the head of a laboratory which specializes in researching the application of nanomaterials in treatment and diagnosis of serious diseases such as cardiovascular disease.
She is also a Future Leader Fellow of Heart Foundation, an Australian organization specializing in cardiovascular health.
Hang was born into a family where both father and mother were teachers and built their careers themselves without any support. The parents also taught Hang how to become independent.
Graduating from the HCM City University of Technology majoring in Food Chemistry with the highest GPA, Hang became a lecturer at the school.
Like many other young people who wanted to study abroad to broaden their knowledge, Hang decided to go to Australia to study for a master's degree in biotechnology at Queensland University. After 1.5 years of studying there, Hang decided to apply for a scholarship to become a PhD student at Melbourne University.
"During the three years as a PhD student, I realized that I have a special interest in the medical applications of nanotechnology," she recalled.
After two years of implementing projects, Hang obtained funding from the National Health and Medical Research Council of Australia (NHMRC). At that time, she decided to set up a lab with focus on research about the applications of nanotechnology in treating and diagnosing cardiovascular diseases.
Her research team designed and developed smart MRI nanosensors that not only help detect but also report the stages or progression of cardiovascular disease, such as thrombosis.
Early detection and precise characterization of life-threatening diseases such as cardiovascular diseases and cancer is important in treatment.
"The information about thrombosis, if it has just taken shape or has existed for a long time in blood vessels, is very important, which helps doctors determine the treatment regimen," Hang said.
Great efforts made to maintain lab
According to Hang, universities in Australia encourage and are willing to provide places to lecturers to build labs, provided that they can get funding for their research and buy equipment.
However, it is difficult to find sponsors because of the success probability rate of less than 10 percent. In general, the schools of higher rank will be able to get more money to fund their projects. This means that newly set up labs may 'die young' if they don't have many projects.
With her efforts, her lab luckily has received many research projects.

As the first author of six scientific articles and owner of one patent, Dr Ta Thu Hang has had great opportunities to get a promotion at a leading Australian university.
"You need to do many things to ask for money to carry out your research. You not only have to read books and carry out experiments, but also have to attend conferences and seminars, give lectures, participate in scientific organizations, comment on scientific articles and join the editorial board of science journals," she explained.
Another problem was that it was difficult to recruit workers for newly set up labs.
At first, only new graduates or postgraduates who were studying for a master's degree joined the lab to carry out some small projects, lasting 3-6 months. And the students did not have much experience.
Therefore, Hang was busy guiding five or six students to carry out experiments each day. Because of the time limitation and the lack of money to buy chemicals and run machines, Hang admitted she had to struggle to maintain the lab.
Later, after some projects were fulfilled well, the lab became better known among more postgraduates.
"They said they read information about my projects on the school's website and they felt the research was following a new interesting path, so they wanted to join my lab," she said, adding that she began paying attention to polishing the image of the lab by introducing her projects on the school's website.
At present, the lab headed by the Vietnamese lecturer has eight PhD students and one postdoc student.
Scientists need many new ideas
Recalling her tough days, Hang said at the time of the lab establishment, she had just given birth to her daughter. When the child turned 10 months old, she sent her to a kindergarten.
Now, the daughter is 7 years old, and Hang is still busy teaching and researching.
She has received 1,800 scientific citations and prestigious awards, as well as 3.9 million AUD ($3 million) in funding for research.
According to Hang, in order to have new research projects, scientists need to have new ideas. And to do so, they need to regularly read scientific articles to know what has been done in these fields and what still cannot be done. Hang reads information in her core scientific research field but also in other relevant fields. This can lead to ideas. Sometimes, the ideas have to "go out of the box", she said. 
Thuy Nga - Phuong Thu

The image of a boy with shining eyes and crippled limbs damaged by Agent Orange prompted Ngo Thi Thuy Huong, born in 1974, "to do something" to revive contaminated land in Vietnam.

As a scientist with 15 US patents, becoming a senior manager of a research and product development group at a corporation with revenue of nearly US$20 billion, Dr. Cong admitted he didn't know what major to pursue when he was younger.