FPT Chairman Truong Gia Binh emphasized that digital transformation has become a vital issue. Of 10 leaders, nine are ready for digital transformation.
Experts say that digital transformation is the process of changing from a traditional model to a digital enterprise model, by applying new technologies such as big data, Internet of Things (IoT), and cloud computing... to change the way of operation, leadership, working processes, and corporate culture...
In a recent statement about the path of Covid-19 affected businesses, Nguyen Hoa Binh, Chairman of NextTech, said that the current situation set for businesses is to die or stand still by being plunged into crisis or to rush into danger to create opportunities for themselves to adapt and grow.
Mr. Binh said that the slogan "digital transformation" has never been so powerful because it will be a tool to increase revenue and reduce expenditures, a necessary solution for businesses during the pandemic.
Nguyen Anh Nguyen, former Deputy General Manager in charge of IT at the Masan Group, said that if there is no digital transformation, in the next three years, Masan will still be able to maintain its production capacity. However, Masan will not be able to compete in services, especially with the continued growth of Amazon, Alibaba, Tencent and many other companies. These "giants" can not only dominate in terms of the ability to meet the needs of customers, but also can defeat other companies.
"Trust me, the time it takes for digital transformation may be counted in days. Let's try and let technology businesses help your company," said Nguyen.
Quoting IDC's report, FPT Chairman Truong Gia Binh emphasized that digital transformation has become a vital issue. Of 10 leaders, nine are ready for digital transformation. This means that the successful participation of technology firms in this field will play an important role in the change of the world economy.
FPT Chairman Truong Gia Binh: Digital transformation has become a vital issue

Mr. Truong Gia Binh gave an example of the "King of Shrimp" Minh Phu which embarked on a digital transformation with the ambition to conquer 25% of the world market share from its current level of 4%. That is the desire of the Vietnamese people. The "King of Wood" AA has also begun a digital transformation strategy to quickly become one of the two largest exporters in the world. The first thing a digital leader needs to do is recreate the organization with innovation.
"The people of business will do new things. In the future, we have to make digital commands with digital technologies," said Binh.
Commenting on the opportunities in digital transformation, Deputy General Director of FPT Software Nguyen Khai Hoan said that Vietnam is in a period of strong development and has many opportunities. However, in the next five years, if local businesses do not apply technology to change, the opportunity will disappear.
Big tech enterprises ready for digital transformation
Before the strong digital transformation trend, technological firms like the Vietnam Post and Telecommunications Corporation (VNPT), Viettel Group, FPT, CMC… have made strong statements about this strategy.
2017 is the time when CMC - one of the first enterprises - announced its digital transformation strategy.
CMC Chairman Nguyen Trung Chinh said: "We used a butterfly image to illustrate our determination to perform digital transformation and create new brand identity. The preparation process has been carefully researched by CMC. I have traveled to many countries, met many large corporations around the globe to learn their experiences. CMC aims to become the leading digital company in Vietnam and a company providing digital transformation services to other organizations."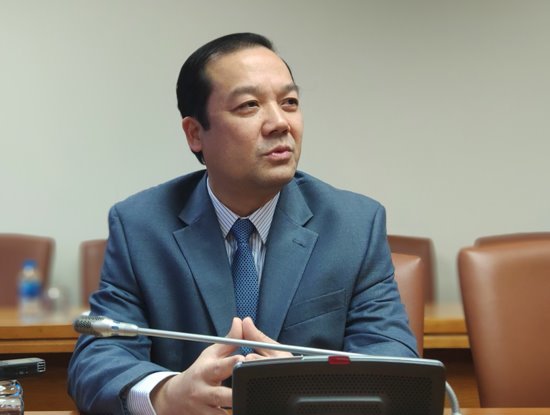 VNPT General Director Pham Duc Long said VNPT is promoting digital transformation, improving business efficiency and affirming its leading role in digital transformation.
VNPT General Director Pham Duc Long said that the VNPT 4.0 strategy aims to transform the group into a strong digital firm in the region. VNPT is closely following the National Digital Transformation project, with the ambition to become a leading digital service provider. VNPT itself is strongly transforming to become a digital enterprise, operating entirely in the digital environment.
"VNPT is promoting digital transformation, improving production and business efficiency and affirming its leading role in the national digital transformation. VNPT has affirmed its position as a pioneer enterprise: Participating in establishing digital infrastructure, and building digital platforms on a national scale, such as the national document axis, the national public service portal, and the IOC intelligent operating center. VNPT has also signed cooperation agreements with 11 ministries, agencies; 16 large enterprises; and 53 provincial and municipal governments to implement digital transformation, building smart cities," Long said.
Facing strong digital transformation trends, Viettel has also announced the mission of "creating a digital society in Vietnam", strongly transforming from a telecom business to a digital service provider. "We need to forget that Viettel is a telecom operator. Although, telecommunications is still Viettel's main source of income at present. But the share of revenue and profit from telecommunications is continuously decreasing. The mission to feed Viettel of the telecom industry will not last for long. We cannot just cling to the exploitation of telecommunications infrastructure, but must become a provider of digital infrastructure and services."
Thai Khang

Members of a cooperative in a commune in Bac Kan, after using digital technology to advertise products, have seen incomes increase from VND1-1.5 million to VND3.5 million a month.

Accelerating the digital transformation process is considered to be an important premise for Vietnam to realize the opportunities brought by the industrial revolution 4.0.