As technology is developing at a lightning speed, more and more young people want to give up their dedicated desks in offices and work from anywhere in the world.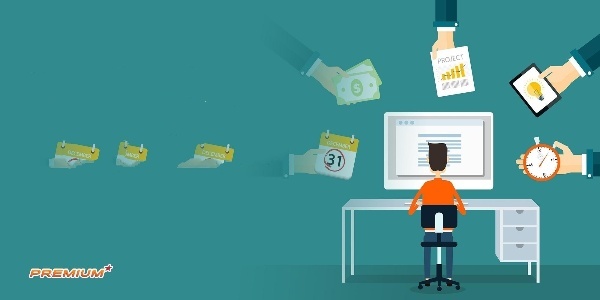 Bui Anh Tuan's parents were shocked when their son, a graduate from a prestigious university in the US, decided to give up his job at a foreign bank which brought a high income of thousands of dollars a month.
They was more surprised about Tuan's new life: sleeping during the day and sitting in front of a laptop in the evening. Tuan also often goes to a café and sometimes forgets to return home for meals.
The young man is working as freelancer for a finance company in Singapore, with no dedicated office space and no co-workers. He enjoys the new job because he can organize his time himself and do whatever he wants from anywhere.
Freelancing is no longer an unfamiliar word to Vietnamese youth. More and more young people, especially Gen Z, have become freelancers as they can see a lot of advantages.
"If you are a freelancer, you can control your time and decide what you do in your time. You can work at night if you want. If you are an employee, you always have to turn up at the office on time," Tuan said.
Another freelancer, Hanh Trang, who has a master's degree in psychology, left a public university in Hanoi because she was tired of working for a state-owned organization.
In Vietnam, many women want a stable job and a family by around age 32. However, Trang doesn't have these.
Her friends think Trang is "enjoying her unemployment" by traveling, because images posted on her Facebook page show her in Sa Pa on one day and Phu Quoc on another day.
But Trang is actually working as a freelancer.
"Freelancers have to change working styles all the time to adapt to different projects, companies and partners," she explained.
"Freelancers have to have a lot of real-life experience and deep knowledge in their fields. I don't know anyone who can become a good freelancer soon after they finish university," she said.
In general, people can become freelancers only after spending a few years working for some companies, large and small, to accumulate experience. They have to have high quality products, reach a certain maturity in their career, and create good relationships.
According to Trang, freelancers need to have effective marketing strategy to promote their 'brand', as well as necessary skills, including presentation, negotiation and teamwork.
Life on the move

As technology is developing at a lightning speed, more and more young people want to give up their dedicated desks in offices and work from anywhere in the world.
What would you do if you were tired of your job one day and you found the city where you live boring and suffocating? This is the question that many young people have raised.
Some said they would return to home villages to breed fish and grow vegetables. Others said they would have "gap years" and spend time traveling. And many people would give up their current jobs and leave the cities with cameras in their backpacks.
Filming and creating videos and posting on the internet has become the choice of many young people because it can bring high income and also help them enjoy a mobile life.
Nhi Dang is a travel blogger well known in the netizen community. Six years ago, she quit her job to devote her time to fulfill her passions.
She initially was worried about her decision as she wondered if the income would be enough. She had to spend big money on tours, cameras and supporting devices.
But Nhi now believes that she made the right decision. After many tours, she has created inspiring tours shared on social networks and found a lot of job opportunities.
Pham Hoang Khai (Fahoka) quit his job after four years of working. He said the high pressure at work left him with no time for his passions – playing sports and music, and reading books.
After leaving the company, Khai spent his time traveling in other Asian countries to learn about their culture, religion and history. Writing blogs and articles for newspapers and journals, and trading products related to tourism brought money to fund his trips.
Dinh Hang is another well-known name among netizens. After graduating from the HCM City University of Social Sciences and Humanities' Journalism and Communication Faculty, she took jobs as a reporter.
One day, she decided to travel and that led to becoming a travel blogger. 2015 marked an important milestone in her career when she published the book 'Qua tre de chet – Hanh trinh nuoc My' (Too young to die – the journey to America).
She said that there are hidden difficulties that few people know exist. The most difficult is to keep yourself away from an obsession about the number of views and likes. Many bloggers produce bad content just to have more views and likes. In 2019, dozens of bloggers became well known after posting their shocking videos, but they quickly fell into oblivion later. 
Duy Anh

First Secretary of the Youth Union Nguyen Anh Tuan held a dialogue with young people and members of the Youth Union on March 16.

Tran Duong Chinh, a 12th grader majoring in physics of the Hung Vuong High School for the Gifted, has become the first student from Phu Tho province to win a gold medal at the European Physics Olympiad (EuPhO).