Female scientist wants to start public awareness campaign about organ donations
Dr Do Pham Nguyet Thanh, born in 1995, an expert at the Biomedical Research Center under the Pham Ngoc Thach University of Medicine, has been honored as one of HCMC 2020 Outstanding Young Citizens thanks to her active contributions to the community.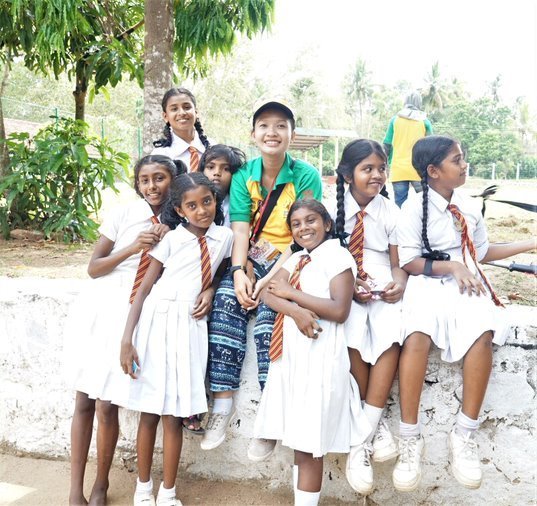 Nguyet Thanh and students in Sri Lanka
As a volunteer at the Asia-Pacific Hematology Conference held in HCM City, Thanh, as the chair of the school's English Club, was assigned to support Dominque Bron, a professor from Belgium.
After the conference ended, the professor invited Thanh to Belgium to attend a 1-month training course. Thanh said the trip changed her life.
During the one month stay in Belgium, Thanh had opportunities to meet leading professors in their fields, attend the European Hematology held in the Netherlands, and most importantly, experience the Da Vinci Robot.
When Thanh was a second-year university student, she began conducting research and won several prizes. One of her projects was on a living organ community, for which she received a certificate of merit from the Minister of Health in 2016.
"I learned from the model of California in the US, which has 50 percent of successful organ transplant cases in the world," she said.
The project analysed the current situation and difficulties in policies, culture and religion that Vietnam is facing, and recommended building a community for those who have registered for organ donation. These people will have opportunities to meet for information exchange and will serve as the ambassadors to the country's media campaigns about organ transplantation. All the activities of the community will be regulated by the National Center for Organ Transplant Coordination.
In 2020, when the Covid-19 pandemic appeared in Vietnam, Thanh joined the fight against the pandemic as head of the students' team of the Pham Ngoc Thach University of Medicine serving at the HCM City Disease Control Center in April 2020.
She carried out a series of research works on the lessons from the fight against Covid-19 at Bach Mai Hospital and in Ha Loi hamlet, which were Covid hotbeds during the first outbreak. Her work was examined by the HCM City Disease Control Center and used by the Health Department when setting norms to assess risks in the city.
With outstanding achievements and skills, Thanh has attended many youth exchange programs.
To date, Thanh has been to 18 countries and participated in six international exchange programs. She said all the trips brought experience and valuable knowledge.
"I really appreciate their confidence in expressing their opinions and viewpoints of the young people from Singapore and the Philippines. Japanese are always responsible and attentive to every project and work," she said.
"I remember the days in Tokyo when they stayed late at midnight, staggering to the hotel's lobby to write teamwork reports," she said.
Meanwhile, Vietnamese tend to spend time in their fields of study or work, but they don't pay attention to social issues.
"They believe that the country's issues, especially political ones, don't have direct relations to them. They say they don't have time and don't have interest in the issues," she explained.

Dr Do Pham Nguyet Thanh, born in 1995, an expert at the Biomedical Research Center under the Pham Ngoc Thach University of Medicine, has been honored as one of HCMC 2020 Outstanding Young Citizens thanks to her active contributions to the community.
She said some young people today lacks the ability to explore, analyze and solve problems. The lack of inquisitiveness will hinder them from finding new knowledge or making in-depth studies that would contribute to the country's development.
"When participating in international science forums, the Vietnamese students face problems discussing political, economic, social and cultural issues of countries, the region and the world. They don't know where to search for official information. As they don't have deep knowledge about issues, they don't have viewpoints of their own to protect the nation's benefits," she said.
Studying literature to understand people's pain
Since her childhood, she has loved literature and she passed an exam for a literature majoring class.
She said literature nourishes her soul and helps her have enough words to express her thoughts and sometimes cheers her up when she feels sad.
It also helps her fulfill research well. If her studies are written in a good literary style, they will be more convincing in others' eyes.
Perhaps because of her passion for literature, Thanh is easily moved and more sympathetic to people's pain. She once burst into tears when witnessing a mother whose infant had died because of inborn defects. She was moved to tears when seeing failed attempts to recover patients from cardiac arrest.
However, she has learned to accept that doctors sometimes fail in the fight with death. The most important thing is that doctors should always try their best.
Dreams about organ donation community
Asked about projects in the future, Thanh said she wants to implement a media campaign on organ donation and transplantation to increase public awareness of the issue.
She said the activities of the campaign would help increase the number of donated organs and improve the effectiveness of organ donations and transplants in Vietnam. 
Nguyen Thao

Graduating from Harvard University with a master's degree in Public Policy, Tran Ha Duong said that he thought the prestigious school was "completely beyond my reach".

Eight Vietnamese students won gold medals at the international Olympiads in 2020.