Festival to celebrate Family Day in Hanoi

Vietnam will celebrate its Family Day (June 28) with a series of festivities from June 28 to 30 in Hanoi, the Ministry of Culture, Sports and Tourism has announced.
Festival to honour traditional values of Vietnamese family
Vietnam lacks mechanisms to prevent abuse of children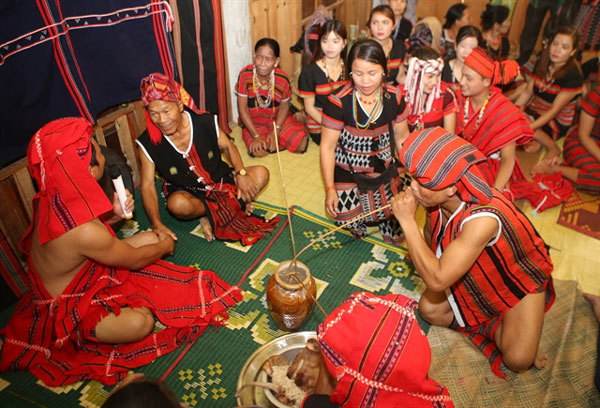 A traditional wedding of the Pa Co ethnic people. An exhibition featuring the traditional wedding ceremonies of ethnic minority communities will be held from June 28-30 in Hanoi as part of the Family Day Festival. — VNA/VNS Photo Ho Cau
This year's festival is themed "Preservation and promotion of good behaviour in Vietnamese family tradition". It will honour the traditional values of Vietnamese families and provide an opportunity for families to share their experiences and talk about preserving Vietnamese families in the age of global integration.
The festival will be held in the Exhibition Centre for Culture and Arts on Hoa Lu Street in Hanoi. As part of the festival, the exhibition centre, along with the Viet Nam Ethnic Groups' Culture Museum, will hold a thematic exhibition featuring traditional wedding ceremonies of the nation's different ethnic groups.
Weddings are an important part of family tradition in Vietnam's ethnic minority communities. The exhibition will show the unique ancient rituals that can still be seen across the country.
Highlighted ceremonies include the Red Dao's Pao Dung singing and tying red string, the engagement of the E De, the Tang Cau ceremony of the Black Thai and other wedding activities of the Tay, Cham, Khmer and Kinh peoples.
Traditional wedding costumes, jewellery, household items, invitation cards, marriage certificates, folk music and cuisine will also be on display.
Another exhibition themed "Bờ Vai Ấm Áp" (Warm Shoulders) includes 20 touching personal stories about the role of men in the family.
A combination of articles, interviews, pictures and artefacts, the exhibition focuses on the relationship and love between father and child and the support a father gives to his children during their life.
About 500 books, newspapers and documents about family culture and protecting children will be displayed by the Library Department and the National Library of Viet Nam.
About 60 poster paintings promoting the family's responsibility to fight against child abuse, violence and harassment will also be displayed at the exhibition.
Some of the paintings were awarded high prizes at a painting contest held recently by the Ministry of Culture, Sports and Tourism.
VNS